Casting roles are the most quintessential aspects of a successful movie. While Hollywood conducts dozens of auditions and considers a few actors who can potentially star for a major role, there are a few exceptions when only one actor is pre-ordained for a specific part. Take a look at the 15 movie roles offered to just one actor:
15. Deadpool (Ryan Reynolds)
When the X-Men character Deadpool refers to himself as "Ryan Reynolds crossed with a Shar-Pei" in a comic book storyline, the actor became immensely enthusiastic about portraying him in the foreseeable future. When the character was in movie development since 2004, only Reynolds was considered for the role.
Even New Line executive Jeff Katz thoroughly believed that he was the only actor suitable to play Deadpool. Despite the mishandling of the character in X-Men Origins: Wolverine, Reynolds was still the only actor considered to star in the stand-alone movies of the rebooted Deadpool.
14. Henry Jones (Sean Connery)
It is no secret that James Bond was one of the inspirations behind the creation of archeologist Indiana Jones. So it only made sense to rope in Sean Connery to play the latter's father in Indiana Jones and the Last Crusade.
As a fan of Connery's iconic portrayal as Bond, Steven Spielberg solely offered the role of Professor Henry Jones to the legendary actor. As stated by the director's biographer Joseph McBride, Connery was already Indiana's father since the initiation of Indiana Jones franchise.
13. Nick Fury (Samuel L. Jackson)
Believe it or not, Nicky Fury was originally a Caucasian character. However, that was soon altered when he was remodeled and based on the likeness of actor Samuel L. Jackson for the Ultimate Marvel edition of Marvel Comics.
With the new design of the character receiving immensely positive reviews and the Marvel Cinematic Universe on the verge of production, Jackson was the only obvious choice for the role of Nick Fury and he signed a nine-picture deal to star as the character.
12. Rocky Balboa (Sylvester Stallone)
Arguably the best sports drama movie ever made, Rocky stands out as an emotional rollercoaster and is responsible for making its leading star Sylvester Stallone a household name. The actor wrote the screenplay by himself and offered it to United Artists Corporation on the condition of allowing him starring as Rocky. The studio refused on the grounds of Stallone not being an established actor yet.
When negotiations of Stallone playing another role in the movie fell through, the studio was forced to offer him the role of Rocky Balboa at the price of lowering the movie's budget to mere $1 million. Despite the monetary hurdles, the movie became a triumphant success and even won an Academy Award for Best Picture.
11. Batman (Ben Affleck)
When Christopher Nolan's The Dark Knight Trilogy concluded, there were no second thoughts about Christian Bale being the definitive Batman as far as feature films were concerned and even Zack Snyder desired the actor reprising his role for Batman v. Superman: Dawn of Justice.
Since his movie takes place in an entirely different universe, Snyder had to cast someone else and his eyes were set on only one actor for the part – Ben Affleck. The casting was met with harsh criticism but Snyder justified his decision by explaining that he envisioned Batman being played by an older and bigger actor.
"I really wanted an old Batman–not, like, decrepit! I wanted a world-weary Batman… someone who has had experiences, and Ben has really hit that,"
states Snyder.
"He's a big person. He's 6'4", and in the boots, he's 6'6". I don't like a small Batman…I like my Batmen bigger!"
10. Alex DeLarge (Malcolm McDowell)
It seems impossible to visualize anyone other than English actor Malcolm McDowell portraying the psychotic maniac Alex DeLarge in Stanley Kubrick's dystopian crime movie A Clockwork Orange.
The director perfectly understood that casting is decisive to any movie and after witnessing McDowell's performance in British drama movie If…., Kubrick had made up his mind to offer him the leading role of Alex.
9. Hellboy (Ron Perlman)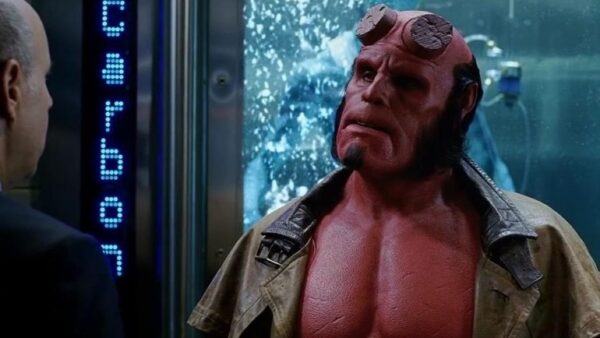 It was a career-defining role for Ron Perlman and director Guillermo del Toro was absolutely certain that the former would be an exceptional Hellboy on the silver screen. Both had previously collaborated in Mexican horror movie Cronos and the actor had a rich history of portraying characters that had to undergo hours of makeup and prosthetics.
The director was so bent on having Perlman as Hellboy to the point of declining a bigger budget, a number of well-established actors and even two studios that were eager to have a Hellboy movie made.
8. Ultron (James Spader)
The long-awaited Avengers movie was a game-changer in the superhero movie genre and the sequel definitely had to raise the bar even further. For the villainous role of Ultron, director Joss Whedon selected actor James Spader and made it clear that he was his first and only choice.
Spader's acting prowess can be judged by the fact that he was not just hired for a voice role. Additionally, his face and body were motion captured and transitioned into the CGI character of Ultron.