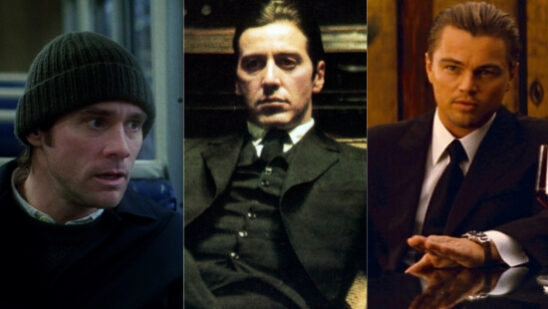 Television might be on the upswing, but nothing will ever replace movies. In the past century that movies have been around, it has given us unforgettable stories and characters. There are many great movies that will leave you in awe after watching them. They not only inspire you but also give you a true cinematic experience in many aspects. Backed by some stupendous performances, spectacular direction, and marvelous technological intrusions, these movies have the potential to take you to a whole new world. We have compiled a list of 15 movies everyone should see at least once. These films are essential watches. For this list, we'll be going over the films we feel should be seen by everybody at some point in their lifetime, either because they're classics, their impact on pop culture, or for how innovative or interesting they are.
15. Inception (2010)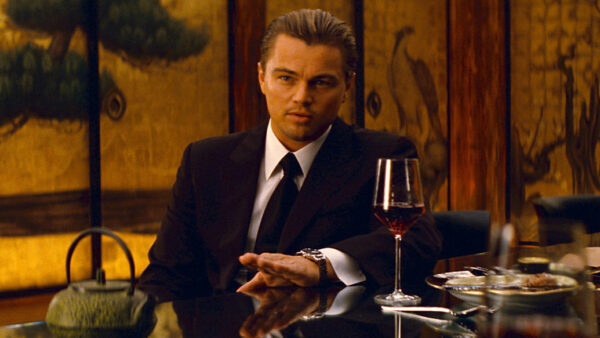 It is very hard to argue against the claim that Christopher Nolan is one of the most ambitious storytellers and directors of the current age of Hollywood. He has helmed a number of successful films and is also credited for reviving the Batman franchise. However, his best work to this day remains Inception, the 2010 science fiction action film based on lucid dreaming.
Nolan spent many years working on this project to make sure that everything goes as planned. Combine it with high production value, an ensemble cast including Leonardo DiCaprio and Tom Hardy, etc., and a chilling soundtrack, the flick has "blockbuster" written all over it.
The plot revolves around the character of Dom Cobb (portrayed by DiCaprio) who gathers a team to perform inception (planting an idea in a target's head via a dream). Inception is undoubtedly a film like none other and has set the standard high for other Science Fiction films. 
14. The Lion King (1994)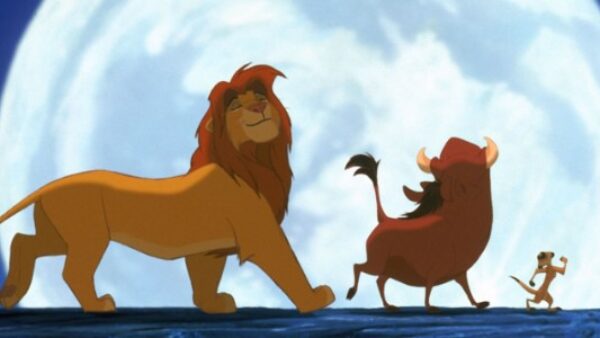 It's very rare that an animated feature manages to overshadow live-action flicks and age well while doing so. This 1994 animated musical film has garnered a number of accolades and achievements over the years and still remains one of the most adored films. The best thing about it is that its deep story (packed with meaningful messages for everyone) doesn't only cater to kids but to an adult audience as well.
The plot revolves around Simba, who is next in line to become the king of the Circle of Life. However, after being manipulated for his father's death, he abandons the jungle, leaving his uncle Scar to establish his reign of terror. How Simba learns to overcome his fears and take what is rightfully his result in an incredible movie.
13. Rocky (1976)
The 1976 sports drama flick Rocky is undoubtedly one of the most iconic films of all time. It was penned by the lead actor Sylvester Stallone himself. Financially, the film emerged as the highest-grossing film of 1976. The plot revolves around the titular character, a debt collector and club fighter who gets an opportunity of a lifetime when he receives a shot at the Heavyweight Boxing World Championship.
It was praised by the viewers as well as applauded by the critics. The film has aged well and was chosen for preservation in the United States National Film Registry by the Library of Congress, claiming it as "culturally, historically or aesthetically significant".
The film has amassed a cult following over the last 40 years with its motivational scenes and dialogues. Whether you are a sports enthusiast or not, Rocky is not a film to be missed. 
12. Eternal Sunshine of the Spotless Mind (2004)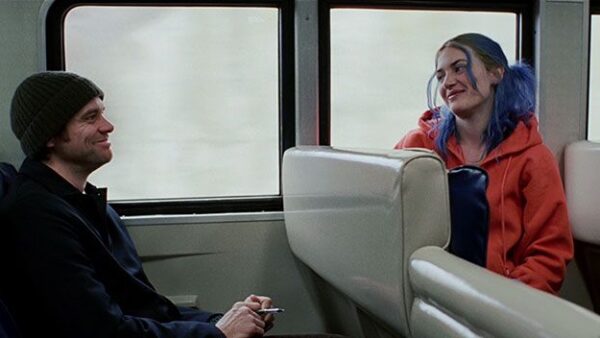 It can be said that over the years, there has been a significant reduction in original yet captivating stories. Almost every plot these days is clichéd to some extent or recycled especially the romantic ones. However, when you have Charlie Kaufman and Michel Gondry attached to a project, nothing less than a creative masterpiece should be expected.
Eternal Sunshine of the Spotless Mind is regarded as one of the last 15 years' most innovative romantic comedy films. The science-fiction elements just add to the brilliance of the story. Moreover, Kate Winslet and Jim Carrey's incredible performances and chemistry make sure of the fact that the audience is fully invested in the story.
The unconventional plot revolves around the lead characters who get memories of each other erased from their minds and fall in love all over again. It was critically lauded as well and over the years, has established a massive fan following.
11. Donnie Darko (2001)
Do not be shocked by this film's surprisingly low box office collection. Due to its advertising campaign including elements that were deemed unsuitable with respect to a real-life controversy at that time, it wasn't advertised that effectively. However, that didn't stop Donnie Darko from winning over both the viewers and critics alike.
It had an ensemble cast, an intriguing story, and not to forget, a dark and chilling tone throughout, keeping the audience at the edge of their seats. The film's plot revolves around the character of Donnie Darko, portrayed by Jake Gyllenhaal as he sets out to uncover the meaning behind his apocalyptic visions.
Over the years, this movie has developed a strong fan following and gets re-released on special occasions. In case you haven't seen it yet, consider yourself blessed as you now have a chance to watch one of the best psychological thriller films of the last decade.
10. Seven Samurai (1954)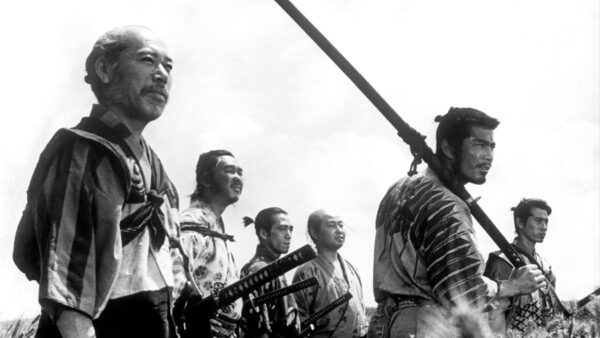 Seven Samurai is Akira Kurosawa's greatest film. It depicts a group of samurai without masters, who are hired to protect a village from bandits. The film is epic in length and scale and features compelling characters and fantastic action. It's also one of the most influential movies of the 20th century, sparking a whole host of films about a small group of fighters battling against incredible odds to save the defenseless. Given its impact on cinema and other media, as well as how engrossing it is, "Seven Samurai" is definitely worthy of watching.
Seven Samurai, the movie, is rightfully considered as the one that has redefined samurai film in its contemporary perception. The film after two decades of a long string of successes, instantly became the brightest example of this revived, uniquely provocative, and entertaining sub-genre, unknown as such in the country of its origin, classified there within a broader genre, Jidaigeki. 
Jidaigeki is a period drama film, often describing events from the pre-modern era of the Edo period, marking the governance of the Tokugawa shogunate (1603-1868), relatively peaceful times for Japan's long history of civil wars, as opposed to gendaigeki, films treating contemporary matters. It is an astounding action drama, occasionally considered as historical when based on real events.
9. One Flew Over the Cuckoo's Nest (1975)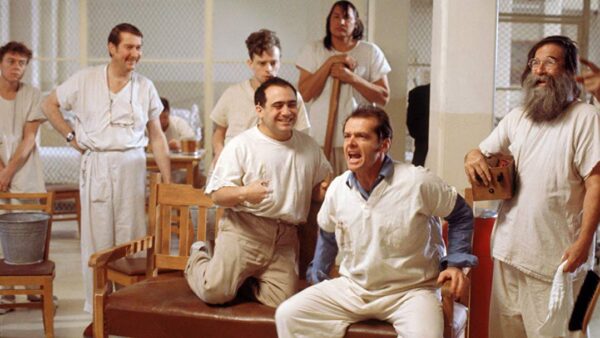 The story of Randle McMurphy, a prisoner transferred to a mental hospital, One Flew Over the Cuckoo's Nest follows his relationships with the patients and the tyrannical nurse Ratched. Ratched and McMurphy's opposing viewpoints, particularly regarding the treatment of McMurphy's fellow patients, lead to a battle of wills between control and freedom that's universally compelling.
In addition, "Cuckoo's Nest" features excellent performances and insightful commentary on how we should treat the people whom society considers abnormal. The film's perfect blend of moving friendships, comedy, and dramatic turns has made it among the most acclaimed movies ever made. The film swept up five Academy Awards in its day, from Best Picture to Best Actor and Best Actress.
8. Monty Python and the Holy Grail (1975)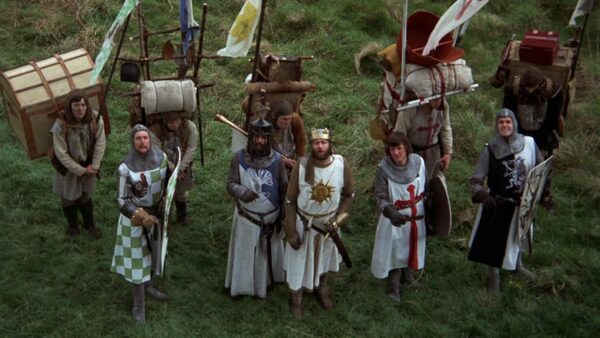 Monty Python and the Holy Grail is an absurd and bizarre adventure of King Arthur and the knights of Camelot on their quest to find the Holy Grail. You'll never think of coconuts the same way after watching this silly British slapstick comedy set in the time of King Arthur and the fabled roundtable.
This film is among the funniest films ever made. Nearly every scene is a wonderfully crafted piece of comedic gold, with most of it delivered by the same half a dozen actors. In addition, the grandiose music and settings perfectly offset the incredibly silly dialogue. Though some would argue it's not Monty Python's best work, there's no denying how accessible and utterly quotable the movie is, with references to it found all over pop culture.
7. Psycho (1960)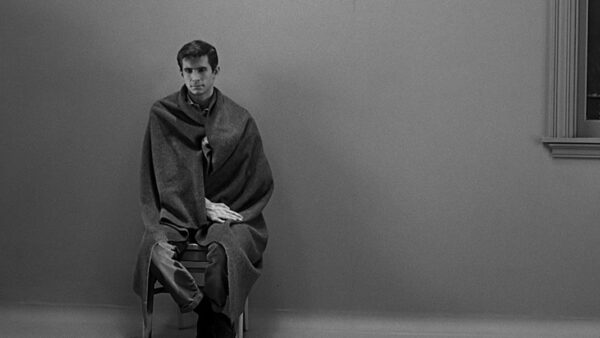 All of Alfred Hitchcock's movies are a hit but we decided to pick Psycho for our list. Psycho is one of the greatest horror films ever made, bar none. The story is incredible. The acting is near perfection. The story of the Bates Motel's guests encountering the disturbed Norman Bates and his domineering mother has had a tremendous impact on cinema and pop culture. One thing people seem to forget about the movie is the incredible soundtrack. Sound is such an important element in movies and Psycho is undaunted when it comes to sound.
The movie is perfectly cast as well.  Not only have individual scenes become iconic, but also the whole film has influenced the creation of the entire slasher genre of horror films and paved the way for plot twists to become a major aspect of movies. Along with its effects, Psycho is just an exceptional film.
6. 2001: A Space Odyssey (1968)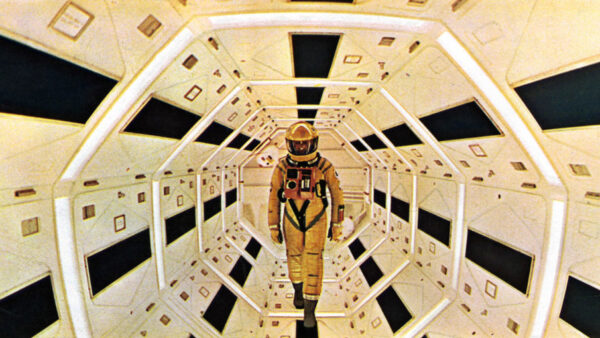 2001: A Space Odyssey is one of those movies that may have a more thematically driven plot than most movies. The movie shows us the sheer virtuosity that went into the making of this epic film. It puts science in 'science fiction', and its depiction of space travel and mankind's future remains unsurpassed to this day. It was so far ahead of its time that humanity still hasn't caught up.
With the incredible special effects, camera work, and set design, Kubrick also presents the viewer with a lot of food for thought about what it means to be human, and where the human race is going. Yes, the ending is weird and hard to comprehend – but that's the nature of the future.
There's no neat resolution, no definitive full stop because then the audience could stop thinking after the final reel. So much of the film is iconic and has influenced popular culture, from its soaring score to its revolutionary effects to its depiction of artificial intelligence turning on humans.
5. Schindler's List (1993)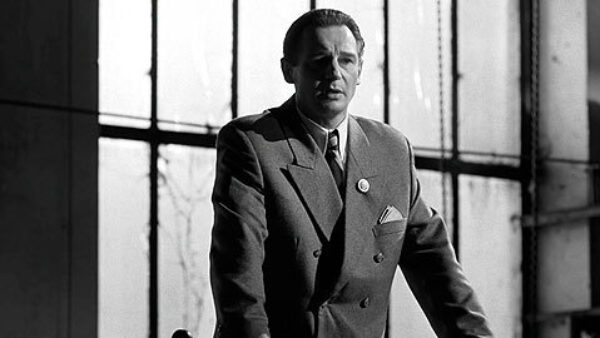 Steven Spielberg has made many great and popular movies, but Schindler's List is arguably his most important, if not his best. The film is based on the true story of Oskar Schindler, a German factory owner who saved over 1000 Jewish people from the holocaust by employing them.
The film unflinchingly depicts many of the horrors experienced by those persecuted and murdered by the Nazis during their time in power, as well as the admirable perseverance of those who lived through it. The movie shows us humanity at its worst, but also at its best.  The film won the Academy Award for best picture in 1993 and is proof of what a movie can achieve. Realistic, powerful, and hard-hitting, Schindler's list is perhaps the best war movie that has ever been made.
4. The Shawshank Redemption (1994)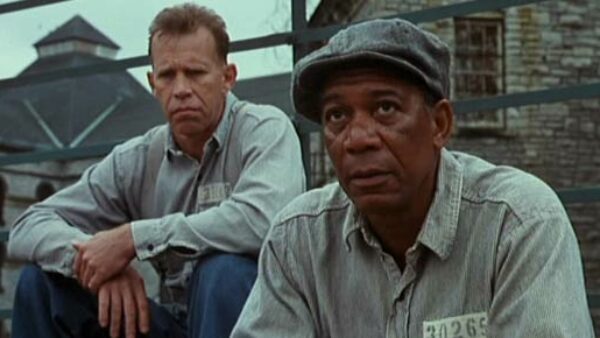 There are prison movies, and then there is The Shawshank Redemption. It is a simple film, yet it has an everlasting message. Frank Darabont didn't need to put any kind of outlandish special effects to get us to love this film, the narration and the acting do that for him. 
The film follows Andy Dufresne, an apparently wrongly convicted man, and his experiences inside, with specific focus given to his work with the corrupt warden and his friendship with a longtime prisoner, Red. The film's portrayal of friendship and its message of maintaining hope in the face of despair is also quite touching, reminding us all that life can get better, no matter how bleak it may seem.
Shawshank encompasses friendships, hardships, hopes, and dreams. Even though the circumstances between the characters and the viewers are quite different, you don't feel that far removed from what the characters are going through.
3. GoodFellas (1990)
Martin Scorsese has directed many exceptional films, and while we considered choosing Taxi Driver instead, we just couldn't justify not picking GoodFellas. The story of the rise and fall of real-life gangster Henry Hill, this film is eminently watchable, with a compelling story, memorable characters, excellent performances, spectacular direction, and quotable lines.
It shows what can go wrong in the life of a promising young person, and how it can go spiraling down — all while being hilarious. The film starts as it means to go on – violent, full of profanity, fast-paced, and very stylish.
The story follows Liotta's character from a boy to a man as he climbs his way up through the ranks of organized crime. We see all the highs and lows of his life and meet a host of very believable and very undesirable characters along the way. It's a film full of memorable scenes whilst remaining much more than the sum of its individual parts at the same time It's an excellent balance of a quality film and a popular film.
2. The Godfather (1972)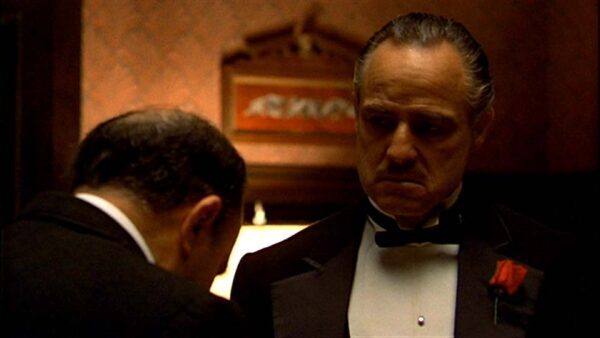 The Godfather isn't just the godfather of the modern gangster movies – it's a phenomenal movie, period. The story of Michael Corleone being gradually drawn into his family's criminal business has a multitude of iconic scenes, moments, and lines that have influenced pop culture, and its performances and plot are absolutely stellar. This movie is a strong, good script, great casting, excellent acting, and over-the-top directing. It is hard to find a movie done this well, it is 29 years old and has aged well.
Even if the viewer does not like mafia type of movies, he or she will watch the entire film, the audience is glued to what will happen next as the film progresses. It's about family, loyalty, greed, relationships, and real life. This is a great mix, and the artistic style makes the film memorable. There may be some movies that are technically better, but they are few in number indeed. The Godfather is an absolute must-see movie.
1. The Wizard of Oz (1939)
The Wizard of the Oz is a timeless tale of Dorothy Gale being whisked away from Kansas to the wonderful world of Oz, and her adventures to defeat an evil witch and return home. The Wizard of Oz is among the most enduringly popular movies of all time.
One of the most cherished fantasy films to ever grace the screen. The film stands as a crowning achievement in 1930's filmmaking. The special effects are highly impressive considering the limited technology available at the time, not to mention they are infinitely more endearing than most CGI effects present in today's films.
The lavish sets, impeccable costume design, and glowing technicolor help to create a convincing and enchanting Land of Oz. The musical numbers are quite lively and catchy – never slowing the pace of the film. Judy Garland truly shines in her portrayal of Dorothy, perfectly capturing the wide-eyed innocence of her character.
There are better films, even on our list, but this one is a cultural touchstone whose imagery, characters, songs, and dialogue pervade cinema, culture, and even our vernacular. If you haven't seen this film yet, click your heels together and get on it right now!
Honorable Mentions
Titanic (1997)
Lawrence of Arabia (1962)
Saving Private Ryan (1998)
The Silence of the Lambs (1991)
12 Years a Slave (2013)
Hope you enjoyed reading our list of movies everyone should at least see once. Feel free to share your views in the comments below!