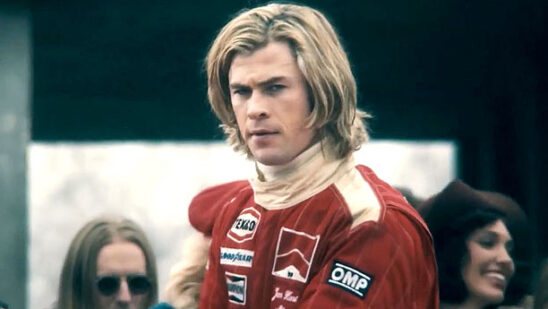 Sports teach us a lot of things including 'how to face a defeat' and 'how to celebrate a win', and those of us who are passionate about any sport have witnessed many unforgettable events in our lives that remain captured in our memories. Generally, sports movies attract a specific group of people but even those who don't like sports can enjoy and learn a lot from sports movies as life is also sort of a game having its own highs and lows. We have included a maximum of one movie from each major popular sport so that a single game doesn't dominate the list. Sports films that are based on true and inspirational stories have been given special preference in our list of the best sports movies of all time:
10. Hoosiers (1986)
Basketball is one of the most common college life games across all countries. David Anspaugh's film is inspired by a true story of the Milan High School Basketball team's triumph in the 1954 Indian State championship.
Gene Hackman played the lead role of Norman Dale, the coach who has a checkered past and who leads a high school basketball team to glory.
9. Lagaan (2001)
The movie is not purely about cricket as it also shows the fight of Indians against British oppression, an Anglo-Indian one-sided love story, and some other issues but mainly it shows how the game of cricket among Indians evolved from their local game 'Gilli-danda'.
Ashutosh Gowariker's film starred Aamir Khan in the lead role who played the character of Bhuvan, a young and bold villager who accepts the challenge of Englishmen in a cricket match and then leads his team to victory against them. This is one of the few Indian films to be on the IMDB top 250 list.
8. Rush (2013)
Any sport is soulless without an intense and fierce rivalry. Ron Howard's biographical sports film is based on a true story of the 1970s rivalry between two very gifted race drivers, the British James Hunt played by Chris Hemsworth, and the German Niki Lauda played by Daniel Bruhl.
It's a class movie that shows two very different personalities having completely different views about life and profession.
7. United (2011)
It's a pity there haven't been many great movies made about 'The Beautiful Game' but we had to pick at least one for the list and the one we've chosen is James Strong's British TV film 'United' which is based on the true story of Munich Air Disaster of the world-famous Manchester United Football Club.
The film portrays the fatal disaster which took 23 lives including that of 8 Man United players and sent many families and football followers worldwide in shock. 10 years later, the club went on to make the mother of all comebacks by winning the European Trophy after being so devastatingly broken.
It might not be the best sports movie but it makes the list due to its significant and historical topic.
6. Invictus (2009)
This is more of a political sports film, directed by the legendary Hollywood personality Clint Eastwood, which tells the true story of the World Cup triumph in 1996 by the Springboks and how the then-president Nelson Mandela inspired the team to play for victory.
Morgan Freeman who played Mandela in the film gave a very strong performance as Matt Damon starred in the supporting role-playing of the character of the South African Rugby team Captain. The film also covers topics such as anti-racism, forgiveness, equality, and leadership.
5. Miracle (2004)
Gavin O'Connor's biographical sports film is based on a very inspirational true story of an overwhelming underdog ice hockey US team that ended the seemingly Invincible Russian team's winning streak of almost two decades in the 1980 Winter Olympics under the leadership of player-turned-coach Herb Brooks.
A sports fan is sure to get goosebumps throughout the film, irrespective of whether he knows anything about ice hockey or not. Kurt Russell who played coach Herbs in the film was tremendous throughout and perhaps his best line in the film was:
'Think you can win on talent alone? Gentleman! You don't have enough talent to win on talent alone'.
4. Moneyball (2011)
This biographical sports film by Bennett Miller is one of the most praiseworthy sports movies of all time, based on the story of the Oakland Athletics Baseball team's season in 2002 and how their newly appointed General Manager exceeded all expectations even when he had limited resources at his disposal as compared to other giant teams.
Brad Pitt, who played the general manager Billy Beans, explains the minnow status of his team in the film by saying:
'… there are rich teams and there are poor teams. Then there are 50 feet of crap, and then there's us'.
Brad Pitt was just phenomenal in the role assigned to him in this film and Jonah Hill didn't do that bad either as he played the character of GM's assistant Peter Brand.
3. Seabiscuit (2003)
Horse racing might not be that much of a globally recognized sport as compared to some other sports but this is certainly a movie not to miss.
This biographical, inspirational, and spirit-lifting film directed by Gary Ross, starring Tobey Maguire, Jeff Bridges, and Tom Smith, tells the true story of one of the most remarkably unbelievable comebacks from the deepest depths of not only the undersized, undermined, and underestimated racehorse but also of the ever determined and courageous jockey as both of them returned from severe and career-threatening injuries not merely to compete but also to win.
2. Raging Bull (1980)
This sport has had many great movies made about it and it was always going to be a tough decision to pick one out of so many. However, the one we've chosen is the legendary director Martin Scorsese's biographical sports film in which Robert De Niro personified a master class, as he played the ever enraged Italian middleweight boxer Jake LaMotta who achieves success in the ring but at the same time breaks with family and wife due to his rather weird nature.
1. Chariots of Fire (1981)
It's a historical and religious sports film directed by Hugh Hudson, that tells the glorious story of two British Olympians, Harold Abrahams played by Ben Cross and Eric Liddell played by  Ian Charleson.
Some of the historical facts about the 1924 Olympics are so romantic and almost too good to believe including Eric Liddell's boycott of the 100-meter race just because it was scheduled to take place on Sunday, the day of the Sabbath, and his firm belief in God that won him the gold medal in 400m race. It won the Best Film award at BAFTA and Oscars and also the Best Foreign Language film award at Golden Globes.
Other Honorable Mentions
Our list of the best sports movies ever is incomplete without mentioning these films:
Boxing: Rocky
Baseball: Bull Durham
Soccer:  Bend it like Beckham
American Football: The Blind Side
Basketball: Coach Carter
Martial Arts:  Warrior
Cycling: Breaking Away
Feel free to share your favorite sports titles in the comments section below!