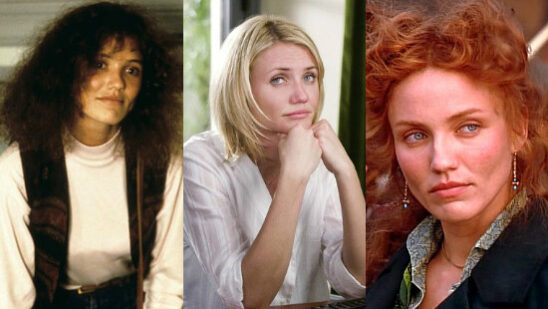 Not many on-screen divas have quite the fan following that the great Cameron Diaz possess. One of the most gorgeous women to have graced the cinema screen, Cameron has been a constant heartthrob for many fanboys down the years. She also has shown a great knack for acting and the versatility of that quality can be seen by the large variety of super hit films she has done. Let's take a look at the 15 best Cameron Diaz movies of all time.
15. A Life Less Ordinary (1997)
An American-British comedy/fantasy film starring Ewan McGregor as a cleaning man and Cameron Diaz as his Boss's spoiled rich daughter. Due to his inattentive behavior at work, he gets fired and decides to kidnap the boss's daughter. So goes along with him, to make an attempt to spite her father.
The fantasy aspect comes into the fold when it is shown that two angels in charge of matching couples together are the true reasons behind these turn of events, in an attempt to form a loving relationship between these unlikely duos.
Overall, a very unique and charming story with both Cameron and Ewan showing magnificent chemistry together.
14. Very Bad Things (1998)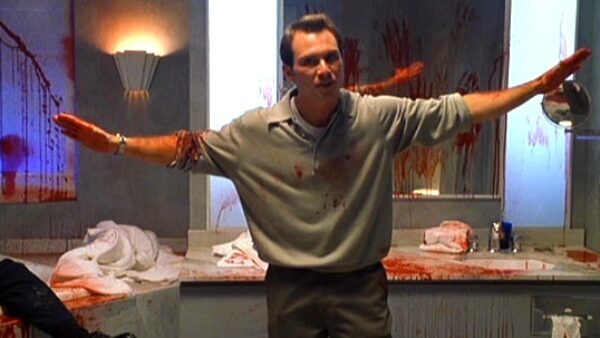 A dark comedy starring Cameron Diaz as a very controlling bride who is obsessed with planning the perfect wedding. Her fiance and a group of his friends go out to Vegas to escape the madness for a little while and have a bachelor party.
Things take a turn for the worst as a prostitute is found dead amidst their part and they start pointing fingers at each other. The comedy in this film is definitely not for everyone. A lot of the subtle and offensive dialogue between characters might actually be overbearing to some.
However, for others who might not get offended too easily, this movie will have you engrossed in laughter throughout with its cast of fun characters.
13. Vanilla Sky (2001)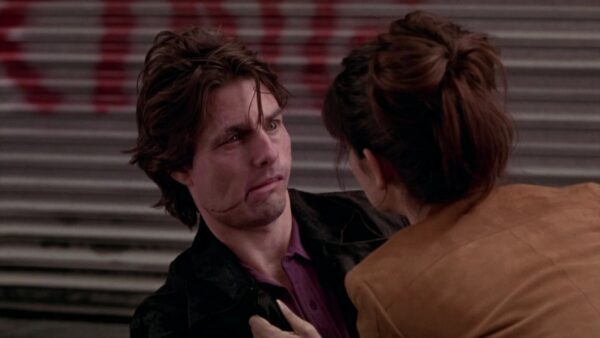 A sci-fi psychological thriller, typically starring Tom Cruise, with Cameron Diaz essentially playing a psycho ex-girlfriend who, out of resentment, causes a lot of misfortune to our main character by attempting to kill him and herself by crashing the car they were driving in.
This leads to her death, but Tom survives. However his face is left disfigured and due to the damage to his face he, for some reason, only sees Cameron Diaz's face of his current girlfriend. Thus, a psychological tale ensues in which our main character's privileged life goes downhill.
12. The Holiday (2006)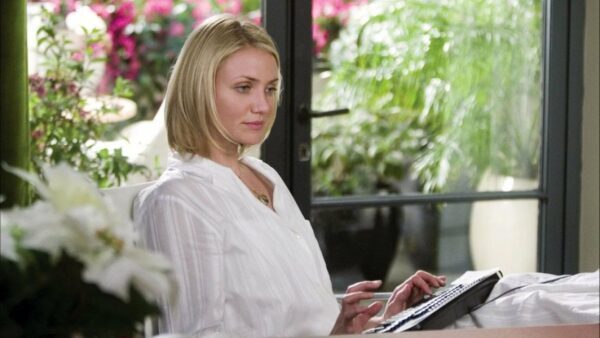 A very simple romantic comedy about two women, played by Cameron Diaz and Kate Winslet, who are having dating troubles.
Moreover, they decide to switch places in each other's countries and pretty much fall in love with a guy they each meet around the local area. It's very light-hearted and fun to watch.
11. Knight and Day (2010)
It is one of the recent Cameron Diaz movies and a very basic spy story with romantic elements mixed in, starring Tom Cruise and Cameron Diaz. Tom Cruise plays a very cunning spy, who ends up trying to clear his name due to someone framing him.
Through these events, an innocent civilian played by Cameron Diaz gets tangled up in this situation as they both learn to rely on each other as the story progresses and predictably develop some romantic feelings towards each other. Definitely a must-watch for all Cameron fans!
10. My Sister's Keeper (2009)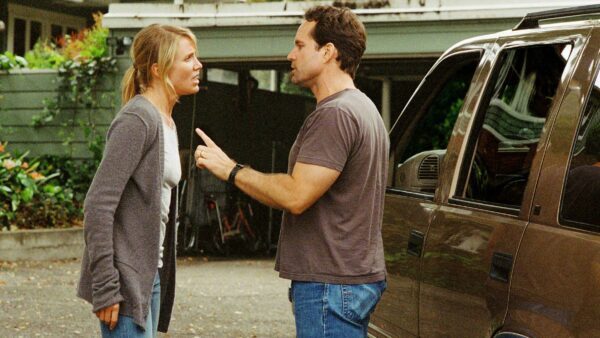 A fairly decent heart-warming story about a daughter that is fatally ill due to leukemia and a family that is trying to do everything they can to save her. This is one of Cameron Diaz's best roles where she plays a caring mother.
She is shown to be trying her best to meet her children's needs but ends up unintentionally showing favoritism in certain circumstances, which is the real conflict of the film. This movie shows how this family comes together to deal with this seemingly unavoidable tragedy.
9. Charlie's Angels (2000)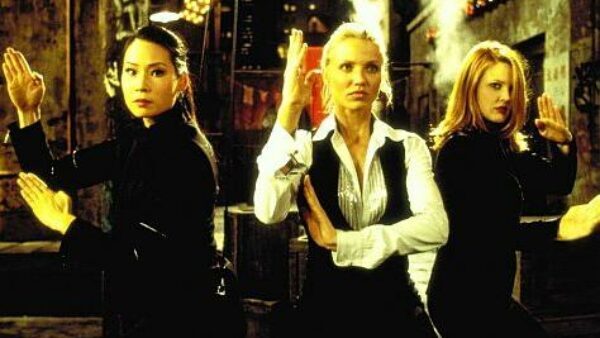 Another spy movie on our list, with Cameron Diaz and two other female leads in the leading role. Odds are you already know what "Charlie's Angels" is all about.
The plot isn't anything interesting but this film mostly serves as eye candy for men and some decently choreographed fight sequences.
8. Any Given Sunday (1999)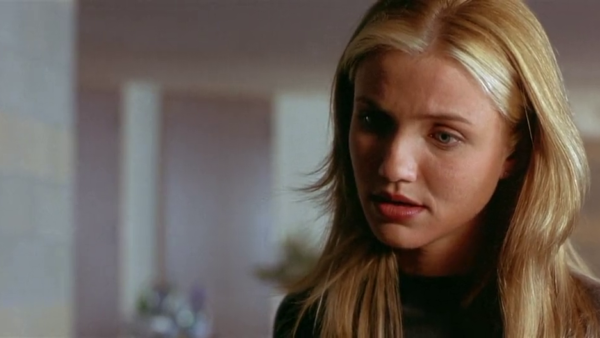 A stellar cast comprising Al Pacino, Jamie Fox, Cameron Diaz, and many more. The film depicts an American Football team and their struggles out on the field.
A very passionate and engaging performance by every actor involved.
7. The Last Supper (1995)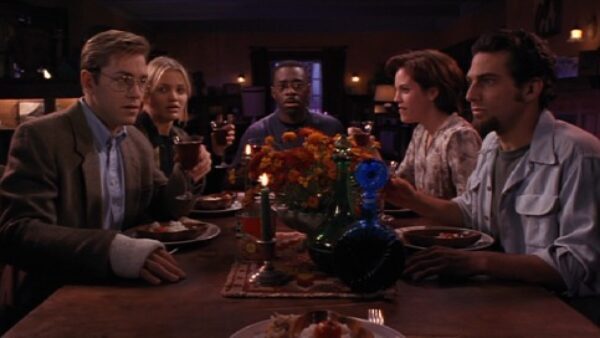 A very thought-provoking dark comedy that shows us when a group of extremely passionate liberals take their beliefs too far and straight-up murder right wings for their own personal political beliefs.
Some might call it an exaggerated depiction of politics as we know it today.
6. My Best Friend's Wedding (1997)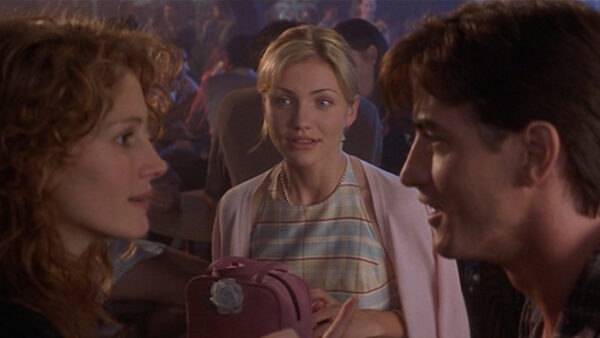 A film that reverses the roles of the man and woman in a complicated relationship. The main female character, played by Julia Roberts, realizes that she's in love with her long-time friend as soon as he reveals that he has gotten engaged.
Cameron Diaz and Julia Roberts worked perfectly together on a comedic scale.
5. The Mask (1994)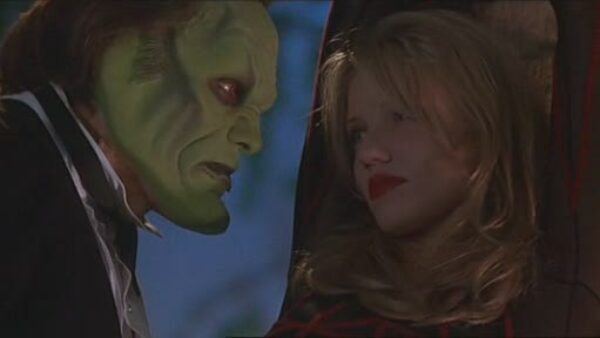 Now, this was a fun flick. Both Cameron Diaz and Jim Carrey were put on the map because of this film, as they both shined in this goofy action-comedy and worked well as love interests in the film.
On a side note, the special effects in this film hold up fairly well even today, primarily due to how creatively and sparingly the outrageously spontaneous CGI was used.
4. In Her Shoes (2005)
A story centered around two sisters and their Grandmother, as the two sisters have a sort of falling out due to certain circumstances but her Grandmother comes to visit to help fix the damage in their relationship.
This film is mostly geared toward women but is still enjoyable to a certain degree for most people.
3. Gangs of New York (2002)
Directed by critically acclaimed director, Martin Scorsese, an ensemble cast consisting of Leonardo DiCaprio, Cameron Diaz, and Daniel Day-Lewis. Set in 1863, Vallon returns to New York to seek vengeance against his father's killer.
It's a very simple yet excellently put-together story.
2. There's Something About Mary (1998)
It's one of the best Cameron Diaz comedy movies to date and a very straightforward romantic comedy starring Ben Stiller. A man who re-connects with his dream girl from high school even though their date back in the day was a total calamity.
A fairly decent flick with quite a few chuckle-worthy moments.
1. Being John Malkovich (1999)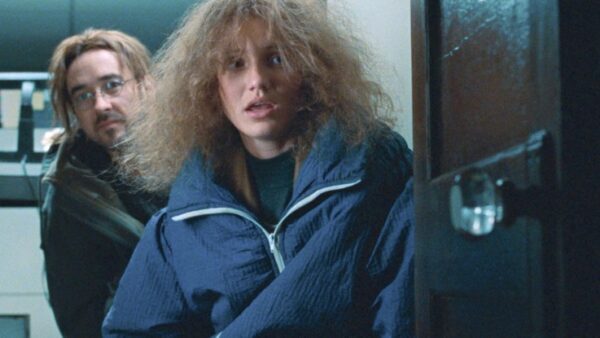 It's one of the most unusual and insane concepts for a movie ever made. The plot is simple; an unemployed puppeteer comes across a portal that leads into the mind of the actor, John Malkovich.
The rest of the film plays off this joke in very creative ways. Rest assured, laughs are guaranteed as these incredibly odd hijinks ensue.
Honorable Mentions
We can't resist mentioning these classic movies by Cameron Diaz as well:
What happens in Vegas (2008)
Bad Teacher (2011)
Did we miss any of the best Cameron Diaz movies of all time on our list? Please let us know in the comments below!