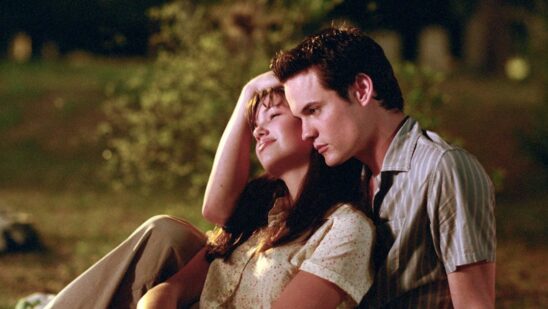 Romance movies are a popular genre of film. There are some romantic movies that make you feel all warm and fuzzy on the inside, and there are some that will make you sad. But if you're in the mood for the greatest romantic movies of all time, then you'll want to make sure you watch these 5 greatest romantic movies that will melt your heart:
5. PS I Love You
When you lose the one you love, you can find it difficult to get over them and start your life, but PS I Love You is a great love story that will melt your heart. Holly's husband dies, and while trying to get over him, she finds that he has left her 10 messages to help her get over him and start her life.
Throughout this movie, you will laugh, and you will cry, and you hope that you will find yourself in love as powerful to last even after being eternally separated.
4. Brokeback Mountain
Love doesn't just come in the form of men and women, and Brokeback Mountain is a true example of complicated love. It's a true combination of love and loss and the confusion that often comes with deciding whether to follow your heart or to follow what society says is best.
Even though the two 'men' develop a romance in this movie, they deal with their conflicting feelings by getting married and raising families with women. Throughout the movie though, they are brought back together a handful of times to show that the attraction between them never fades. Great controversy exists regarding this movie though, whether some agenda was pushed in the movie or not. A variety of interpretations of the movie also exist among viewers and critics.
3. 27 Dresses
Romantic comedies can also melt your heart, and 27 Dresses is one of those that you'll fall in love with. Always a bridesmaid never a bride is the theme of this movie when Jane has been a bridesmaid in over 27 weddings.
She is in love with her boss, but her sister comes along and wins him over. Meanwhile, she starts a budding relationship with Kevin, and the whole movie has twists and turns that will make you smile.
2. A Walk to Remember
Though A Walk to Remember may be older, it's a love story, unlike any other. Of course, it starts off with a bad boy who meets a nerdy girl and eventually falls in love with her, but the kicker of this story is that Jamie has cancer.
With her illness getting worse, it would make sense for Landon to walk away, but he doesn't and through her illness, he helps her achieve everything on her bucket list, including marriage.
1. The Notebook
If you want to see an immense love story that will make you feel a wide array of emotions, then you'll want to check out The Notebook.
The storyline and the love in this movie will make you long for your one true love and hope that you can experience the passion that is even half of what is shown in this story. Plus, Ryan Gosling and Rachel McAdams are easy on the eye.
All of the above-mentioned films are really good romantic movies to watch and are considered classics by both critics and cinema-going audiences alike. Have you missed any of these titles? Let us know in the comments section below!