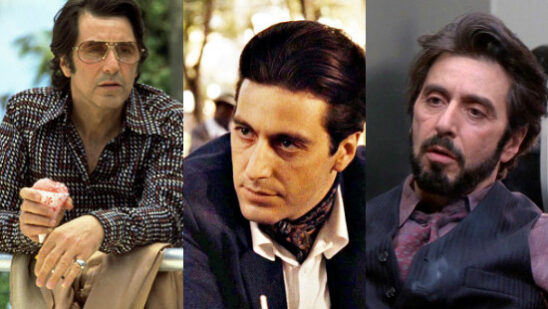 With a career that has spanned more than fifty years, Alfredo James "Al" Pacino has cemented his legacy as one of the greatest actors of all time. As one of the very few performers who have won an Academy Award, Tony Award and Emmy Award labelled as the "Triple Crown of Acting" Pacino has always been determined to prove that he is second to none. Take a look at the 15 best Al Pacino movies of all time:
15. Insomnia (2002)
When Christopher Nolan sits in the director's chair, the fans know that they are definitely in for something special and if Al Pacino is his leading star, then that is surely icing to the cake.
When a 17-year old girl is found murdered in Nightmute, Alaska, it is up to two detectives from Los Angeles Police Department to solve the case only to find out more than what they expected.
Though Pacino did not appear in any of the future movies of Nolan unlike many actors who are frequently employed for his projects, it was unprecedented to see the great actor and director teaming up together for the psychological thriller movie.
14. Any Given Sunday (1999)
Even after passing his prime, Al Pacino manages to steal the spotlight despite having an ensemble cast of Cameron Diaz, Jamie Foxx, Dennis Quad, James Woods, Aaron Eckhart, Marty Wright, LL Cool J, Ann-Margret, Matthew Modine and Elizabeth Berkley.
Portraying Tony D'Amato, Head Coach of the Miami Sharks, the actor gives a tremendous performance as the instructor who dedicates his time so much for the team that he gets estranged with his own family.
13. You Don't Know Jack (2010)
At age 70, Al Pacino starred in television movie You Don't Know Jack. Despite having a low-budget and a director who hardly has any valuable credits of show business, the actor proved that he can still roll no matter where he is.
Portraying Dr. Jack Kevorkian, a real-life advocate of the idea of physician-assisted suicide, the movie was nominated for fifteen Prime time Emmy Awards; winning two including Outstanding Lead Actor in a Miniseries or Movie Award for Pacino.
12. …and justice for all. (1979)
Among the few great courtroom drama films, …and justice for all. is one of them. Al Pacino once again finds himself in a movie revolving around crime and this time, he plays Arthur Kirkland, the best lawyer in the city.
Receiving critical acclaim and gigantic success at the box office, the movie includes the iconic and much parodied Pacino's line,
"You're out of order! You're out of order! The whole trial is out of order! They're out of order!"
Undoubtedly one of the best performances by Pacino, the actor was nominated for an Academy Award for Best Actor but ended up losing to Dustin Hoffman for his role of Ted Kramer in Kramer vs. Kramer.
11. The Insider (1999)
Director Michael Mann teams up with Hollywood Legends Al Pacino and Russell Crowe to bring a great piece of drama called The Insider.
Based on the 60 Minutes segment about Jeffrey Wigand revealing the secrets of the tobacco industry, the movie received critical praise.
The Insider was nominated for seven Academy Awards including Best Picture, Best Director and Best Actor for Crowe but failed to win any one of them.
10. The Devil's Advocate (1997)
In his career which has spanned more than five decades, Al Pacino has proved himself as a very versatile actor due to the vast number of different roles he has played. In The Devil's Advocate, the actor takes the cake as plays none other than Satan himself.
Directed by Taylor Hackford, the movie stars Matrix star Keanu Reeves as a defense attorney who sees his life drastically turning over after he unknowingly makes the deal with the devil.
9. Serpico (1973)
Honesty is the best policy and Serpico shows exactly that. Starring Al Pacino as the real-life New York Police Department officer Frank Serpico, the character blows the whistle on the police corruption.
The crime drama film Serpico received two Academy Awards nominations including one for Best Actor for Pacino. Though the actor failed to win it, he won his first Golden Globe award for Best Actor.
8. Carlito's Way (1993)
Based on the novels Carlito's Way and After Hours by Judge Edwin Torres, the movie revolves around Carlito Brigante, a criminal released from prison after vowing to turn over a new leaf and leaving the life of crime.
The criminal finds himself unable to do so and eventually gets dragged back to the same felonious activities that got him locked up in prison the first place. Al Pacino took the preparation of the role very seriously to the point of accompanying Torres through East Harlem.