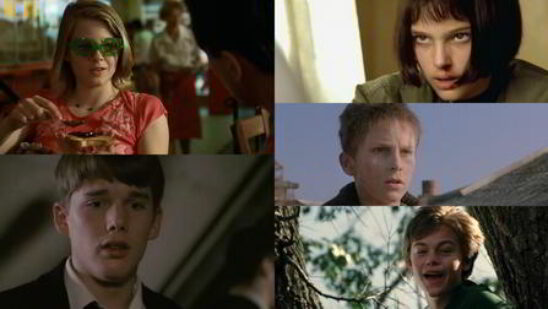 A child's role is often a very integral part of the plot of many movies. We've seen many great young performers in Hollywood movies over the years. Ironically most of them couldn't replicate their onscreen success when they grew older. But, a handful of those who acclaimed tremendous praise for the acts at a young age did go on to achieve the heights of global fame and have become today's household names. Here are 5 unforgettable performances by Iconic actors at a young age:
5. Jodie Foster in Taxi Driver (1976)
At the age of 3, I was still learning to speak properly but at the same age, Jodie Foster began to appear in commercials. She was only 6 when she debuted as a television actress in an episode of Mayberry R.F.D in 1968 and later on featured in many other TV series.
That's why it won't be wrong to call her 'the born actress'. 1976 turned out to be a breakthrough year for her in which the then 14-year-old girl starred in the movies like Bugsy Malone, Freaky Friday, The Little Girl Who Lives Down the Lane, and most importantly Martin Scorsese's masterpiece 'Taxi Driver'.
Robert De Nero gave one of his best performances ever in this film but Jodie Foster's act was also astonishing. She played the role of a child prostitute named 'Iris' displaying great boldness in her act. In the last stages of the movie when De Nero comes to her brothel and so many shots are fired and a lot of men die in front of her eyes, the young girl's tormented reactions during the whole scene were quite extraordinary and highly praiseworthy.
Most critics, audiences, and directors consider the movie 'Taxi Driver' one of the finest movies of all time. The movie earned a nomination in the Best Picture category for the Academy, Golden Globe, and BAFTA awards. Jodie Foster won two BAFTA awards, one for Best Supporting Actress and the other for Most Promising Newcomer, for her two movies 'Taxi Driver' and 'Bugsy Malone' combined.
She also earned the nomination for Academy and Golden Globe awards for Best Supporting Actress in the film Taxi Driver. Later on, of course, she went on to become one of the most decorated Hollywood celebrities of all time performing the lead roles in many top movies.
Jodie Foster, now aged 51, won her first Academy Award for Best Leading Actress in 1989 for Jonathan Kaplan's American drama film 'The Accused' for which she also won the Golden Globe in the same category. Arguably her best movie ever to date is 'The Silence of The Lambs' for which she won her second Oscar, Golden Globe, and also the BAFTA award.
She is now also a professional director and producer. She might still add some more accolades to an already success-filled career of hers but even if it ceases to work anymore from here on in, she will still be remembered as a legendary figure in the history of the film industry.
4. Ethan Hawke in Dead Poets Society (1989)
The multi-talented Ethan Hawke made his film debut at the age of 15 in the sci-fi film Explorers (1985), but his breakthrough film was Peter Bier's 'Dead Poet Society' in 1989. Hawke played the character of a boy named 'Todd Anderson' who has kind of a monkey on his back due to the great record in studies left behind by his brother in the same college.
Todd is a very reserved and shy character who is too afraid to express himself even in front of a small crowd of people. Hawke didn't play any way near a leading role in this film but still, the then 19-year-old boy showed great potential. The scene in which he runs through the snow in anxiety after the death of his friend and roommate Neil is just unforgettable.
The movie won the BAFTA award for Best Picture and was also nominated for Academy Award and Golden Globes in the same category. Robin William's who played the leading role in this film also received an Academy Award nomination. All the young students in this film performed really well and to be honest, not many people would have predicted that Ethan Hawke is going to become a leading actor, writer, and director in Hollywood his career later on.
He might not be as glamorous and as decorated a personality as Bale or Leo, but Ethan Hawke is still one of the famous names in American cinema and has written and acted in some globally recognized movies. He has featured as an actor in box office hits like Hamlet, Before Sunrise, Before Sunset, Before Midnight, Sinister, and, many others.
He has earned three Academy Award nominations in his career so far with the first being as an actor for his supporting role in the crime thriller 'Training Day' and the other two for his co-writing in the screenplays namely 'Before Sunset' and 'Before Midnight'. Hawke is now 43 years old and still has enough time to leave an everlasting impression in Hollywood through his work.
3. Natalie Portman in Leon: The Professional (1994)
The Jerusalem-born charming beauty Natalie Portman is still so young but she was a whole younger, in fact just 12-year-old when she made her on-screen debut in Luc Besson's English-language French thriller film Leon: The Professional in 1994.
She played the role of 'Mathilda' whose parents, in fact, the whole family get killed by the DEA Police, and then she is taken in by a professional hitman. Jean Reno who played the role of hitman performed well but Gary Oldman's act as a villain was lauded the most.
Now in such a scenario, the performance of a 12-year-old girl who is just making her debut could easily have become unnoticeable but it wasn't the case. In some of the scenes, she was just unbelievable, like the one in which she plays the guessing the celebrity game with the hitman, and also the one in which she has dinner with him at the hotel.
The film was a huge hit and has a high rating on most online wikis. Natalie Portman later went on to perform in many other major hits also including V for Vendetta, the Star Wars prequel trilogy, and Black Swan. She won the Academy Award for Best Actress in a Leading role in 2010 for Darren Aronofsky's psychological thriller film 'Black Swan'.
She has also won two Golden Globe Awards for Best Leading Actress in a Motion Picture-Drama, one for Black Swan and the other for her role in Mike Nichols' romantic drama film 'Closer'. With a long prospective career ahead, she is likely to win many more awards if she keeps performing the way she has done up till now.
2. Christian Bale in Empire of the Sun (1987)
Upon hearing the name 'Christian Bale', the first thing that comes to mind is 'The Batman' and indeed his entry into the film industry was nothing less than heroic when he got picked for the role in his first film beating more than 4000 other kids who were also auditioned.
The Welshman made his film debut at the age of 12 in Steven Spielberg's World War II movie 'Empire of the Sun' in 1977. Bale played the character of a young boy called 'Jamie Graham' or 'Jim' belonging to a wealthy British family living in Shanghai. Jamie's life is the focal point of the film meaning that there's only one leading character in this war epic and that's the kid. He's present in almost every single scene of this more than two-and-a-half-hour movie.
There must have been quite a burden of responsibility upon such young shoulders of a little boy but didn't he carry it well? The best part of Bale's act in this film was his transformation from being a pampered, naughty, careless yet innocent kid to a responsible, courageous, and clever boy. This transformation happens during the time he lives in the absence of his parents as a prisoner of war in a Japanese camp.
The film on its initial limited release was not a huge success but it soon yielded almost double its budget when it was released widely. Christian Bale's performance was highly praised by most film critics and the actor received a special citation for Best Performance by a Juvenile Actor from the National Board of Review of Motion Pictures, an award specially created for his performance in this movie.
In his adult career, Bale has featured in many major hits including The Batman trilogy. He won the Academy Award and also the Golden Globe Award for Best Supporting Actor for his role in David O Russell's sports drama film 'The Fighter (2010)'. For his most recent work in American Hustle (2013), also directed by David O Russell, he received the Golden Globe Nomination for Best Leading Actor losing out to Leonardo Dicaprio.
He has also been nominated for the Academy Award in the leading role in the same movie with the result still pending. He might not win it this year because of the strong performances put on by the other nominees but maybe one day he will.
1. Leonardo Dicaprio in What's Eating Gilbert Grape (1993)
Leonardo Dicaprio, at the age of 19 played the character of 'Arnie Grape', an autistic teenage boy who is the younger brother of 'Gilbert Grape' played by another widely loved actor Johnny Depp in Lasse Hallstrom's American drama film 'What's Eating Gilbert Grape'. This wasn't his first onscreen act as he had previously appeared in three other Hollywood movies amongst which Michael Caton-Jones' film This Boy's Life in 1993 is most notable.
There was one thing about Hallstrom's film that received overwhelming praise from many viewers and critics and that was Leo's splendid performance. The Los Angeles-born American actor said that he actually spent a few days at the home of mentally retarded teens to get a firm grip on his act and it sure did help him a lot. Leo maintained the high intensity which was the demand of that role from the start till the very end of the film.
Later in his career, he went on to appear in some of Hollywood's all-time blockbuster hits receiving numerous awards and nominations on his way, but his character of a mentally handicapped boy in this film is still among his best onscreen performances ever.
To overshadow someone playing the leading role in the film and in fact doing so to a name like Johnny Depp is in itself a remarkable achievement. The then-teenager received an Academy Award nomination and also a Golden Globe Award nomination for Best Supporting Actor from this film and perhaps undeservingly fell short of both.
However, his efforts didn't go completely unrewarded as he received the National Board of Film Critics Award for Best Supporting Actor and also the Chicago Film Critics Association Award for Emerging Actor.
James Cameron's Titanic in 1997 was 'the film' that lifted Leo's career to another level and since then he hasn't looked back and has given hit after hit movies in Hollywood. Along his way, he has won two Golden Globe Awards for Best Leading Actor, both from Martin Scorsese's films His first win was from the crime thriller 'The Departed (2006)' and the other one from his most recent movie 'The Wolf of Wall Street (2013)'.
Feel free to share some more unforgettable performances by iconic actors at a young age in the comments section below!