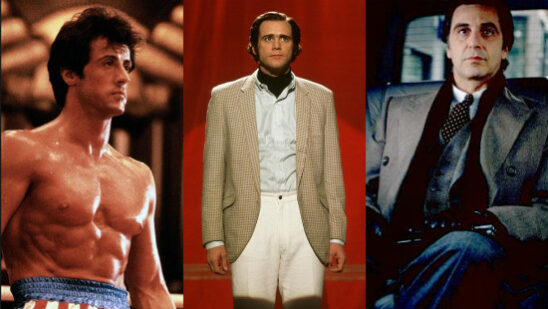 While many actors consider their movie roles as a mere paycheck, few take them to the point of making people wonder if they are mentally insane. At the end of the day, acting is nothing more or less than any other physical profession but let's take a look at the performers who thought otherwise and took their roles too far for the sake of absolute perfection. So, without any delay here are the 15 actors who went too far for their role: 
15. Edward Norton (American History X)
In order to portray the former neo-Nazi leader Derek Vinyard in the 1996 crime film American History X, Edward Norton decided to muscularly bulk himself to express the character's white supremacy belief and racist nature.
Though unnecessary since his marvelous acting would have shunned his slim physique, Norton engaged himself in a vigorous workout for three months; resulting the gaining of 30 pounds and a prestigious Academy Award nomination for Best Actor.
14. Natalie Portman (Black Swan)
A year before the filming of Black Swan, Natalie Portman understood the physical requirements to portray an enthusiastic ballerina and took actual ballet lessons to pull off her performances instead of letting a stunt double do the hard work.
Apart from losing 20 pounds by a daily five-hour workout, Portman was intensely focused on her role and even suffered a concussion and dislocated one of her ribs during the shoot. Her dedication paid off as she won the Academy Award for Best Actress.
13. Eddie Redmayne (The Theory of Everything)
As the star of The Theory of Everything, Eddie Redmayne was born to play Stephen Hawking. What may seem as an easy task, the actor assured that portraying someone physically restrained and bound to a wheelchair was very challenging task.
Redmayne spent four months meeting with different ALS patients in London to understand their physical and emotional lifestyles and even risked his back permanently being curled by the way he sat on the wheelchair. His commitment was recognized by winning numerous accolades including Academy Award for Best Actor.
12. Matthew McConaughey (Dallas Buyers Club)
Due to a very limited nutrition of two Diet Cokes, egg whites and a piece of chicken every day for three months in order to portray the real-life AIDS patient Ron Woodroof in Dallas Buyers Club, Matthew McConaghey was on the verge of being blind but that did not stop him from continuing the shooting.
The actor lost 50 pounds for his role as he intended to but being blind was not part of the plan. Because of the scarcity of vitamins and minerals, the actor's near loss of vision can be attributed to the fact that malnutrition and starvation can lead to blindness.
11. Sylvester Stallone (Rocky IV)
To add a sense of realism in the concluding boxing match of Rocky IV, Sylvester Stallone asked his co-star Dolph Lundgren to actually try knocking him out. Certainly not the wisest thing to ask for, the request was granted and things did not go well for Stallone afterwards.
The impact on Stallone's chest slammed the heart to the breastbone, resulting in the swelling of his heart and the blood pressure crossing 200. Rushed to a hospital, the actor was placed in intensive care for eight days and Stallone's life was saved.
10. Heath Ledger (The Dark Knight)
Heath Ledger – who never portrayed a comic book character before – locked himself in hotel room for a month in order to carry out the research and rehearsals necessary to make the Joker a cultural icon he is today.
Sleeping an average of two hours a night while he prepared himself for the biggest – and last – role of his career, Ledger stole the spotlight from Batman in The Dark Knight to the point of posthumously winning an Academy Award for Best Supporting Actor.
9. Robert De Niro (Raging Bull)
Portraying a boxer is not a cup of tea for any actor yet Robert De Niro pushed himself to the limits for the role of real-life middleweight boxer Giacobbe "Jake" LaMota in the 1980 biographical film Raging Bull. Gaining 60 pounds and getting trained by none other than LaMota himself, the actor was a physically changed man.
Proving too much for De Niro to handle, the actorbegan suffering from respiratory problems because of the excessive weight gain and the shootings were forced to stop for some time. The actor's dedication to his role did not go unnoticed as De Niro was award the Academy Award for Best Actor for the performance.
8. Choi Min-sik (Old boy)
Voted as one of the best Asian films ever made, South Korean film Oldboy received a lot of acclaim due the sense of proficiency displayed by the actors particularly by Choi Min-sik who lost and gained weight for his role depending upon the filming schedule.
Apart from doing his own stunt work and training for six weeks, Min-sik ate a live octopus once his character was released following an imprisonment of fifteen years. Worse enough, he did it seven times due to retakes with seven different octopuses.