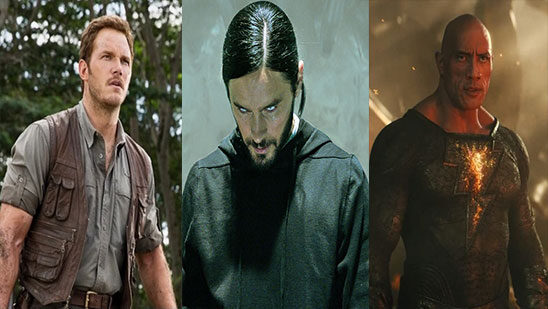 2022 was a great year for film and TV shows. However, it was equally disappointing in some cases. There were some unexpected hits, but some expected hits were flops. Today, we're talking about the 15 worst movies of 2022. So, let's get started.
15. Doctor Strange: Multiverse of Madness
Doctor Strange: Multiverse of Madness was perhaps the most anticipated superhero film of 2022. Rumors of the biggest stars making appearances and cameos made it an even more exciting project. Then, the film was released, and reality hit like a southbound train.
Even though Benedict Cumberbatch and Elizabeth Olsen give their best, the film's story and substance just aren't enough to make it a weighty affair. Instead, it feels light, funny, and almost ridiculous at some points.
Needless to say, the underwhelming cameos by the future and past MCU stars made it even worst for some. Hence, the months of excitement and anticipation for this movie ended up being one of the back-breaking affairs for MCU's failing Phase 4.
14. Thor: Love & Thunder
Superhero films in the summer are always blockbusters. But they can also be super disappointments, as proven by Thor: Love & Thunder this year. After an incredible journey in Marvel's Phase 3, people expected to see a rugged, war-torn, and battle-hardened Thor.
Moreover, people thought this film would be a "can't-miss" affair when he went against a formidable foe in Gorr – who was played by Christian Bale, by the way. But, the disappointment was oozing within the first week of this movie.
Statements like "Not enough Gorr" and "they ruined Thor" were some of the common conversations after it. Definitely painting it as one of the biggest disappointments in 2022.
13. Lightyear
When Buzz Lightyear's movie was announced, the joy was astounding. Not only was it trending on social media, but it offered a lot more to cheer – as Chris Evans was the voice behind the beloved character.
While it was clear from the get-go that this story is going to be about the person the Buzz Lightyear toy was inspired by, the film still failed to hit the mark – by lightyears (no pun intended). After a week of its release, all the buzz had died down (no pun intended either).  And, at the end of 2022, this film is all but forgotten.
12. Hotel Transylvania 4: Transformania
The Hotel Transylvania series has always been a treat for people of all ages. While they're certainly more popular among younger audiences, they've always been a treat to watch with the family. However, the fourth installment missed the mark.
Even though there are some great moments and the character stories wrap up nicely. Yet, the film feels a bit flat compared to other Hotel Transylvania movies. Simply because it didn't have that pacing and weight of the plot.
11. Moonfall
Moonfall appeared to be one of the most intriguing sci-fi movies of the year. It had all the elements and the plot to be a huge success. Because not every day you see a film about the Moon's collision with our green earth.
However, despite featuring a strong cast, the film simply didn't hit it off. Critics were the first to dismiss it, and audiences followed along. The visuals were good the acting was above-par. But, the plot seemed weak and hollowed at times.
10. The Adam Project
Maybe Ryan Reynold's break from acting in 2021 will bear good fruit. That's not to say he's not talented, but that Hollywood has done him dirty by casting him in the same role with different variations. The Adam Project was another nod to this trend.
The film wasn't bad by any rights. Nor was it expected to be a critic-pleasing blockbuster. However, it just doesn't feel like a watch-worthy title, despite having a charismatic lead and an interesting plot.
9. Blacklight
If you didn't know any better, the poster and promotional material for Blacklight would make you think it's another Taken sequel. We love our Liam Neeson in an under-dog-against-the-machine story. But this film just fell flat on its face.
The premise of this movie feels almost as if the directors needed the plot to fit into the action – not the other way around. So, it just added to the list of movies that simply don't work anymore.
8. Pinocchio
Pinocchio is overrun by Hollywood at this point. We have seen the adaptation in TV shows, animated movies, live-action, and whatnot. Yet, people were excited about this film – even though we had an adaptation in 2021 – which was way better, btw.
However, the iteration in 2022 just doesn't bring the same joy. It's flat, the dialogues are all over the place, and it just doesn't have the effect a Pinocchio movie should. Making it another movie in the long list of Hollywood disappointments in 2022.