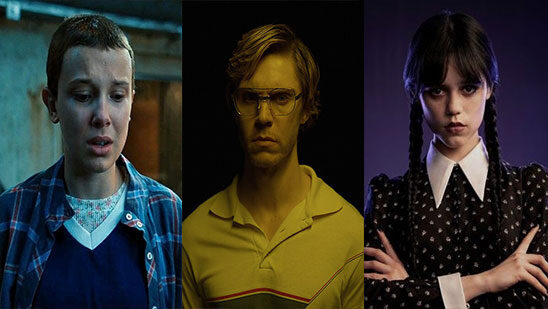 2022 was a mixed year for TV shows and films. While many disappointed us, some were surprise treats. Today, we're honoring the best TV shows of 2022, including newer seasons from previously running TV shows and Mini Series. So, let's get started.
15. The White Lotus (Season 2)
The White Lotus made a mark on the black comedy genre. Even though the first season came out in 2021, 2022's second season is the one that truly brought this show to the limelight. Moreover, it features a stellar cast in Aubrey Plaza, Alexandra Daddario, and Sydney Sweeny.
The show's plot tells you little about its intriguing story. So, it's one of those "watch it to understand" kinds of media. But, to keep it simple, it's about guests and staff at a vacation resort – each one having a psychological dysfunction of some sort.
14. Andor
Andor is the extension of the Disney+ Star Wars universe. In a year when a lot of TV shows and movies part of universes disappointed, Andor took off and never landed. And it earned equal praise from both critics and audiences.
The story was about Cassian Andor's early years when he went on difficult espionage missions for the Rebellion. The show thoroughly delivers his role in the Rebel Alliance and the seeds that it planted for the future.
13. The Responder
The Responder is one of the very few shows from the year that earned a 100% Rotten Tomatoes rating. Led by the charismatic and enchanting Martin Freeman, this show was definitely one of the surprises of the year with its simple yet outstanding story.
The story is about urgent response officer Chris Carson, who struggles to keep his mental health in check during his bear duty in Liverpool. His series of nightshifts lead him on a path of revelations and restoration.
12. Euphoria (Season 2)
Early in the year, nobody was talking about anything except Euphoria. Whether to ridicule it for its above-their-age-looking high-school cast or to commend the performances delivered by the cast. Whichever side you were on, you would have seen it trending everywhere.
While it also earns a lot of critique from audiences, the show simply embodies the extravagant lifestyle of some of the high school students. Even if some do not agree that this show is close to the reality of high schools, the identity crisis is very well portrayed by the cast here.
11. Slow Horse
Slow Horse is led by the ever-pragmatic Gary Oldman, as he delivers yet another outstanding performance. At this point, it's safe to say he's the most underrated actor of this generation – or any other, for that matter.
However, the show is about a debilitated team of MI5, who is a product of the agency's dumping depot. Hence, their pasts and wrong choices collide but what doesn't change is their loyalty to the cause and their country.
10. Monster: The Jeffrey Dahmer Story
At this point, Jeffrey Dahmer has become a cult figure for those who like serial killer documentaries. But, it also raises the question about the U.S. audience's fascination with serial killers and whatever horrible things they did.
And, Monster: The Jeffrey Dahmer Story thoroughly captures the black and demonic heart of this tale. But, instead of a collective narrative, the story is from the perspective of victims this time – which makes this callous account even more horrifying.
9. Reservation Dogs (Season 2)
Reservation Dogs released its second season in August, and it made an even greater impact than its last one. Earning a near-perfect 99% rating on Rotten Tomatoes, the show delivered once again, and producers wasted no time announcing the third season.
The story's about four indigenous teenagers who are looking to do whatever it takes to move from Oklahoma to California. This leads them to make choices such as stealing, robbing, and anything necessary.
8. Reacher
Reacher finally gave the long-time book fans exactly what they wanted to see—a tall battering ram who'd bludgeon anything in his way. And, so he does throughout this first season, as Reacher was another one of the early-year successes in 2022.
Just a mere days after its release, Reacher's second season was announced. This should tell you that this veteran military police detective's adventures are going to get even more intense.