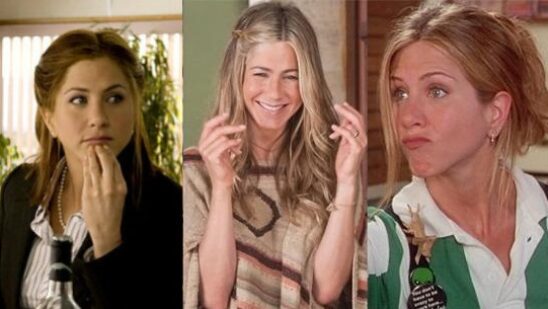 Daughter of the Greek-American actor John Aniston and actress Nancy Dow, Jennifer Joanne Aniston is easily one of the most popular showbiz stars of all time. Jennifer Aniston, of F.R.I.E.N.D.S' fame (1994-2004), earned a Prime time Emmy Award, a Golden Globe and a Screen Actors Guild Award, for a character, Rachel Greene, recognized as being one of the top 100 greatest female characters in U.S. television.
Voted as 'The Most Beautiful Woman' by People's magazine in 2004 and as 'The Sexiest Woman of all time' by Men's Health magazine in 2011, Jennifer Aniston has been media's favourite star. She enjoys a gigantic fan base and is one of the highest paid actresses in showbiz, featuring in many superhit films. Here we take a look at the best Jennifer Aniston movies of all time:
15. Picture Perfect (1997)
In her first lead role in a movie, Jennifer Aniston plays an ad executive, Kate, who comes up with great ideas but is never included in the client team. Agency head, Mercer, believes a single woman like herself is a free bird and might leave the company any time.
Paying heed to her friend Darcy's advice, Kate calls Nick, a wedding photographer also in love with her, and asks him to act as his boyfriend for a weekend, even offering him money. Plot thickens when Kate has an affair with office bad boy (Kevin Bacon) and Nick gets to deal with Kate's rude side. This rom-com is directed by Glenn Gordon and has pretty good dialogues.
14. Management (2008)
This 90 mins of romantic comedy featuring Jennifer Aniston is not a bad first attempt at directing by the American playwright and screenwriter, Stephen Belber. It shows the attractive American actress as an independent travelling saleswoman name Sue, who makes frequent stops at motels.
One such stop at Kingsman motel and she shares a one night stand with the manager of motel, Mike. Mike is a dimwit and a slacker, often wasted. Sue leaves the next day, but Mike has fallen head over heels for her and has decided to go after her, ready to make serious changes in his life for her.
13. The Object of My Affection (1998)
Nicholas Hytner's comedy flick is yet another out of the box romance story, based on a novel by Stephen McCauley, featuring the popular F.R.I.E.N.D.S star, Jennifer Aniston along with Paul Rudd and Kali Rocha in the lead.
The story is about a social worker, Nina Borowski (Jennifer Aniston) living with George (Paul Rudd) a perfect happily-ever-after-life, with just one little problem, they're not a couple and George is gay.
Nina is pregnant and her boyfriend wants a marriage while she is falling for George and would be willing to raise her kid with him despite the obvious problem.
12. Bruce Almighty (2003)
Get ready to laugh to your wits' end because this comedy flick comes with Jim Carrey in the lead role. As if the cast did not have enough firepower with Jim Carrey, it also stars Morgan Freeman – as god! And Jennifer Aniston plays Bruce's (Jim Carrey) girlfriend.
Unhappy with everything in life with nothing at all going his way, Bruce takes a swing at god, discontent about his decisions for Bruce. In an unprecedented manner, god takes a human form and responds. He challenges Bruce to take over the job, giving him divine powers to see if he can do a better job.
11. Cake (2014)
Cake is the story of a tragedy stricken woman named Claire Bennett (Jennifer Aniston). Recently divorced and a great personal trauma has her in insufferable pain, anger and has made her rude towards everyone. Claire becomes obsessed with a fellow woman's (Nina) suicide, in her support group and starts having nightmares about her.
The movie shows how she traces Nina's husband and gradually comes to terms with reality fighting off the dependency on drugs for her pain. Better known for comedy roles, Jennifer Aniston in lead role as Claire Bennett pulls off a stunning performance as a woman in extreme pain, getting nominated for a Golden Globe.
10. The Switch (2010)
Based on a short story by American novelist Jeffrey Eugenides, this is another romantic comedy, co-directed by Josh Gordon and Will Speck. A rather unorthodox romance story that involves two best friends, Kassie (Jennifer Aniston) and Wally (Jason Bateman).
Kassie, who fails to find love of her life, decides to go for artificial insemination, an idea Wally has reservations about. Kassie moves out of New York to raise her kid and returns 7 years later to involve the sperm donor in their lives. Wally, however finds uncanny similarities between himself and the kid. What did happen at Kassie's insemination party years ago?
9. Wanderlust (2012)
A small idyllic community with no societal pressures to earn money or make successful careers does sound like an ideal place to live. But is it as sunny as the picture paints it? George (Paul Rudd) and Linda (Jennifer Aniston) find out by staying a fortnight in a place called Elysium.
Originally from Manhattan, both George and Linda have faced a financial crunch and were on way to George's brother in Atlanta when they happen to hit upon Elysium and decide to try when they are invited in. This 100 minutes of comedy time is written and directed by American comedian David Wain.
8. Dream of an Insomniac (1996)
The writing and direction of Tiffanie DeBartolo features the British-American teenage idol Ione Skye, people's favourite Jennifer Aniston and Mackenzie Astin in lead cast.
Frankie (Ione Skye) is an insomniac who works in a coffee house and is very hard to please, waiting for the perfect man of her ideals. A new worker, David, does seem to match her definition of perfect guy but he already has a girlfriend named Allison (Jennifer Aniston).