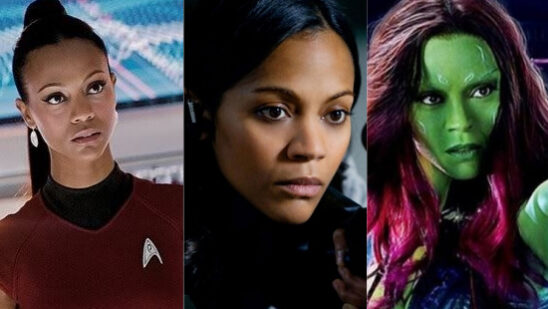 Ever since her debut back in 1999, Zoe Saldana has been wowing audiences and critics alike. Believe it or not, the American actress has an impressive feat of starring in three of the only five movies to ever gross $2 billion at the box office i.e. Avengers: Endgame, Avatar, and Avengers: Infinity War. Here are the 15 best Zoe Saldana movies of all time:
15. Crossroads (2002)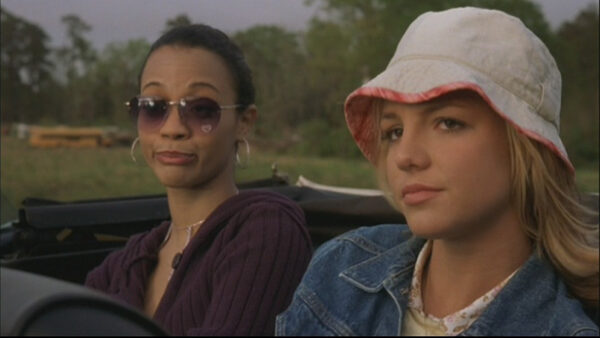 Road comedy Crossroads had tremendous hype due to being Britney Spears' debut movie. The pop princess shared the screen with Zoe Saldana who was also a plucky young up-and-comer actress at the time.
Produced by MTV Films, the movie is about three teenage friends Lucy, Kit, and Mimi. After their graduation, the trio embark on a road trip with separate goals – Lucy has to find her mother, Kit has to visit her fiancé and Mimi has to audition for a record company.
14. The Skeptic (2009)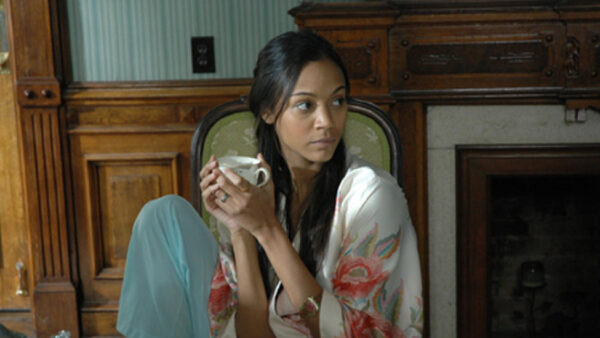 Following the death of his aunt due to mysterious circumstances, attorney Bryan Becket inherits her Victorian mansion. However, his stay is hardly a welcoming one as strange events begin to happen in the house.
He ignores the warnings from his close friend and partner at his law firm Sully due since the former does not believe in the supernatural. With the help of psychic Cassie, Bryan soon discovers the shadowy past of the haunted house.
13. Drumline (2002)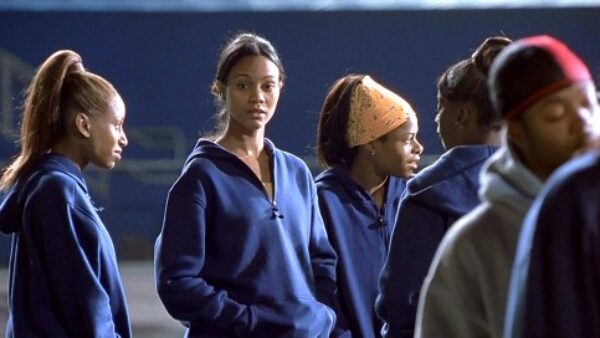 Atlanta A&T University takes its marching bands very seriously. That is why the educational institution did not hesitate to enlist street drummer Devon Miles as the head of their marching band.
His talent definitely won the judges over but his problems are far from being over. While thriving as the marching band's leader, he must find time for his relationship with upperclassman dancer Laila portrayed by Zoe Saldana.
12. Haven (2004)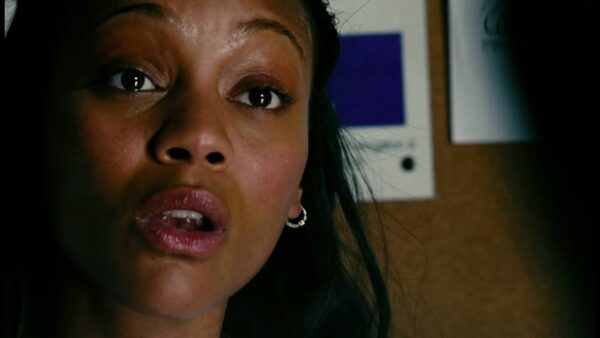 A tale of greed, love, and corruption, Haven incredibly demonstrates how tranquility can turn into chaos within a matter of mere moments.
Even with a star-studded cast of Orlando Bloom, Bill Paxton, and Anthony Mackie, Zoe Saldana was able to distinguish herself from the pack due to her remarkable acting abilities.
11. Guess Who (2005)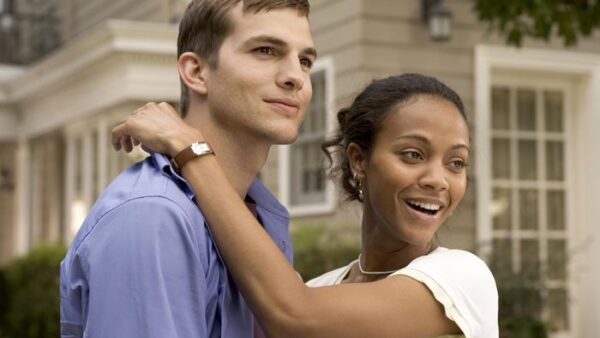 Comedy movies starring Ashton Kutcher have a class of their own. Among them is Guess Who in which his co-star is none other than Zoe Saldana. The movie showcases Percy Jones' distastes for his daughter's boyfriend Simon solely because he is white.
Though the plot seems distasteful due to racial issues, the duo of Kutcher and Saldana make the move worth the while.
10. Blackout (2007)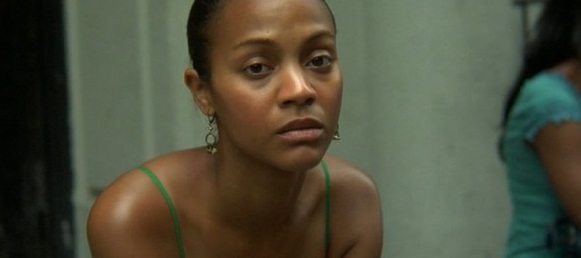 Based on the real-life Northeast blackout that occurred in 2003, the movie is about the people of a Brooklyn neighborhood.
As anxiety escalates due to the power shortage, they soon realize that they always had each other for emotional support. Apart from Zoe Saldana, Blackout features one of the earliest performances of Michael B. Jordan.
9. Premium (2006)
Reginald "Cool" Coolidge is a struggling actor who also works at a gas station. One day, he stumbles upon his ex-fiancée Charli and realizes that he is still in love with her despite their breakup three years ago.
He is desperate to win her heart back but time is not on his side as Charli is about to be married in 36 hours. Utilizing everything he had learned as an actor, Cool confidently takes on the challenge of rebuilding his relationship with Charli. 
8. The Losers (2010)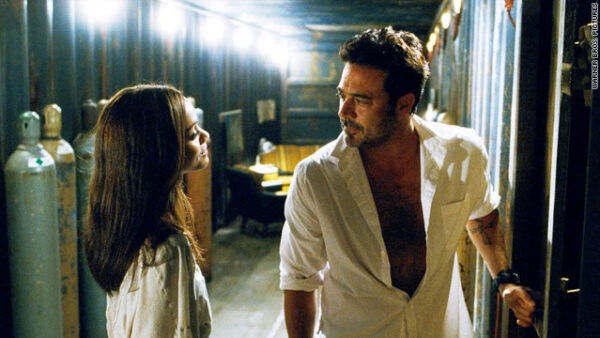 A revenge flick featuring an elite black ops team? Shut up and take my money!
With a cast featuring Zoe Saldana, Chris Evans, Idris Elba, and Jeffrey Dean Morgan, The Losers is an action-packed movie. Though it was considered similar but inferior to The A-Team which was released the same year, it still is a good movie in its own right.
7. Colombiana (2011)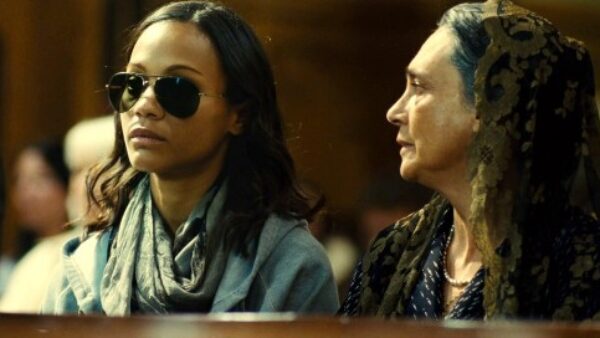 At this point in her career, Zoe Saldana had more than ten years under her belt and the actress had become notable for her performances in teen flicks and dramatic roles as well. With the French thriller flick Colombiana and the aforementioned The Losers, she transitioned into the action genre.
Though the movie received negative reviews, it was hard to deny that Saldana's action sequences were absolutely mind-blowing.
6. Center Stage (2000)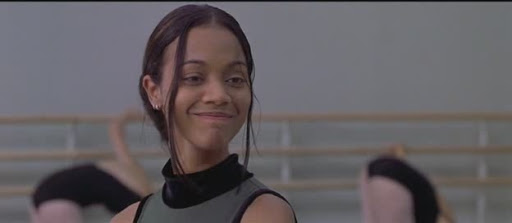 Only 22 years old and with a lot of dreams to chase, Zoe Saldana made her movie debut by starring as Eva Rodriguez in Center Stage.
The movie revolves around a group of aspiring dancers having different backgrounds but with one common goal – excelling at the American Ballet Academy. On an interesting note, Center Stage also featured the movie debut of One Tree Hill star Amanda Schull.
5. Out of the Furnace (2013)
Brothers are genuinely protective of one another and Russell Baze is no different. Once his Iraq War veteran brother Rodney disappears, he leaves no stone unturned when it comes to finding his whereabouts.
The action thriller has a tremendous cast of Academy Award-winning actors such as Christian Bale, Casey Affleck, Willem Dafoe, and Forest Whitaker. Need another reason to watch Out of the Furnace? The performance of Zoe Saldana is on par with her co-stars.
4. Star Trek (2009)
In the 2004 comedy-drama movie The Terminal, Zoe Saldana portrayed an enthusiastic Star Trek fan (commonly known as Trekker). Five years later, she starred in the reboot directed by J. J. Abrams.
From Captain James T. Kirk to Spock, the iconic characters of Star Wars were recast. For the role of Nyota Uhura, director Abrams had personally requested Saldana to play the part. She accepted and reprised her character in two sequels as well.
3. Guardians of the Galaxy (2014)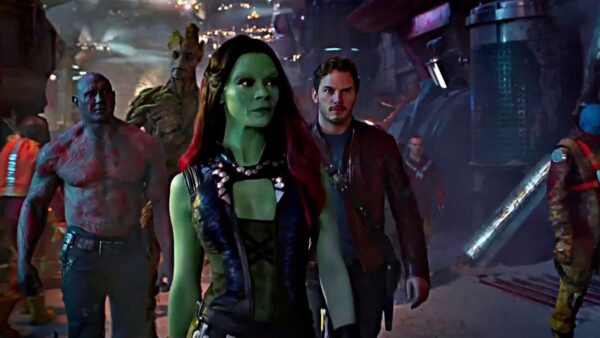 From Robert Downey, Jr. to Samuel L. Jackson, it is no surprise that several A-listers have become a part of the Marvel Cinematic Universe. So it was no surprise when it was announced that Zoe Saldana would be portraying Gamora in Guardians of the Galaxy.
After forming a dysfunctional team with Star-Lord, Drax the Destroyer, Rocket the raccoon, and Groot, she must stop Ronan the Accuser from possessing the Power Stone. Contrary to the speculations, the actress's performance was not a result of motion capture or CGI. In fact, it was the real deal and her green makeup took nearly five hours to apply.
2. Avengers: Infinity War (2018)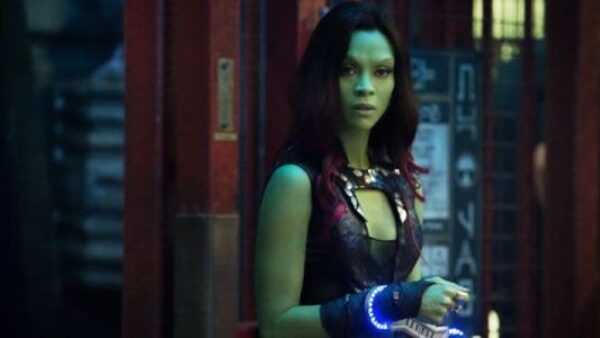 Considered the greatest crossover movie, Avengers: Infinity War showcases the epic team-up of Avengers and Guardians of the Galaxy. As the intergalactic warlord, Thanos collects the six Infinity Stones, the superheroes find themselves in a race against time.
Amidst the chaos, the relationship between Zoe Saldana's character Gamora and the relationship with her father Thanos is also deeply explored. Being the merciless villain that he is, Thanos does not hesitate to sacrifice his adoptive daughter in order to obtain the Soul Stone.
1. Avatar (2009)
Apart from being Zoe Saldana's best film so far, Avatar is an extraordinary science fiction movie. It revolutionized visual effects and became the very first movie to cross the $2 billion mark at the box office.
Directed by James Cameron, the movie broke numerous records and even won three Academy Awards from its nine nominations. As for Saldana, she won the Saturn Award for Best Actress. Her performance by motion capture was critically praised and she has signed on to reprise her memorable role of Neytiri for the sequels.
Honorable Mentions
We cannot resist mentioning some of the great performances of Zoe here as well:
Snipes (2001)
Nina (2016)
Burning Palms (2010)
Hope you enjoyed reading our list of the best Zoe Saldana movies of all time. Feel free to share your views in the comments below!