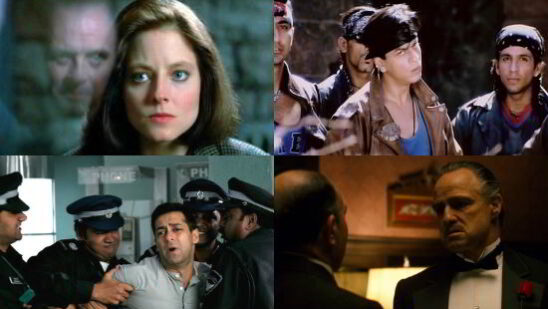 It's not a hidden fact that lots of Indian movies have been highly inspired by Hollywood movies, some of those ending up as 'big hits' at the box office, whereas the others ended up as flops. Although it is common for Bollywood to rework Hollywood films certain Indian directors were brave enough to have even reworked some of those Hollywood movies which won the Academy Award for Best Picture in their respective years of release. Here are 7 popular Oscar winning Hollywood movies remade in Bollywood:
1. It Happened One Night (1934) & Chori Chori (1956)/Dil Hai Ke Manta Nahin (1991)
Frank Capra's romantic comedy 'It Happened One Night', starring the great American actor Clark Gable in the leading role alongside French-born American actress Claudette Colbert, didn't only win the Oscar for best picture but in fact, it won all five major Academy Awards for the year 1934 (Best Picture, Director, Actor, Actress, and Screenplay). It remained the only movie to achieve this feat until 1975.
The movie is still on the list of IMDB's top 250 movies of all time, currently placed at #242, and has an approved rating of 98% at the critical review website Rotten Tomatoes.
In 1956, Anant Thakur directed the unofficial remake of this Hollywood movie, and to suit the Indian culture, the Hollywood story was modified and titled 'Chori Chori'. The film stars Raj Kapoor in the lead role portraying the character earlier played by Clark Gable in the Hollywood classic alongside 'Nargis' being the leading actress. The film was semi-hit and won the Filmfare Award for Best Music Director.
After about 57 years of the initial release of 'It Happened One Night', Mahesh Bhatt directed another unofficial remake of Frank Capra's super hit movie, this time titled 'Dil Hai Ke Manta Nahin' starring Aamir Khan and Pooja Bhatt in the lead roles. This movie was a scene-to-scene copy of Chori Chori (1956) and was also a major hit ironically received five nominations for the Filmfare Awards in 1992 including Best Picture, Director, Actor, Comic Actor, and Lyrics. Though, it ended up winning none of those awards.
2. One Flew Over Cuckoo's Nest (1975) & Kyon Ki (2005)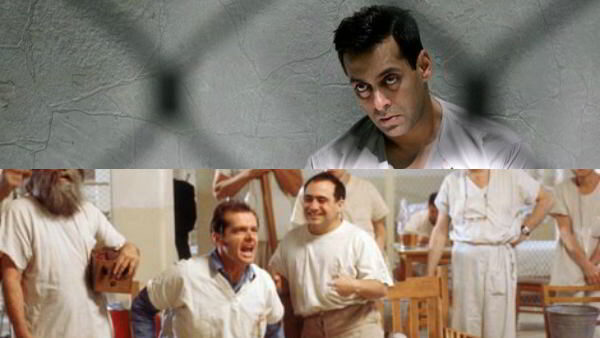 Since the inauguration of the Academy Awards in 1927, only 'It Happened One Night' had the honor of winning all 'Big Five' academy awards in 1934 until the 48th Academy Awards when Milos Forman 's American drama film 'One Flew Over Cuckoo's Nest' repeated the feat in 1975. The movie stars an iconic figure in American cinema namely Jack Nicholson in the role of a recidivist anti-authoritarian criminal.
Even though Nicholson has given tremendous performances in many other great movies throughout his career, this has been arguably his best performance ever. The role of a seemingly oppressive Nurse Mildred Ratched was played by the actress Louise Fletcher. The film is placed at #18 on the list of IMDB Top 250. In addition, it also won six Golden Globe Awards and six BAFTA Awards.
Now it's very hard to remake such a remarkable movie, however, Priyadarshan did try in 2005 when he directed the movie 'Kyon Ki' which draws inspiration from the Hollywood blockbuster. The film stars Salman Khan and Kareena Kapoor in the leading roles. The movie overall didn't receive a much favorable response from the critics and wasn't a success at the box office either.
3. The Silence Of The Lambs (1991) & Sangharsh (1999)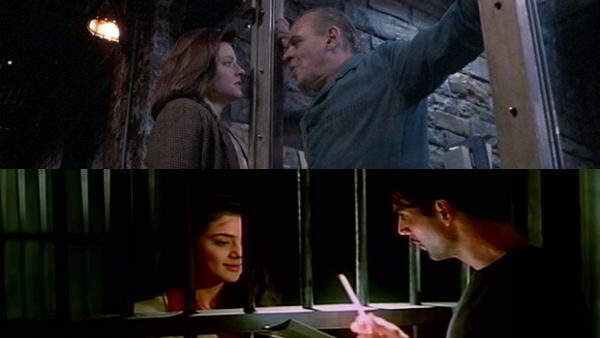 From 1975 to this date, only one movie has won all Big Five Academy awards i.e. Jonathan Demme's epic thriller "The Silence of the Lambs" in 1991. Two times Academy Award-winning actress Jodie Foster played the leading role alongside Anthony Hopkins and Ted Levine.
The movie grossed $272.7 million worldwide against its $19 million budget and proved to be a major box office success. It is also the first Best Picture winner widely considered to be a horror film. It is currently placed at #22 on the IMDB Top 250 and has a 95% Fresh rating on Rotten Tomatoes.
As with the previous two Big Five Academy Award-winning movies, Bollywood also tried to rework this movie. Tanuja Chandra's crime thriller 'Sangharsh'  is highly inspired by this movie. Akshay Kumar and  Preity Zinta played the lead roles, but Ashutosh Rana won the Filmfare award for Best Actor in a negative role for this film.
However, the movie underperformed at the box office but the performance of all three leading actors was praised.
4. The Godfather (1972) & Aatank Hi Aatank (1995)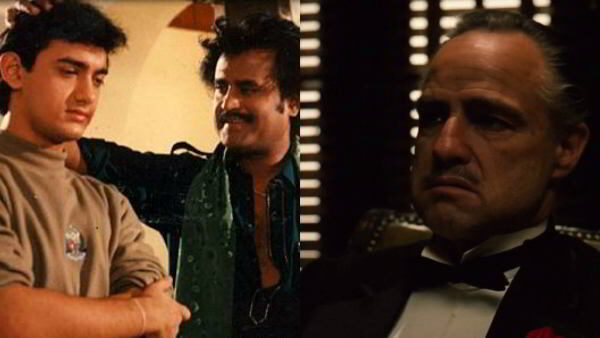 If somebody calls himself a "Hollywood fan" and hasn't watched The Godfather trilogy, then it is generally considered that he is unworthy of that title. It rules popular culture even to this day and some even call it the 'mother of all movies'. Directed by Francis Ford Capolla, this crime film starred the legendary Hollywood actor Marlon Brando and another worldwide-known star Al Pacino. The film was for a time the highest-grossing picture ever made and remains the box office leader for 1972.
Moreover, it won 3 Academy awards including Brando's second Academy Award for Best actor in the leading role having won his first one 18 years back. The film also won 5 Golden Globe awards. It is currently at #2 on the list of IMDB Top 250 and has an approved reviewer's rating of 97% on Rotten Tomatoes.
For once you think that surely Bollywood hasn't copied this classic movie, but unfortunately, it has, and that too in a disastrous way. Dilip Shankar's crime film 'Aatank Hi Aatank' starring Rajnikanth, Aamir Khan, and Juhi Chawla in the lead roles is an unofficial remake of Godfather 1972. The film hardly received any favorable response and is a rather unknown entity in the history of Indian Cinema.
5. On The Waterfront (1954) & Kabzaa (1988)/Ghulam (1998)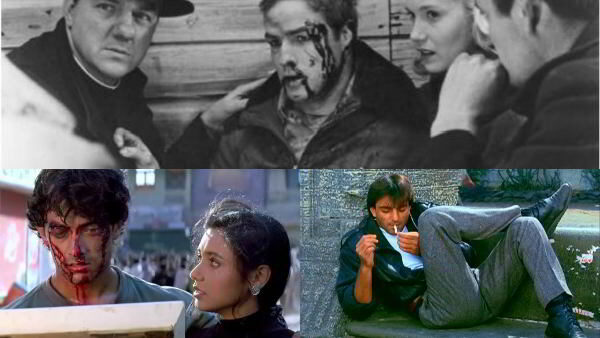 The crime drama film 'On the Waterfront' directed by 'Elia Kazan' is another Hollywood classic that helped Marlon Brando earn his first Academy Award for Best Actor in the leading role. The film was a huge critical and commercial success grossing $9.6 million against its budget of$910,000. The film received 12 Academy Award nominations, winning 8 of them. In addition, it also won 4 Golden Globe awards.
In 1997 it was ranked by the American Film Institute as the eighth greatest American movie of all time. It is also on the Vatican's list of 45 greatest films, compiled in 1995. On the IMDB Top 250 list, it currently stands at #178 and has a 99% rating on Rotten Tomatoes.
Indian cinema has seen two movies that were inspired by this classic i-e 'Kabzaa' in 1988 and 'Ghulam' in 1998. Mahesh Bhatt's action/drama film Kabzaa stars Sanjay Dutt, Paresh Rawal, and Raj Babbar in the lead roles, all giving fine performances. The movie can neither be called a big hit nor can it be termed a major flop.
Ten years later, Mahesh Bhatt's nephew Vikram Bhatt directed the crime drama action film 'Ghulam' starring Aamir Khan, Rani Mukherjee, and Sharat Saxena. The film was very successful at the box office and was declared a 'big hit'. It boosted Rani Mukherjee's career as an actress in the Indian film industry. It won the Filmfare Award for Best Scene of the Year and also received 5 other nominations.
6. Kramer vs Kramer (1979) & Akele Hum Akele Tum (1994)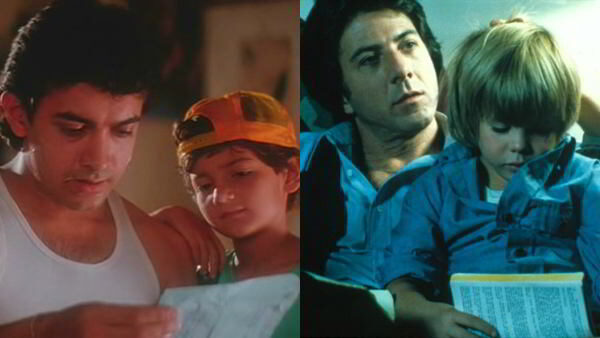 'Robert Benton's drama film 'Kramer vs Kramer' starring one of the most decorated Hollywood actors Dustin Hoffman and evergreen Hollywood actress Meryl Streep tells the story of the separation of a married couple and the impact it has on everybody involved including their young son.
It won 5 Academy awards out of 9 nominations and five Golden Globe awards. The film was a gigantic hit at the box office grossing $106.2 million against its mere budget of $8 million. It holds an 89% approval rating on Rotten Tomatoes and an average rating of 7.8/10 on IMDB.
In 1995, Mansoor Khan directed 'Akele Hum Akele Tum' again featuring the so-called Mr.Perfectionist Aamir Khan and Bollywood bold beauty Manisha Koirala. The film is based on the same story except for the ending part when Aamir and Manisha patch up and decide to stay together whereas, in Robert Berton's film, Hoffman and Meryl Streep forgive each other but Meryl leaves her kid with her husband and again go away from their lives.
Mansoor Khan's film didn't perform well according to the expectations at the box office and was declared average. However, it did produce some hit songs including 'Raja Ko Rani Se Pyaar Hogaya'.
7. West Side Story (1961) & Josh (2000)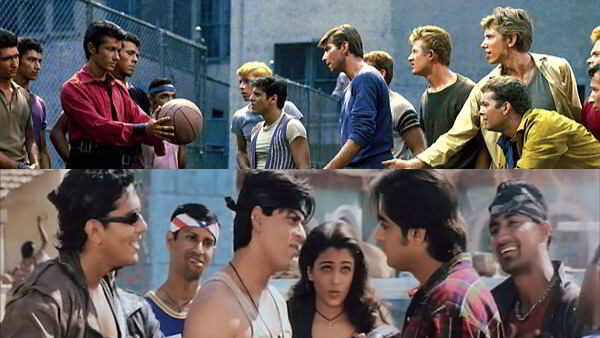 In the 1960s, three musical drama films won the Academy Award for Best Picture, the first of them being 'West Side Story' directed by Robert Wise and Jerome Robbins featuring Natalie Wood, Richard Beymar, Russ Tamblyn, Rita Moreno, and George Chakiris. The movie is inspired by William Shakespeare's play Romeo & Juliet revolving around two rival gangs living in the streets of the West Side of Manhattan.
One gang is of the natives called the 'Jets' and the other belongs to the Porto Rican immigrants named the 'Sharks'. The film was a huge hit becoming the second highest-grossing movie of the year in the US. It won 10 Academy Awards and holds the distinction of winning more Academy Awards than any other musical film.
Mansoor Khan's action crime film 'Josh' bears a strong resemblance to this Hollywood musical movie. The movie features Shahrukh Khan, Aishwarya Rai, Chandrachur Singh, and Sharad Kapoor in the main roles. In the Bollywood version, the two rival gangs are 'Bichoos', a gang of Hindus led by Sharad Kapoor, and 'Eagles', a gang of Christians led by King Khan.
However, there is a distinct difference in the way both movies end; the American movie ends tragically whereas the Indian version has a happy ending. Josh was a huge hit ending up being the fourth highest-grossing movie of the year 2000 in India. It also received four Filmfare Award nominations winning none.
It is seemingly evident that over the years, several mainstream Indian films were copied from lots of average American movies unseen by most of their viewers, but it has also reworked some of the greatest Hollywood movies of all time. Each of the above-mentioned Hollywood movies won many distinguished accolades at their respective times, were worldwide super hits, and continue to make their presence felt in today's modern popular culture.
It's about time that the Indian directors and writers start giving their audience some original piecework of their own if they want to compete in this age of information where remakes are identified within hours.