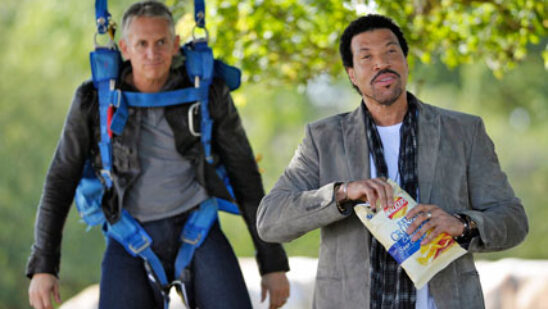 Pop stars, actors, comedians, droids – they're all grist to the celebrity advertisement mill. It implies a certain connection and association. Look, they eat and drink the same things. See, they're just like us really. Unless they're droids. In which case, they're not. It's not just endorsing a product after they were famous, either; quite a few faces destined for later greatness plugged the gaps in their acting CV with their soon-to-be-discovered acting talent. So if you want to give your brand a boost, you could do a lot worse than swiping a celebrity for a 30-second slot. Here are the 6 strangest celebrity ads of all time:
6. Lionel Richie  – Walkers Crisps
Celebrities always look good if they're not afraid to indulge in a spot of self-deprecation, and Lionel Ritchie's appearance on the usually Gary Linekar-dominated Walkers crisps ads was a stroke of genius.
Riffing on the lyrics of his classic 80s hit 'Say You, Say Me' for an 'extra crunchy' version, Richie's fun-poking of his image and song is very funny (for viewers of a certain age, anyway).
5. C3PO & R2-D2– Currys PC World 
Advertisers don't only scour the globe for celebrities of this earth – sometimes they're prepared to travel to a galaxy far, far away.
Star Wars droids C3PO and his counterpart R2-D2 might have survived Jabba the Hut and the ruthless machinations of the Evil Empire but found themselves in an equally precarious adventure wandering around the electrical paradise of Currys PC World.
Fun and somewhat nostalgic for those of a certain age.
4. Lemmy – Kronenbourg
Motorhead and Hawkwind band member, an infamous collector of Nazi memorabilia, and consumer of such excessive quantities of drugs and alcohol it's a miracle he's still alive, Lemmy has slowed his pace – quite literally with his ad for Kronenbourg, which slows down speed metal anthem 'Ace of Spades'.
The leisurely acoustic version represents the more unhurried way you can enjoy this continental lager.
3. Ben Fogle – Typhoo
Only a few celebrities can pull off an advert that invokes the quintessentially English spirit of a good cup of tea. Step forward then, Stephen Fry (Twinings) and, in this case, the people's other toff of choice, Ben Fogle.
And when he's not hosting Crufts or swimming with crocodiles, he's espousing the endless pleasures of getting an 'Oooo' with Typhoo, as in his ad by advertising production company Space City.
In this awkward celebrity ad, he's a bumbling, incompetent domestic dad who's only calmed when his taste buds are washed with the reassuring taste of a well-brewed cuppa.
2. Peter Kay – John Smiths
Everyone's favorite cheeky Northern comic, Peter Kay, made a series of celebrity ads for the John Smith brewery. Typically risqué and irreverent, it's impossible to pick a favorite. So we won't.  We'll cheat.
Here are four of them, the last of which is our personal favorite:
1. Morgan Freeman – Listerine
Before starring in classics like The Shawshank Redemption and Chris Nolan's Dark Knight trilogy, the eternally avuncular Freeman paid the bills with a few odd jobs in TV commercials – amongst them, this one for Listerine. And its slogan, 'The taste people hate, twice a day', has to be one of the most contradictory but effective marketing techniques ever. Buy our product. You'll hate it. Which is why you'll love it.
In fact, it may be the most genius anti-advert ever made. And from a purely health and safety perspective, is it really wise to be handling a bottle of liquid in such close proximity to an electrical pylon?
So there's your indisputable proof that snaring a celeb to promote your product can work miracles and give it the boost it needs. Can you think of any more examples of strange celebrity commercials?  Share in the comments section below!