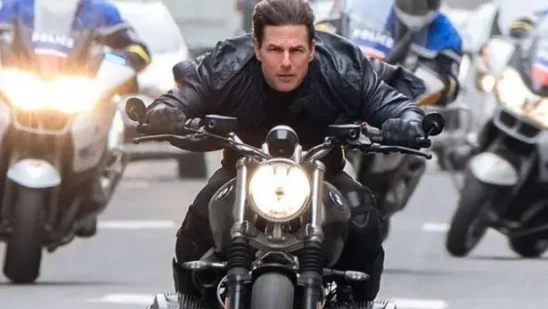 There were a lot of good movies in 2022, but they all came from movies that weren't expected to do great. However, 2023 is looking like a great year for non-superhero movies and franchises. Let's check out the 15 most anticipated movies of 2023 that you shouldn't miss:
15. 65
In December, when the trailer for 65 was released, a lot of people thought it would be another sci-fi flick. However, the trailer generated a lot more excitement than its unforthcoming name did.
The trailer showed us the main character Millis (Adam Driver) stranded on a far-off planet. But, what follows wasn't futuristic, but rather something from the past – our past. The brief glimpse of dinosaurs that we saw in the trailer has made a lot of people excited about this film.
14. Fast X
If you can't count how many Fast & the Furious there have been so far, then you aren't alone. However, apparently, we're getting the 10th installment in the Fast franchise. This time around, Vin Diesel has gone all in to bring an even bigger star cast.
With him and Dwayne Johnson at the forefront, Diesel has lured in Jason Momoa, Alan Ritchson (Reacher), and even John Cena! So, even if you don't expect much from the story, you can expect to see at least one of your favorite stars on the big screen.
13. The Little Mermaid
The Little Mermaid trailer sent waves across the internet. Some weren't too politically correct, but others were mostly positive. So, it's needless to say this film is one of the most anticipated titles in 2023 – for many reasons.
The first, and perhaps the biggest reason is the fact that this is Little Mermaid's live-action debut. Besides that, people are keen on seeing their favorite characters like Ursula, Sebastian, and Prince Eric on the big screen.
12. Spider-Man: Across The Spider-Verse
The film franchise that gave Marvel Studios the idea of diving into multiversal conflicts is getting another installment. Following the great success of Spider-Man: Into the Spider-Verse, we're getting a sequel called Across the Spider-Verse.
The first teaser almost a year ago earned millions of views, and the second trailer got equal attention. Besides that, a lot of time and thought has gone into this film, which has Spidey fans sensing another great movie to look forward to.
11. Indiana Jones and the Dial of Destiny
After 15-long years, we're getting another Indiana Jones movie. Regardless of what you thought of the 4th one, you cannot deny that you love seeing Indy running circles around his enemies. Besides that, we have a formidable villain in Mads Mikkelsen.
There is little to no information available about the plot as of yet — but then again, Lucasfilm doesn't need to reveal a lot. Solely because people are going to see this movie regardless of what it's going to be about.
10. Creed III
Creed III will see the return of Adonis Creed, a domineering boxer. This film has become a franchise of its own in the world set by Rocky Balboa movies. The film's leading role will be reprised by Michael B. Jordan.
Whereas the major opponent this time will be played by Jonathan Majors (Loki, Ant-Man and The Wasp: Quantamania), who is playing Creed's childhood best friend.
9. Dune: Part Two
The first Dune movie saw a lot of success, with 6 Oscar wins and $400+ million at the box office. Which urged Warner Bros. to announce the sequel right away. And apparently, the production has already completed on-principle filming.
The story will take off from where it left off, and Paul (Timothee Chalamet) will have to make some tough choices once more. And, the film is expected to release in November. So it can target the 2024 awards season once more.
8. Magic Mike's Last Dance
Magic Mike will once again be seen on the big screen in February 2023. This film is expanding the Magic Mike universe, and even though the name suggests it, it won't be the last of it.
Besides that, it's the return of Channing Tatum to the character so it's definitely going to generate a lot of ticket sales.