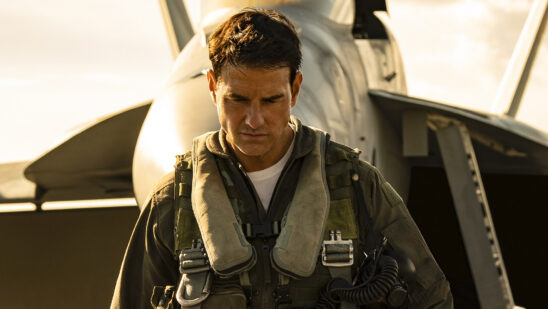 Adrenaline junkies around the world were captivated by the action-packed fighter jet drama Top Gun. From aviators to slamming soundtracks, it's no surprise the prequel remains one of the highest-grossing cult classics of the 80s. With Top Gun: Maverick set to release shortly, fans are at an all-time peak of nostalgia. Now that it's almost time for the sequel to hit the big screen, let's take a look at some of the little known facts about Top Gun and Top Gun: Maverick:
15. Tom Cruise Wasn't The First Choice
While it's hard to imagine anyone else as Maverick, John Travolta was initially the producers' top pick. However, due to a series of flop movies and budget issues, the plug was pulled on Travolta, and Cruise was approached. However, he too turned down to role. The executives then approached Patrick Swayze, Nicolas Cage, and Tom Hanks but neither was interested in the aviation blockbuster.
Eventually, Tom Cruise was swayed by producer Jerry Bruckheimer who used personal connections to convince the actor.
14. Val Kilmer Wasn't Interested Either
Similarly, it's hard to picture anyone other than Val Kilmer as Iceman, Maverick's nemesis. Despite his sarcastic and steamy performance, Kilmer thought the plot was ludicrous and only attended the casting call because he shared Tom Cruise's agent. In the end, Tony Scott's vision was enough to change his mind.
It's interesting to note that Cruise and Kilmer had both an on and off-screen disliking for one other during the production of Top Gun. Nonetheless, Kilmer reached out personally to Cruise requesting his role be reprised in the sequel!
13. Top Gun Took its Cast to All New Heights
Filming for Top Gun required the use of actual aircraft and pilots because it was shot long before CGI and green screens had become common. Consequently, Paramount splurged around $1.8 million just to work with the Pentagon and use their equipment. This meant that every actor had to fly in real life for their cockpit scenes with a designated pilot.
Maverick's flying stunts were performed by astronaut Scott Altman. But it'll come as no surprise that Cruise did all of his stunts for the sequel. Since Tom Cruise is a licensed pilot, it only makes sense that he takes charge to embody Maverick.
12. The Lady Leads of Top Gun Will Not be Returning
Fans may be surprised to learn that none of the female cast members from Top Gun have been cast in the sequel. This time around the love interest and Top Gun instructor, Charlie Blackwood will not be reprised at all.
Like her co-star Kelly McGillis, Meg Ryan will also be absent on the big screen as Goose's widow. Director Kosinski's approach is to introduce new faces and move towards the future instead of gazing into the past events of Top Gun. 
11. A Whole New Graduate Class
Several well-known actors are joining the cast of Top Gun: Maverick as key characters. Miles Teller has been cast as the now all-grown-up son of Goose.
Teller is well-known for his lead roles in The Spectacular and Whiplash. Furthermore, the cast features a star-studded ensemble such as Jennifer Connelly, Glen Powell, Lewis Pullman, and Ed Harris to name a few. 
10. Top Gun: Maverick's Budget is Almost Nine Times Over the Prequel
Top Gun's modest $15 million budget made it a mainstream hit, grossing more than $357 million worldwide. It's been four years since the first announcement of a sequel was revealed on Instagram.
This is likely because of the whopping $140 million production costs! But, did you know the huge budget boosted the economy of California, generating over 3,000 premium jobs for locals?
9. Lady Gaga Wrote the OST For the Sequel
When you think of Top Gun, it's hard not to start humming along to the words of the romance classic "Take My Breath Away" by Berlin.
Lady Gaga has taken the reigns when it comes to Top Gun: Maverick, composing and singing the theme song from scratch herself. She described the song as a love letter to the world in a time of uncertainty.
8. Top Gun: Maverick is Geared For IMAX
For the ultimate picture quality and viewing experience, it's recommended to watch the sequel in IMAX theatres. Through his collaboration with Sony, director Kosinski relied on several cameras placed inside and outside the aircraft they shot on. Rather than staging the action sequences later, technology was adapted to capture authenticity.
If that wasn't enough, the sequel has been shot in 6K!
7. The Cast of Top Gun: Maverick Went Through Intensive Training
Tom Cruise didn't let the actors get off lightly. Published in behind-the-scenes, all performers had to participate in a three-month-long regimen that included underwater training, being flipped inside an aircraft, and how to survive by building spatial awareness. They progressed from there to the F18 Super Hornet and then to the F22 Raptor. Even in the aircraft, the actors had to learn how to film and direct their own cinematography.
Moreover, as part of their rigorous training, some members of the cast had to spend several weeks on board a Navy aircraft carrier. Regardless of how Top Gun: Maverick performs in cinemas, you can't fault the cast's effort to immerse themselves in their characters and boost their onscreen performances. 
6. A Sequel Was Written Right After Top Gun's Successful Release
According to reports, the former sequel plans included Maverick returning to the Top Gun academy as an instructor with a troubled female pilot student.
In the end, the project was dropped after reading the script due to the high cost.
5. Goose's Real Name is Never Mentioned in Top Gun
Fact is, Goose's real name is Nick Bradshaw. Played by Anthony Edwards, you can see his name on his flight patch when Maverick recovers his belongings following his death.
4. The Top Gun Trophy Isn't Real
While Top Gun and its sequel are based on an actual U.S Navy flying school, the trophy does not exist. Participants either succeed or fail the course and move on to higher ranks.
On the contrary, the movie was created in memory of a TOPGUN aviator, Art Scholl, whose tragic demise was reminiscent of Goose's in the prequel.
3. Director Tony Scott Was Repeatedly Fired During Top Gun
Tony Scott was known for pushing the limits including shooting cockpit footage with actor's helmet visors down. As a result, he was always at odds with the production team of Top Gun.
Even then the success of Top Gun spanned beyond the film industry, increasing Navy recruitment by 500% in the USA.
2. Thus, Top Gun: Maverick Was Directed by Joseph Kosinski
At center stage, director Joseph Kosinski wove his magic into the sequel. While Kosinski has only directed three feature-length films, they're major ones. Before directing Top Gun: Maverick, he worked on the superhits Only the Brave, Tron: Legacy, and Oblivion. To his credit, he had already worked with several cast members including Tom Cruise and Miles Teller.
Kosinski isn't hesitant to make larger-than-life storylines even bigger with graphics, CGI, and special effects!
1. The Sequel Focuses on Developing Maverick's Character
Top Gun: Maverick is not a remake or a spinoff. The story takes place more than 30 years after the events of Top Gun's previous saga. Pete "Maverick" Mitchell remains one of the Navy's top pilots, returning to his roots to avoid getting grounded. In the sequel, Maverick is drawn to confront his mission and fears as the stakes are raised even further.
Is Maverick ready to take the helm and face a younger, more feisty group of pilots?
Do you know any more little-known facts about Top Gun and Top Gun: Maverick? Share with us in the comments below!