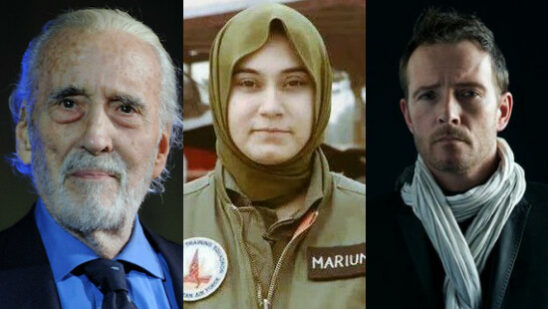 People come and people go but only a few of them leave their mark for everyone to remember. If history has taught people anything at all, it is that death waits for no man and that includes celebrities. No matter how big of a house you live in and no matter how vast your bank account is, death truly waits for no one. Here we take a look at the 15 celebrities we lost in 2015:
15. Scott Weiland
Among many examples of talented celebrities who have died young, Scott Weiland is one of them. As the lead vocalist of Stone Temple Pilots and Velvet Revolver, the musician was a certified rock star but his partying ways lead to his demise.
During his last years, the musician spent a lot of time as a solo artist and as a band member of The Wildabouts. Struggling with heroin addiction and substance abuse, Weiland died at the age of 48 because of an accidental overdose of cocaine, ethanol, and methylenedioxyamphetamine.
14. Yogi Berra
Baseball is one of the most cherished sports in America and that is exactly why Yogi Berra is a legend in the country. Playing 19 seasons in Major League Baseball, the sportsman was an 18-time All-Star and 10-time World Series champion as a player.
Berra, who left school after the eighth grade, was well-known for his comedic quotes such as:
"It ain't over 'til it's over," and "I really didn't say everything I said,"
while addressing reporters.
13. Leonard Nimoy
Despite starring in many movies, fans will always remember Leonard Nimoy for portraying Spock from Star Trek. The role was simply synonymous with the actor as Nimoy even portrayed Spock Prime in a cameo role in the 2013 movie Star Trek into Darkness.
Dying at the age of 83, his wife Susan Bay Nimoy revealed that the actor died because of:
"end-stage chronic obstructive pulmonary disease."
His death was acknowledged by several friends, costars, and even the sitcom The Big Bang Theory who shared a shot of the actor during the credits and stated,
"The impact you had on our show and on our lives is everlasting."
12. Grace Lee Whitney
Speaking of Star Trek, Leonard Nimoy was not the only actor from the franchise to die this year. With a career spanning six decades and numerous movies, Grace Lee Whitney was specially recognized for the role of Janice Rand.
Portraying the Lieutenant Commander in the Star Trek television series and movies, Whitney owes her success to the iconic role. At age 85, the actress died due to natural causes.
11. Sam Simon
People might remember him as the co-creator of The Simpsons but Sam Simon was much more than that. As an animal rights activist and philanthropist, Simon intended to make the world a better place.
Diagnosed with colon cancer in 2012 and told to have just six months to live, Simon made great contributions to the people and animals around him. In fact, he promised to leave his $100 million fortune to charity before his death.
10. Gunnar Hansen
The Icelandic-born American actor has been featured in dozens of movies but his fame is attributed to only one movie. Gunnar Hansen portrayed the iconic villain Leatherface in the very first installment of The Texas Chainsaw Massacre way back in 1974.
In fact, it was his very first movie role. Though the actor did not reprise the antagonist role in the sequel nor any of the future installments of the franchise, Hansen cemented his fame as the original Leatherface.
9. Dusty Rhodes
Wrestling fans around the globe had their hearts broken after finding out that "The American Dream" Dusty Rhodes passed away. With charisma oozing from his skin, the wrestler is best known for his time spent in WCW and WWE. After retiring from the in-ring competition, Rhodes worked as a booker and producer in NXT.
At age 69, stomach cancer pulled the life out of the former NWA World Heavyweight Champion. However, his legacy lives on as his sons Dustin and Cody Rhodes – better known as Goldust and Stardust, respectively – currently performing in WWE.