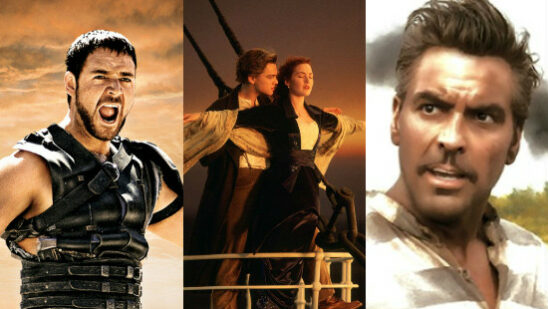 Any movie would be incomplete without its score. All famous films have a feel to them created by the tools of sound and the people perfecting them. A soundtrack, whether it is a good or a not-so-good one, would take you straight back to the movie in your head whenever you hear a song from the film or even a certain sound effect (Lightsaber on). "Every night in my dreams, I see you, I feel you….." see what I mean? Think no further, as we have picked for you the 15 best movie soundtracks and scores ever:
15. O Brother, Where Art Thou? (2000)
The Grammy Award-winning soundtrack producer for this film, T Bone Burnett, has already worked with one of the greatest artists of all time (Elton John), and what he brings to this movie only justifies his work.
A mix of country, folk, and blues, O Brother, Where Art Thou?'s CD sold approximately 8 million copies in the US and in total won 3 Grammy awards one of which was for Album of the Year. One of the most cherished tracks from the album 'I Am A Man Of Constant Sorrow' is embedded above for your listening pleasure.
14. Purple Rain (1984)
Much like Prince's single 'Purple Rain' embedded above, the score for this film is a work of art. It contains some of the most memorable soundtracks from the '80s in 'Let's Go Crazy', 'When Doves Cry', and of course, 'Purple Rain'.
Purple Rain won an Academy Award for Best Original Song Score and sold 25 million copies worldwide, making it one of the top-selling movie soundtracks of all time. The film itself showcases the instrumental and vocal magnificence of Prince.
13. The Dark Knight (2008)
We can't seem to put The Dark Knight out of any of our lists, it's that good! Famous sound producers, Hans Zimmer and James Newton Howard played a big number in this superhero movie by giving each of the characters multiple complex themes that the characters were screaming out for in decades of comic books.
For its brilliance in sound, it won the Grammy Award for Best Score Soundtrack for Visual Media.
12. UP (2009)
This cute and memorable Disney-Pixar animated movie not only received positive reviews on the animated side but also on the background score side of the film industry.
The Up score album was awarded an Oscar for Best Achievement in Music Written for Motion Pictures, Original Score, and two Grammy's for the Best Score Soundtrack Album for a Motion Picture, Television or Other Visual Media and Best Instrumental Composition. One of the most popular scores from the album 'Married Life' is embedded above for your listening pleasure.
11. Ray (2004)
Based on the life of Ray Charles, Jamie Foxx not only does the best impersonation of the legend but also brings musical justice to his work.
It gives a remarkable feel to the whole movie, a kind that it deserves. Ray received an Oscar for Best Achievement in Sound Mixing.
10. 500 Days of Summer (2009)
500 Days of Summer has the ultimate playlist for any indie-head. From The Smiths to a little-known, but very catchy band known as Mumm Ra, this movie has everything a romantic movie needs as background music.
The most memorable song from the movie is 'Sweet Disposition' performed by The Temper Trap.
9. Help! (1965)
We thought it would have been almost blasphemous if we didn't include this film on the list only because of the fact that it had the real Kings of Rock in it, The Beatles.
Paul, John, George, and Ringo didn't only shine their light on the music industry but also on the film industry for which they were nominated for a Grammy. Embedded above is the most popular track 'Help!' from the entire album.
8. Gladiator (2000)
You'll hear the name Hans Zimmer more than once on this list, so you might as well get to know about him sooner than later. His musical brilliance is known throughout Hollywood. Hans was the sound producer for Gladiator, and for many other successful movies.
In this film, he collaborated with Lisa Gerrard to win a Golden Globe and got nominated for an Oscar. The movie, on the other hand, did win 5 Oscars, one of which was for Best Sound. The highly praised track from the album 'Now We Are Free' is embedded above, enjoy.
7. Top Gun (1986)
Top Gun won the Oscar for Best Music Original Song for the soundtrack 'Take My Breath Away' but this wasn't the only good track from the movie. 'Danger Zone' and 'Playing with the boys' also reached the Billboard Hot 100.
Many famous bands and singers of the time were lined up to perform different songs from the album like Bryan Adams, Judas Priest, and Toto but eventually, the songs were given to Kenny Loggins and Berlin.
6. Crazy Heart (2009)
Crazy Heart tells the story of a country singer-songwriter whose stardom faded away like most. It takes him on a journey looking for a certain kind of redemption. The songs and lyrics provided for Crazy Heart are a perfect fit.
They can make another 100 movies like this but they'll never get it as right as they did with the song 'The Weary Kind' which was written by Ryan Bingham and T-Bone Burnett (Won an Oscar).
5. Titanic (1997)
Who can ever forget Celine Dion's heavenly voice from one of Hollywood's best romantic movies? The single 'My Heart Will Go On' alone topped almost all the charts around the globe, and went on to win an Oscar and a Golden Globe for Best Original Song. It's truly one of the most famous soundtracks from movies even today.
Titanic's album became one of the best-selling albums of all time and sold over 30 million copies all thanks to the composer James Horner.
4. Star Wars
An epic in every rightful way, the Star Wars franchise has been a favorite of many generations since its debut in 1977. It's on another level in terms of sound effects too and its unique style and composition put it in our top 5.
In total, the franchise has received two Oscars, a Golden Globe, and three Grammys for sound.
3. Interstellar (2014)
Hans Zimmer took almost 2 years to compose Interstellar after receiving a letter from Christopher Nolan (Director), prior to the making of the film. It's a masterpiece of sorts and both sound and score were nominated for Oscars.
Hans has reported having said that he got most of his inspiration for the score of the film from his son and his relationship with him. He gave everything to this movie, keeping in mind the experience of interstellar space travel.
Listening to the score of this film is like visiting another planet where time slows down because this certain planet orbits a supermassive black hole (only fans will understand).
Embedded above is the bonus track from the album "No Time for Caution", enjoy!
2. Lion King (1994)
This is to everyone out there, Lion King is not a children's movie. It's one of the best-animated movies of all time and has a story that you'll remember for the rest of your lives. The score composed by Hans Zimmer received an Oscar and a Golden Globe for Best Original Score.
But that doesn't end there; Elton John and Tim Rice wrote and sang three wonderful songs for this movie. Two of their songs, 'Circle Of Life' and 'Hakuna Matata', were nominated for Best Original Song, but their third song embedded above, 'Can You Feel The Love Tonight', was the one to win this prestigious award.
1. Lord of The Rings
Tolkien's epic fantasy, Lord of the Rings, might have influenced many celebrated writers in the past couple of decades but the film adaptation has reached far out to different corners of the world and has rightfully gained millions of admirers in recent years.
For a story so epic, it needed an epic score and Howard Shore delivered just that. The movie won tons of Oscars for Best Original Score, Best Original Song, and Best Song Mixing. Howard Shore and his crew were also awarded numerous Golden Globes and Grammys for their glorious work in sound for the trilogy. Embedded above is the track 'The Road Goes Ever On… (Part 1)' from the blockbuster album for your listening pleasure.
Honorable Mentions
We can't resist mentioning some more classic music from movies in our article as well:
Braveheart
Pirates of the Caribbean
Tron: Legacy
Did we miss any movies with good soundtracks in our list of the best movie soundtracks and scores of all time? Please let us know in the comments below!