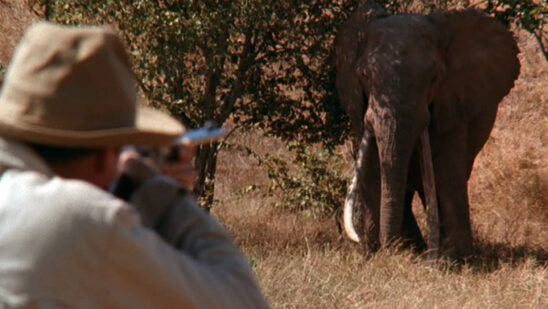 The plains, mountains, and infinite bush of Mother Africa have long inspired travelers and filmmakers alike to worship this irrepressible continent. If you're lucky enough to be heading to Africa on holiday, or if you're contemplating a trip in the future, then check out these great films to inspire real life African adventures:
5. Gorillas in the Mist (1988)
Gorillas in the Mist was based on the true story of Dian Fossey (Sigourney Weaver), an anthropologist inspired by Louis Leakey to dedicate her life to the study of monkeys. She decides to travel into the depths of the Rwandan jungle to study primates and she soon becomes entranced by mountain gorillas. Disgusted by the poaching these endangered creatures were subjected to, Dian complains to the Rwandan government.
They dismiss her appeal, stating that it's a means of survival for many families. Dian then mounts a campaign to stop the poaching, burning poachers' villages and leading anti-poaching raids. It's thanks to her work that gorillas are now protected and gorilla tourism severely restricted.
4. Born Free (1966)
Born Free is a British drama based on Joy Adamson's non-fictional book of the same name, published in 1960. Starring Bill Travers and Virginia McKenna as George and Joy Adamson, the film follows the couple as they take an orphaned lion cub under their wing and nurture her back to good health.
Elsa, the lioness, becomes a permanent fixture in the couple's home until adulthood. The couple then makes the decision to re-educate Elsa in preparation for releasing her into the Kenyan wilderness. The film is a must-see for anyone planning to do animal volunteer work abroad.
3. Out of Africa (1985)
This is one of the best films to inspire an African adventure. Out of Africa has a proven track record for inspiring thousands to go on safari holidays in Africa, particularly in Kenya. Not only is the scenery to die for, but it also won 7 Oscars the year it was released. Karen Dinesen (Meryl Streep) makes an unwise marriage to Bror Blixen (Klaus Maria Brandauer) and they move to Kenya to start a dairy farm.
It all goes to pot when Bror buys a coffee plantation instead and seems to want to do little but hunt game. Karen develops feelings for Denys Finch Hatton (Robert Redford), a local big game hunter. Her marriage eventually breaks down due to her husband's philandering and his 'sharing' of syphilis with Karen, so she and Denys eventually become lovers. Karen soon realizes, however, that her beau is untamable and things unravel from there.
2. The Naked Prey (1966)
It's an eerie offering from director Cornel Wilde (also starring) in which a group of men encounters a local tribe as they cruise the African bush in search of elephants. One of the men refuses to give a gift to the tribe in exchange for their safety.
The tribe, offended, starts to execute each member of the group of travelers one by one, in various gruesome and unusual ways. One man is left standing, and given "The Lion's Chance" – in which he is stripped naked and given a head start before the tribe comes chasing after him. It's a gripping story of cat and mouse across an unfamiliar wilderness.
1. White Hunter Black Heart (1990)
Directed by Clint Eastwood, the film is based on the relationship between filmmaker John Huston and screenplay writer Peter Viertel while they worked together on The African Queen (starring Katharine Hepburn and Humphrey Bogart).
In White Hunter Black Heart, director John Wilson and his friend and colleague Pete Verrill make the voyage to Africa to prepare for filming. Whilst in the African bush, however, Wilson becomes obsessed with hunting elephants and starts to neglect his responsibilities as a filmmaker.
Verrill takes issue with Wilson's attitude, and the two men battle over the morality of abandoning one's crew – however, Wilson is unable to let go of his passion and the whole shebang ends in disaster.
Did you like our list of top films to inspire real life African adventures? Share your feedback with us in the comments below!