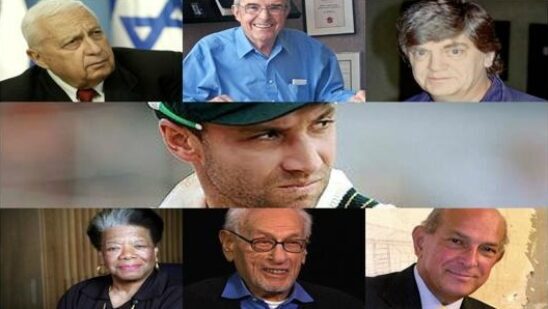 If history has taught people anything at all, it is that death waits for no man. No one is born immortal and everyone will be, at one point or another, granted a release from the world either by a natural death, gunshot, or even a disease. While billions of people are born every year, only a few of them live rather than exist. Making their presence known in their respective fields, they live on forever even after dying by leaving a rich legacy. The following are a few of the most famous people lost in 2014:
15. Maya Angelou
Born Marguerite Annie Johnson, the heartwarming soul from St. Louis, Missouri was not only a majestic author and a poet. She had a fine career as an actress, dancer, and singer as well but it was the field of literature that always pulled her and gave her the opportunities to showcase her amazing work.
With more than fifty honorary degrees and published more than seven autobiographies, Mary Angelou also contributed to civil rights activism in America and even worked along with none other than Malcolm X and Martin Luther King, Jr. After numerous days of poor and declining health, the acclaimed author breathed her last in May 2014 at the age of 86.
14. Ariel Sharon
One of the most influential politicians in the state of Israel, Ariel Sharon served as its eleventh Prime Minister for five years until he was unfortunately incapacitated by a stroke. Gaining prominence as a soldier who fought in the 1948 War of Independence, as a platoon commander in the Alexandroni Brigade, and then as a Minister of Defense in the 1982 Lebanon War, Sharon established himself as a strong-willed leader.
His assaults carried out in the Battle of Abu-Aguila and the antics in the catastrophic Sabra and Shatila massacre earned him a heroic state in his country as he became known as "The King of Israel".
Even the most dominant political forces having a military background meet an end as Sharon died in the month of January after spending eight years in a coma.
13. Rubin "Hurricane" Carter
With only twelve losses in his forty fights, the American middleweight boxer Rubin Carter quickly became a crowd favorite and earned the nickname "Hurricane" due to his aggressive punching power that resulted in quick knockouts in early rounds. However, life of Carter is not limited to the ring. In fact, he represents every convict who has been arrested for a crime they did not commit.
Falsely jailed along with a friend for a triple homicide, Carter nearly spent twenty long years in prison. Legendary boxer Muhammad Ali was one of the most vocal driving forces in the campaign for his release and veteran actor Denzel Washington portrayed the boxer in the 1999 biographical film The Hurricane based on his arrest. This year at age 76, the boxer lost a bout against his prostate cancer and died.
12. Phil Everly
Along with Donald "Don" Everly as The Everly Brothers, Phillip "Phil" Everly pioneered their music combination of country and rock in America. Known for using steel strings in their guitars along with unique rockabilly-influenced lyrics, the duo – claimed as "the most important vocal duo in the rock by Rolling Stone magazine – was inducted into the Country Music Hall of Fame and the Rock and Roll Hall of Fame as well.
As amazing as it may sound, The Everly Brothers have been a source of influence for several bands such as The Beach Boys, The Bee Gees, Simon & Garfunkel, The Hollies, and most importantly, The Beatles. At age 74, his younger brother Phil passed away due to lung cancer caused by heavy smoking.
11. Eli Wallach
With over ninety films to his name, American actor Eli Wallach stands out as one of the most well-known method actors of his time. Starting as a theatre actor and eventually moving on to television and films, Wallach is best known for his villain roles Tuco from the critically acclaimed The Good, The Bad, and The Ugly and Mr. Freeze from the 1960s Batman television series.
Winning BAFTA Awards, Emmy Awards, Tony Awards, and an Academy Honorary Award throughout his long career, his praise-worthy activeness in the field of entertainment for nearly sixty years until his natural death at 89 is proof of his professionalism.
10. John Robert Beyster
After receiving his Bachelors', Master and Doctorate degrees in engineering and physics from the University of Michigan, John Robert Beyster dedicated his life to science and its applications. As the founder of Science Applications International Corporation, Beyster did his part in serving his country by providing the government with information technology support.
As a scientist, Beyster contributed to Westinghouse Atomic Power Division and also as a research physicist at the Los Alamos National Laboratory. Perusing his interest in entrepreneurship, the brilliant scientist established the Foundation for Enterprise Development as well. At the age of 90, Beyster bid the world goodbye.
9. Oscar de la Renta
Perhaps a name not familiar to the average Joe but definitely one of the hottest names among politicians and Hollywood stars as the Dominican American fashion designer Oscar de la Renta is one the best professionals in his field. His greatness can be determined by the fact that he gracefully served as one of the couriers who dressed none other than Jacqueline Kennedy, wife of President John F. Kennedy.
His work has reached even the biggest names of fashion houses such as Balmain and Lanvin. George W. Bush Presidential Center even hosted an exhibition titled "Oscar de la Renta: Five Decades of Style" that showcased his clothing creations for Mrs. Bush and a few other First Ladies of the country. At age 82, the iconic fashion designer died following a few complications from cancer.
8. Joan Rivers
Cited as "quite possibly the most intuitively funny woman alive" by New York Times, Joan Rivers excelled in comedy before it was cool. Becoming the very first female host of a late-night talk show The Late Show with Joan Rivers, the enthusiastic Rivers was not afraid of inciting controversies as her comedic wrath occasionally targeted celebrities and even politicians.
Author of 12 best-selling humor books and memoirs, Rivers lived for comedy and even won an Emmy Award for Outstanding Talk Show Host. While Rivers has gained the attention of the media several times throughout her career which has spanned more than fifty years, this year proved to be her last as she tragically died; leaving millions of fans heartbroken.