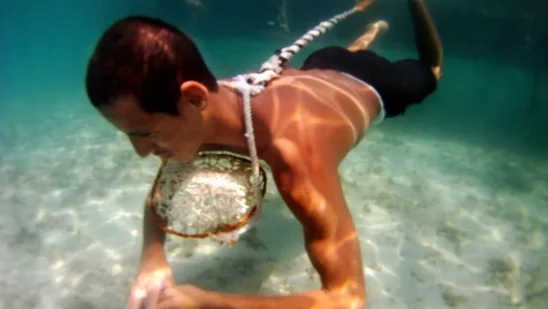 The most important aspect of a job is the money that it brings in with itself. But only the white-collar jobs aren't the highest-paying jobs. There are many jobs, which are considered to be odd by many people but can earn handsome salaries. Following are some odd jobs that make money if you opt for them and possess the requisite talent:
Shot Girl
Only by making the test tube-sized tequila and Jell-O shots, you can earn up to $600 a night.
Submarine Cook
If you are an experienced cook, then you can become a submarine cook and earn up to $200, 000 a year in Australia.
Pearl Diver
A risky but interesting & very highly-paid job.
Oil and Gas Diver
If you love diving then you can make money by welding underwater, inspecting & laying pipes, etc.
Airplane Repo Man
Your amazing selling skills can make colossal money for you by cracking airplane sales deals.
Bounty Hunter
Although a risky job that requires you to find out the skipped criminals but indeed a highly paid one.
Voice Over Work
Give your voice to a cartoon character and earn up to $80,000 per annum.
Lipstick Reader
Reading the lipstick marks to tell about the future prospects and personality of a person is an unusual job but is one of the highest-paid ones.
Human Statue
Dress up like a cartoon character or an idol, and you can make $25 – $200 an hour.
Human Scarecrow
By standing alone in a field you can fetch as much as $10 – $15 an hour.
Focus group Participant
Participate in offline surveys to make up $40 – $100 per hour.
Sperm or Egg Donor
This is a real jackpot for healthy and young people which can fetch a huge amount of money for both men and women.
Mystery Shopper
Be the mystery shopper, assess the ambiance of the store & popularity of stores, and earn up to $100 per week.
Movie or television Extra
All you need to do is to feature by the side of stars and can earn up to $200 per day.
Body Advertiser
Become a live advertisement by painting your face or tattooing your body to earn handsome salaries.
Live Mannequin
One of the latest rage in high-end stores with which you can make up to $50 per hour.
Crab Fisherman
During the season of crabs, work hard for a couple of months to earn as much as $60,000.
Crime Scene Cleaner
Crime Scene Cleaner is one of the unpopular jobs which can be as rewarding as $35,000 per annum.
Embalmer
This is an extremely unpopular job of dead body sanitizer which may grab you $45,000 annually.
Luxury House Sitter
Sit in a luxurious home and enjoy the amenities while the owners are out of the house and get paid.
TV Watcher
Providing viewer ratings and writing subtitles can pay more than $25,000 annually.
Water Slide Tester
Test the safety and speed of water slides in luxury pools and theme parks, visit exotic locations, and earn money.
Elevator Mechanic
This job only requires requisite knowledge of the field and you can make more than $70,000 per annum.
Trash Collector
Not an attractive job profile but it can pay you more than $60,000 per annum.
Toy Creator
By making innovative and appealing toys for children you can earn more than $50,000 a year.
Here's an infographic that summarizes various odd jobs that make money in a cool way: