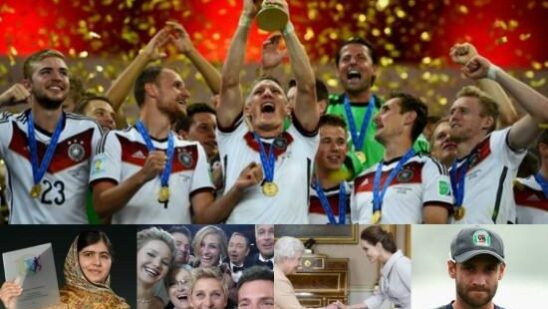 As the year 2014 draws to a close, let's take out some time to stroll on memory lane to see the most unforgettable and shocking moments which left a mark in our subconscious. From devastating stealth invasions to a seventeen-year-old education activist winning the Nobel Peace Prize, it is safe to say that the year was truly an extraordinary one. The following list shows fifteen of the most memorable moments of 2014:
15. Internet Breaks Down by ALS Ice Bucket Challenge
In mid-July, the internet started to become ridiculously filled with videos of people dumping buckets of ice-cold water on themselves as a campaign to create awareness of Amyotrophic Lateral Sclerosis disease.
A fun concept, the participant makes a video of himself doing the challenge and nominates at least three individuals along with a donation of $10.
The ALS Ice Bucket Challenge made its way to celebrities too as countless got soaked such as Robert Pattinson, Emma Stone, Charlie Sheen, Lindsay Lohan, Anne Hathaway, Stephen King, Justin Timberlake, Tiger Woods, Vince McMahon, Bill Gates, Robert Downey Jr. and even the brains behind Facebook, Mark Zuckerberg to name a few.
14. Phillip Hughes Dies Young at 25
At the tender age of 20, a cricket star was born as Phillip Joel Hughes made his debut in the Test match against South Africa and surprised the world by not only winning the match but also impressively scoring 160 and becoming the youngest cricketer to score centuries in the match's innings; a record previously held by retired Australian cricketer Doug Walters since 1965.
For a rising star, Hughes became a sensation among his teammates and fans alike but his life as well as his career came to a halt when he was struck on the neck by a bouncer ball during a Sheffield Shield match in New South Wales.
The young cricketer collapsed after the stroke and was rushed to St. Vincent's Hospital and died without regaining consciousness despite intensive care and surgery – a great loss for him and cricket fans around the world.
13. Russia Unofficially Invades Ukraine
Some countries' thirst for power and domination never gets satisfied and Russia is no exception. The year just began and in the month of February, Ukraine fell prey to the once-proud superpower of the world as Russia slowly began to send its troops and military equipment into the territories of Ukraine with the vile intentions of unofficially stealthily invading it.
Things only got complicated as Russian President Vladimir Putin – after seizing control of Crimea – felt it was his right to send in the troops.
With bloodshed and slaughter being a common practice due to the ongoing war, only time will tell when will there be light again in the terrorized lands.
12. Angelina Jolie Receives Honorary Damehood
If there is one Hollywood starlet famous for not only her acting career but for her heart of gold then it is none other than Angelina Jolie.
Her tiring efforts against sexual violence around the globe did not go unrecognized as she was awarded the Insignia of an Honorary Dame Grand Cross by none other than Queen Elizabeth II in Buckingham Palace this year.
"To receive an honor related to foreign policy means a great deal to me, as it is what I wish to dedicate my working life to," Jolie stated on her damehood. "Working on the Preventing Sexual Violence Initiative and with survivors of rape is an honor in itself. I know that succeeding in our goals will take a lifetime, and I am dedicated to it for all of mine."
11. Brock Lesnar Ends Undertaker's WrestleMania Winning Streak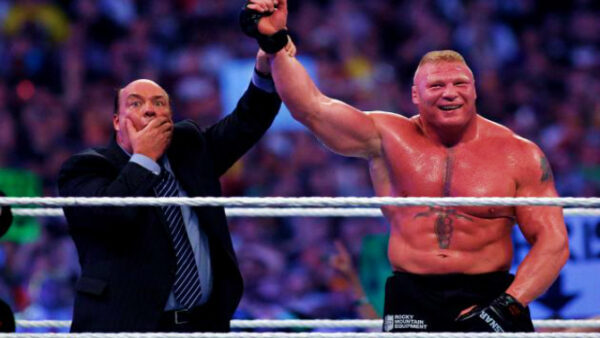 It was a moment that put the entire Mercedes-Benz Superdome in a state of shock and utter quietness as the unthinkable happened: The Undertaker – one of the greatest wrestlers of all time to ever step foot in a WWE ring – was defeated by the Best; Brock Lesnar; ending his undefeated WrestleMania winning streak of 21 annual victories on the grandest stage of them all.
Similar to football and cricket having their respective World Cups, WWE has WrestleMania which showcases the very best product sports entertainment has to offer and the winning streak of the Demon from Death Valley has been regarded as the most astounding attraction when it comes to the annual pay-per-view.
After 21 WrestleMania wins, the Undertaker met his most vicious challenge as he faced off against Lesnar in a thrilling 25-minute match that resulted in the Deadman finally being defeated; regarded as one of the most depressing and shocking moments in the history of WWE.
10. Ronaldo Cristiano Ronaldo Wins FIFA Ballon d'Or 2013
The year started with an ongoing rivalry between two of the most gifted athletes in football history as both Christiano Ronaldo and Lionel Messi had their eyes on the prize: FIFA Ballan d'Or 2013.
The competitiveness against each other brought with it the most memorable moment for any football player as the Portuguese legend and Real Madrid star Cristiano Ronaldo clinched the Ballon d'Or for the second time in his career defeating argentine's Lionel Messi.
The event brought smiles to some as well as tears to others, as many die-hard fans of the sport desperately wanted Messi to win it for the 5th time but Ronaldo ended his streak with a comprehensive win in the end. It turned out to be an amazing year for Ronaldo as his performance and skills were even more impressive than the previous years despite his growing age nearing 30.
9. Germany Wins FIFA World Cup 2014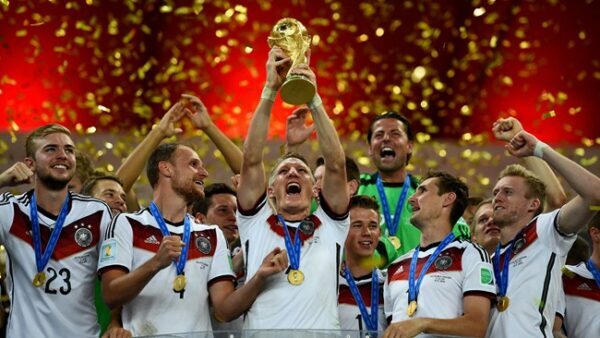 Football was undoubtedly one of the most played games of the entire year around the globe and the prestigious FIFA World Cup only added flavor to the marvelous sport. With 171 matches played throughout the tournament in different Brazilian venues, it was Germany that reigned supreme at the end of the long arduous war.
Their much-deserved victory was their 4th win at the FIFA World Cup and their very first since 1990. While the betting odds were strongly in favor of the runner-up team Argentina, it proved once and for all that it takes a fantastic amount of teamwork to defeat the one-man show, Lionel Messi.