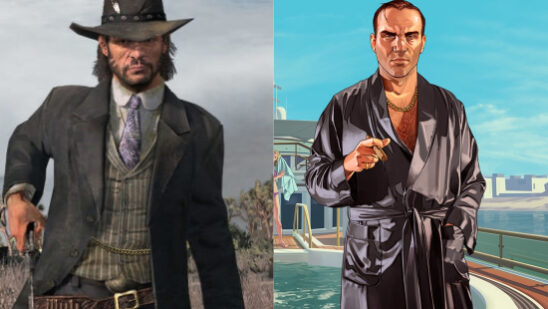 With the massive online hype that surrounds Red Dead Redemption 2, it's easy to understand where all the fans of Grand Theft Auto Online worried about their favoured multiplayer game are coming from. However, at the same time, there truly isn't much reason to fear, and once the Spring 2018 release date of Rockstar's upcoming Western title rolls around, GTA Online will hardly be puffed out of existence.
Some players feel that Red Dead Redemption 2 threatens GTA Online with a loss of favour. The concept is that when Red Dead Redemption 2 launches, everyone will be playing it instead of GTA Online, and thus Rockstar will cease developing and releasing new DLC for it. The lack of new content would result in those who stick with the game also drifting away, essentially killing it off.
However, there is a fundamental aspect of multiplayer games here that will prevent this from happening: audience demographics. Simply put, the target audience of Red Dead Redemption 2 isn't the same as GTA Online. Where GTA 5 and its multiplayer component have achieved massive mainstream popularity, Red Dead Redemption 2 will never have the same kind of reach.
For all the online hype, Red Dead Redemption 2 will only be as successful as most other hyped-up AAA titles. It will be an immense hit among gamers with moderate reach into casual gaming circles, but it won't be a true mainstream product. GTA 5, and by extension, Online, is about as mainstream as a game can get. Non-gamer consumers of video game products are very, very likely to be GTA Online players. However, Red Dead Redemption 2 will mostly be enjoyed by the core gaming community.
There will be some minimal population bleed from GTA Online over to the multiplayer portion of Red Dead Redemption 2, however, the majority of the players of the former will stick to it and pass on the Western title.
There are no sales records available for the first game, Red Dead Revolver, however, Red Dead Redemption sold just 14 million when it was made backwards compatible last year. On the flip side, GTA 5 is currently sitting at over 80 million copies worldwide, not counting digital sales.
GTA Online's audience is primarily made up of casual gamers, the kind who do not frequent gaming news sites, who do not engage in gamer community discussions, who do not play more than 2-3 games and who probably don't pay much heed to single-player content at all. GTA 5 benefits from a decade's worth of fame and popularity, and is one of the most iconic IPs in video games as a whole. These are all boons Red Dead cannot boast about, which has limited it to being a core gamer title.
It's easy to mistake the amount of hype the game is getting for mainstream interest, however, comparisons are important. Games like Destiny and Watch_Dogs both got similar amounts of hype, however, most gaming communities function as online echo chambers making the buzz seem grander than it is in the greater scheme of things.
Another thing to consider is longevity. MMOs notwithstanding, most games have a lifespan of 2-3 years before player bases wane. GTA Online is nearing its fourth, and defying all conventions, is increasing its active population – thanks to the mainstream appeal and popularity. As a less-than-mainstream fad, Red Dead Redemption 2 will also most likely take a downward turn early on and the servers will be mostly empty by 2020.
GTA Online is a long-term investment which is making immense returns and is still growing. That growth is maintained, primarily, through DLC. On the flip side, while there is no doubt that Red Dead Redemption 2 will turn a tidy profit, it won't be getting even near GTA 5's numbers, and certainly won't have upwards-trending sales 4 years after release. Keeping GTA Online supported even after the launch of the Western game is merely a good business decision, and one Take-Two is bound to make.