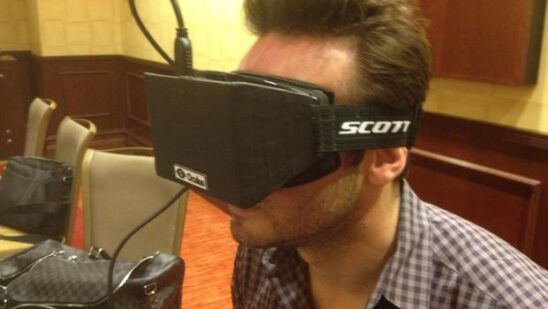 Oculus's Virtual Reality headset, the Oculus Rift, and Leap's motion controller, the Leap Motion, have both been pitched to completely transform the gaming industry when they are released early next year. So, what's in the pipeline, and can we really expect as much change as the hype suggests?
The Future of Oculus Rift
Currently, four video games have confirmed Rift support. Miner Wars 2081 uses the Vrage game engine, Doom 3 BFG Edition the iD Tech4 engine, Hawken the Unreal engine, and Star Citizen is currently pre-alpha. Each of these games intends to feature the headset's head-tracking and 3D field-of-view (FOV) features.
Other notable games that plan to offer support include Mojang's cult hit – Minecraft – and Doom 4. It's rumored that Valve is also going to get on board with Rift as soon as they can, so we may see Half-Life 2, Left 4 Dead 2, and Portal 2 compatible before 2013 is out.
So what about more mainstream game manufacturers? Most are, presently, biding their time. They need to have tangible proof that the Oculus Rift will change the video games industry dramatically, before considering introducing games that use its functionality.
That said, EA is rumored to include Rift compatibility in subsequent Mass Effect games – a good reason to stay up to speed with EA's new games releases.
The Future of Leap Motion
Leap has gone in quite a different direction from Oculus. Firstly, the company's not looking for direct compatibility with existing hardware and software – though it certainly intends to offer the option. The real powerhouse is going to be the Leap App Store, a unique ecosystem based around the Leap Motion controller's manifold uses.
The trailer for the Leap Motion itself – which has been around for a while – clearly shows, however, a user playing Half-Life 2 with their finger acting as a gun. As Peter Chapman from TheSixthAxis put it:
"Imagine controlling an RTS with your fingertips, casting spells with hand gestures, or slicing up bad guys with a flick of your finger."
Leap is reportedly very:
"excited about the implications for gaming."
Oddly enough, Leap is not totally averse to licensing its technology to game console manufacturers. Leap Motion's CEO Michael Buckwald was recently quoted saying:
"gaming consoles could certainly be a possibility in the future."
For now, though, the Leap App Store is as closed as a closed garden can get – no one, not even the developers working within it, can know the final shape that the Leap gaming ecosystem will take.
A small hint might come from the fact that 14 percent of the 26,000 developers reportedly working with the company to make the Leap App Store ready for launch stated their main interest as 'gaming'.
The Upcoming Revolution
So what will the Oculus Rift and the Leap Motion mean for the video games industry? The impact of the Rift is easier to predict. It is peripheral – like a game controller. It will unlock a lot of new opportunities for gaming.
Major manufacturers will wait to invest though until the technology becomes either fully mainstream or flops entirely. The future of Leap Motion is harder to foresee. Certainly existing games will see neat integration, thanks to modding communities.
It's likely that games developed at a later date will also have access to easy-integration APIs written especially for such motion-sensitive controllers. But will it totally revolutionize the gaming industry? That's still uncertain. Will big studios and organizations start manufacturing exclusively for it?
Impossible at this stage to tell – after all, it took them a long time before going mobile (despite the obviously huge untapped market littered with casual gaming startups). If the time – and the risks – are right, they'll step forward. Until then, indie developers have the rule of the Leap roost.