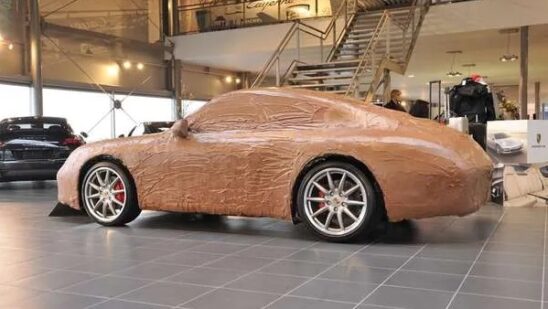 Despite the fact that most edible cars around the world cost far more than the original to manufacture, the glory attributed to them is all that the car manufacturers need. We have compiled a list of the top 7 such edible cars that made history. Enjoy!
7. The Scrumptious Skoda
It took more than talented engineers to create the latest Skoda; a couple of designer bakers were set the task of turning "Vroom, Vroom" into "Yum Yum" for a television advert for the luxury car manufacturer.
Using 180 eggs and 100kgs of flour to create 448 Madeira cakes was just the start of the Skoda that was completely edible. From the chassis and engine block to the grill and badge – absolutely everything was made from cake, candy, and licorice for the television advert that is rumored to have cost over half a million pounds to create.
These are not cakes that are crafted into the shape of cars for a birthday party. All of these cars are made to scale; using all edible ingredients for a munching, motoring experience that you'll never forget.
6. Nascar Celeb Chef Challenge
Buddy Valastro of "Cake Boss" fame decided to make a full-sized replica of a Nascar in honor of the Charlotte Speedway in North Carolina.
Buddy and his team of fondant fundis and bonanza bakers created the racing car and are looking closely at F1 for their next challenge.
5. Formula 1 Chocolate Pit Stop
This Full-sized F1 racing car won't make it around one lap of Interlagos on a summer's day, but it will satisfy your sweet tooth.
Made completely of chocolate and weighing 90 kg the F1 racer went on display in Singapore after taking a full week and 8 professional confectioners and chocolate specialists to create the spectacle.
4. High-Speed Bread Bin
Not to be outdone, a year later, the same team from the Royal Plaza on Scotts in Singapore created a life-sized F1 car made completely out of loaves of bread.
Over one thousand loaves of bread were used to create the vehicle. What will Bernie Eccleston have to say about the added weight load?
3. The Gingerbread Man Needs A Gingerbread Car
A 1948 life-sized replica of a Ford Woody Wagon to be precise. Made entirely of gingerbread and decorated in white and green royal icing, this car is completely edible and after being on display in California, the vehicle was donated to children's charities in the area.
2. Speedy Sweeties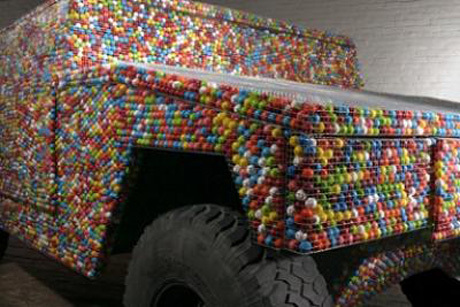 The gumball Hummer, the creation of the artist Heidi Hesse was not made entirely of sweets, but she did cover a Hummer in multicolored varieties of gumballs.
1. The Chocolate Carerra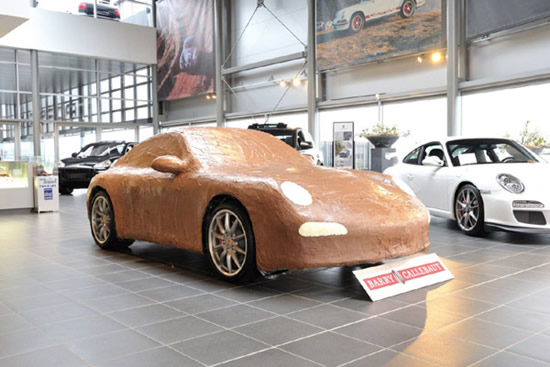 A sweet tribute to a tough vehicle. Porsche had a similar idea when it covered its Carerra in 150 kgs of Swiss chocolate.
Ironically, the cost of making edible cars is minute compared with the task of getting down and eating them!
Did you like our list of the top edible cars of all time? Let us know in the comments below!