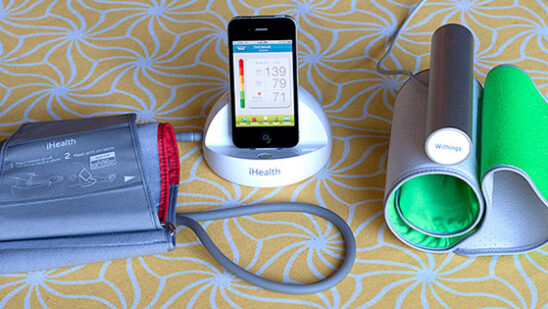 Many blood pressure monitors nowadays don't allow you to store and analyze your readings. If you want that option, you'd have to get a fancier monitor with more features. However, with just a tiny bit more extra work, you can find a free or very inexpensive mobile app to provide all the analysis you need for tracking your blood pressure. These apps can help you see if you have low blood pressure and need to take something like Camu Camu or if you have high blood pressure and need to improve your diet. If you need to export or send your data to your doctor, just pick your desired format, and any of these 5 popular blood pressure tracking mobile apps can handle it for you:
iBP Blood Pressure (iOS)
iBP is the most flexible and popular blood pressure app that exists for iOS devices. It focuses on the user (or multiple users) to allow easy data input using dials instead of your on-screen keyboard. The app will also sync your data between all devices that you have the app installed on (only have to pay for it once).
It provides you with interactive graphs for anything you need to track blood pressure. Need to export your data via email? It'll take care of you. You can also connect the very accurate Withing BP-800 Blood Pressure Cuff to eliminate inputting the data yourself. It only costs $0.99 cents and the developers stay on top of the updates.
HeartWise Blood Pressure Tracker (iOS)
This app also boasts easy data entry, as well. It's just as good as the iBP Blood Pressure app except that you don't have the option of connecting a compatible cuff. The reports that it generates are very detailed and easy to understand. I particularly like that it reminds me when it's time to take my blood pressure or medication.
If English isn't your first language, you have the option of setting it to Spanish or German. This one is also $0.99.
Blood Pressure Log – MyDiary (Android)
Currently the most popular for Android, this is an Android app that has a very simple interface, it doesn't try to overdo it with fancy graphics (which we appreciate). It records your systolic/diastolic blood pressure, heart rate, weight, and any comments you'd like to add next to your entry. Its only export options are CSV, XML, JSON, or Google Docs.
We would have liked to see an email option as well. This app seems to fit the tastes of those who could use a powerful app that requires some manual work.
Also a free (but well-designed) app on the Android market, bpresso.com takes it a step further than just recording and analyzing your blood pressure. You can also tell it what medicines you were taking, sports activities, and any notes. This is helpful to determine what might be contributing to your blood pressure at the time you recorded it.
You can also export your information (like the other apps) and it provides you the extra bonus of being able to set alarms. What I like about this app is that you can upload your results to a private web account on bpresso.com and keep your data in the cloud. It supports both the English and Polish languages.
BP Journal – Blood Pressure Diary (Android)
This app also focuses on making sure data entry is a seamless process. For 30 days, it'll provide you with advanced graphic options to be able to view all the data you've recorded. After the trial period, you can keep the free version and use the basic features, unless you decide to upgrade. It also provides you the option of backing up and restoring your information.
Did we miss any popular blood pressure tracking mobile apps that should have been included in our list? Let us know in the comments below!