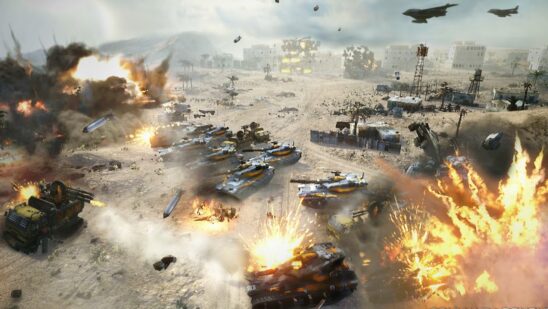 The start of a new year is always like a Refresh Button, an opportunity for you to start something new and redefine yourself by leaving bad old habits. Having a new calendar always encourages you to make your schedules for the whole year, but with around a dozen releases of some super awesome upcoming PC games, you may not get enough time to decide what to do this entire year. The 2013 PC games release calendar seems to be fully packed with huge hits. Assuming that everything stays on schedule, we have figured out some of the best games which are going to be released in 2013 for Microsoft Windows (PC):
12. DmC: Devil May Cry
DmC Devil May Cry is an upcoming iteration of the ever-popular action-packed Devil May Cry series. The title is being developed by Ninja Theory and was first announced at Tokyo Game Show back in 2010. The game is set in Limbo City which is present in an alternate reality of the Devil May Cry franchise and is focused on Dante.
Dante is the main protagonist of the series and is a demon hunter who has supernatural powers and some really cool weapons. He seeks to avenge the murder of his mother.
DmC Devil May Cry will be publicly available for Microsoft Windows on January 25, 2013.
11. Aliens: Colonial Marines
Aliens Colonial Marines is an upcoming first-person shooter horror game that puts the player into the role of a United States Marine named Cpl. Christopher Winter. The game is based on the characters and creatures of the film 'Alien'. The player in the game is given access to some truly iconic weapons of the movie. Players will also be able to use the welding torches to seal doors and even can use detectors and motion trackers to detect unseen enemies.
The game will be available for Microsoft Windows, PlayStation 3, Wii U, and Xbox 360 platforms on 12 February 2013. It will feature both single-player and multiplayer modes and will be distributed via Blu-ray discs, DVDs, and Nintendo Optical discs.
10. Metal Gear Rising: Revengeance
Metal Gear Rising Revengeance is the upcoming iteration of the ever-popular Metal Gear series. It is being developed by Platinum Games and produced by Kojima Productions. The title will be available on both PlayStation 3 and Xbox 360.
A Microsoft Windows version was also planned but as per various rumors, it was canceled in December 2011 later some reports confirmed that it will be available for PC users sometime later. The title will feature a larger-than-ever single-player campaign and will be distributed through both optical discs and digital downloads.
Metal Gear Rising Revengeance was announced originally in 2009 as Metal Gear Solid: Rising and was set to be released before Metal Gear Solid 4, but due to some technical difficulties in the development of the game, its release was canceled and in late 2011, it was re-announced as Metal Gear Rising: Revengeance with a release date of 22 February 2013.
The storyline of the game revolves around a former agent Raiden, who is aiding and rebuilding an unknown country and encounters cyborg enemies.
9. Dead Space 3
Dead Space 3 is the highly anticipated upcoming survival horror video game which is the third installment in the critically acclaimed Dead Space series. The game was announced on June 4, 2012, at E3 and primarily features a frozen planet named Ray Volantis.
The plot follows two protagonists, Isaac Clarke, and Sergent John Carver, who attempt to stop the Necromorph Scourge for good. This time these characters are given the ability to roll and stop the enemy attacks by taking covers. Given the 'more action-oriented' gameplay, there has been some backlash from fans after they played through its demo gameplay campaign. However, developers are still confident gamers would be satisfied with the survival horror aspect of the game once they would get their hands on the final product.
The game will be available on Microsoft Windows, PlayStation 3, and Xbox 360 in February 2013.
8. Carmageddon: Reincarnation
The Kickstarter-funded Carmageddon Reincarnation features the return of many old characters drawn from the original Carmageddon title. So far only three of these characters are officially announced i.e Max Damage, Screwie Lewie, and Val Hella, but more (if not all) are expected to return.
The title features pretty improved high-definition graphics as compared to the old versions. The world is more open and detailed this time however destructible terrain is still not present apart from some minor breakable physical objects such as glass windows etc.
This vehicular combat game will be available for Microsoft Windows, Linux, and Mac OS X platforms in February 2013 (a delay is expected though which as per the developer "will be worth it!").
7. BioShock Infinite
BioShock Infinite, previously known as Project Icarus, is one of the most awaited FPS games this year. It is not any direct sequel or prequel to previous BioShock games but the concepts, themes, and features of the game are nonetheless the same.
The game is set in 1912 and focuses on agent Booker DeWitt who struggles to rescue a young captive girl named Elizabeth. The title will feature a mode named "1999 Mode" in which the choices made by the players would be permanent and would require a reload from a previous save point in case of failure.
The game is set to release on March 26, 2013, for Windows, PlayStation 3, Wii U, and Xbox 360.
6. Lost Planet 3
Lost Planet 3 is a 3rd person shooter game and is a prequel to Lost Planet: Extreme Condition and Lost Planet 2. It is set on the same planet as E.D.N. III before the events of the first two games.
The gameplay is more story-driven this time and the players are allowed to choose between two modes, Core Quest which progresses the main storyline, or Side Quest which will allow the player to help fellow colonists on the planet.
Lost Planet 3 is slated to be released in the first quarter of 2013 on Microsoft Windows, PlayStation 3, and Xbox 360.
5. Metro: Last Light
Metro Last Light, previously known as Metro 2034, is an upcoming action-oriented FPS video game with some aspects of survival horror.  It is a sequel to Metro 2033 and was originally scheduled for release in the summer of 2012 but was eventually delayed until the first quarter of 2013.
Voices for the game have been dubbed by Lance Henriksen, Nolan North, Khary Payton, and Patton Oswalt and although the author of the book Metro 2034 was apparently working with developers the game bears no relevance to the book.
Metro Last Light will be released on Microsoft Windows, PlayStation 3, Xbox 360, Cloud Computing (OnLive), and Wii U platforms.
4. Crysis 3
Crysis 3 is the upcoming sequel to the fan-favorite Crysis series. The FPS offers players the role of Prophet who returns to New York and discovers that the city has been encased in a giant Nanodome created by the corrupt Cell Corporation and sets out for revenge after uncovering the truth about the motives of the Cell Corporation. The game is set in 2047 (24 years after the events of Crysis 2).
Crysis 3 will be released for all major platforms which include Microsoft Windows (PC), PlayStation 3, and Xbox 360 in February 2013.
3. Command & Conquer: Generals 2
Generals 2 is a real-time strategy game and is a sequel to the universally acclaimed Command and Conquer series. The game features the staples of base building, resource collection, and construction of large armies. The game is currently under development by BioWare Victory and will be published by Electronic Arts sometime late this year for PC (Windows).
Command and Conquer Generals 2 will feature three unique factions, out of which two have already been announced i.e. the technologically advanced European Union and the militant Global Liberation Army (GLA). The third faction is yet to be revealed.
The released gameplay trailers have so far garnered mixed responses from fans but nothing conclusive can be done about the game unless it is released.
2. Company of Heroes 2
Company of Heroes 2 is the long-awaited World War 2 real-time strategy game which is the latest iteration of the popular Company of Heroes series. The game will focus on the Eastern Front this time and will feature the Red Army and will take the players on a bloody journey starting from Operation Barbarossa all the way to the Battle of Berlin.
The game is currently under development and will be published sometime earlier this year for Microsoft Windows.
1. Tom Clancy's Rainbow 6: Patriots
Tom Clancy's Rainbow 6 Patriots is an upcoming iteration of the popular first-person shooter squad-based Rainbow 6 series. The storyline revolves around a squad that gets called to New York to deal with a terrorist group calling itself a true patriot. They start to act as judges, juries, and executioners of the country.
Playing the game, players will face critical scenarios that will require them to make tough ethical decisions in order to stop this new breed of terrorists. The game features amazing graphics (as per the released gameplay trailer).
The game will be available for Microsoft Windows, PlayStation 3, Wii U, and Xbox 360 sometime late this year.