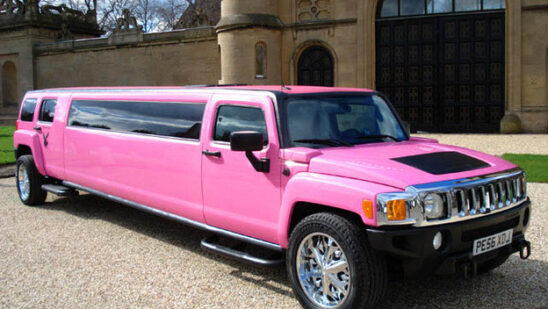 Most of us had our first ride in a limousine on the way to prom. Many of us had our second at our wedding. The scenes are usually the same: the long, black, generic-looking car pulls up to the front of the building, and there you are in your formals, waiting to slide down into the seat and settle back for the ride. You assume, of course, that you'll be the center of everyone's attention. You assume wrong. Often, there's a different occasion for a limo ride, such as a party, a rock concert, Mardi Gras, or whathaveyou. That's when the strange and unusual come out to play and steal the spotlight from the black stretch jobs taking Joe Average off to get hitched. Check out a few examples of these strangest limousines:
Harley Davidson Limousine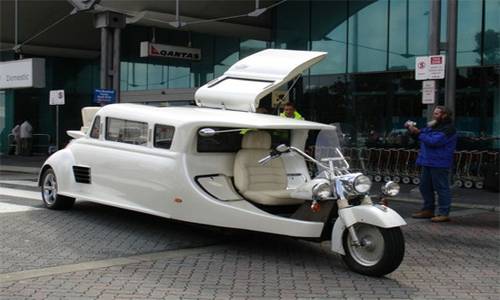 First and foremost, there's the Harley Davidson limousine. While it resembles more of an oriental bicycle buggy, it's every bit the motorcycle, charging down the road with road-hog horsepower and hairpin-turn handling.
In terms of appearance, it's truly one of a kind, and the only thing topping its exterior beauty is its interior-filled leather-clad passengers. Imagine Hell's Angels climbing out of this thing!
Lincoln Town Car Stretch Limo
Built to look like a classic English Rolls Royce, this is actually a Lincoln Town Car stretch limo. If you ever wanted to break out the top hat, tails, cane, white gloves, and an antique pocket watch for a night at the opera, this should be your chariot of choice.
Ornate and opulent, this limousine is guaranteed to steal the show, no matter which theater it pulls up to… and just in case you need it, it also comes in pink.
Ferrari Limousine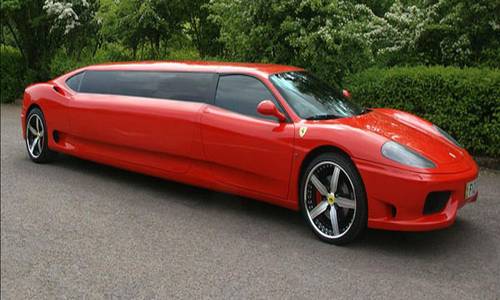 Now, what if you're in a hurry to get to where you are going? What if you know ahead of time that your plans are overlapping, and there's no way to make it from one engagement to the other?
Behold: the Ferrari Limousine, checking in with over 600 horsepower. Rent this one in advance when things get too tight to manage. The drawback, however, is that no one's going to forget it when they see it, making speeding difficult to sneak by with.
Bentley State Limousine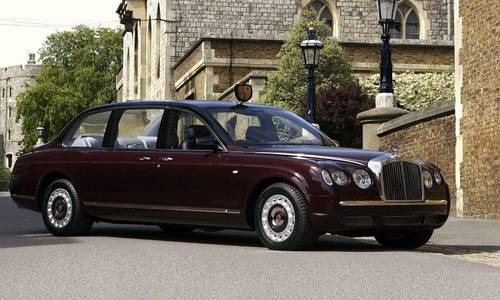 Here's a car you'll never ride in, and if you ever see it, it doesn't really matter what limo you have. NOBODY is looking at you! The Queen's Bentley isn't a stretch job by any means, but it comes with its own hat, rising up in traffic like a beacon.
All the attention goes here – even more than Obama's Limo 1. Perhaps it's the ability of passersby to see through the windows of the Bentley – an obvious reason to stop and stare. Regardless, this is hands-down the most attention-getting and unusual limousine (in the unique sense) out there. Translation: no matter what strange limousine you're riding in, you'll never be the Queen!