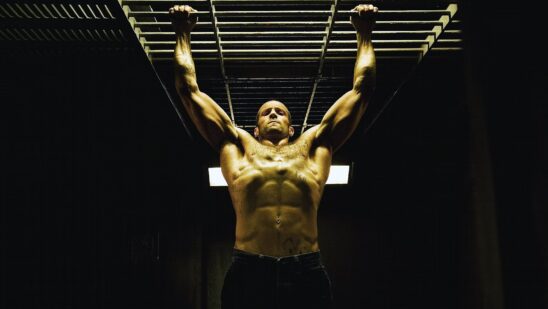 For those of us dedicated enough to self-improvement, a brand new year often means a brand new set of New Year's resolutions – and celebrities are no different. As January rolled up, a starry array of good intentions flooded the trough that is our celebrity news feed, reminding us that there's always more to be done in the pursuit of bitterness – even when you're already a superior human being. Among the resolutions, AskMen's favorite blonde beauty, Hunger Games actress Jennifer Lawrence said she planned to stand up for herself more in the new year (but didn't reveal what was propping her up in the first place), whilst Tori '90210' Spelling tweeted that she wanted to have more "adult-only" nights with her partner and their friends. Other famous homo sapiens with the urge to resolve include Ashton Kutcher, who will be spending his 2013 in a more sympathetic and generous manner, whilst R&B hat-case Ne-Yo is opting for a strictly vegan year. And finally, what handful of celebrity names would be complete without a token Kardashian or two thrown in for good measure? Kourtney Kardashian's New Year's resolution is to be nicer to her fella, whilst younger brother Rob plans to start a sock line – who says the Kardashians aren't a talented bunch? Here we take a detailed look at the best celebrity exercise routines in 2013:
The Fitness Resolution
Lots of us like to take part in new exercise classes at the start of the new year. And of course, there are also ways to learn how to teach your own exercise classes too. Many celebs, however, have the exact same resolution at the top of their list as some of us festively fatter mortals do (albeit written on posher paper, probably) – the ever-popular, ever-worthy intention to GET FIT. In celeb-land, being 'fit' usually just means looking very thin; but aside from juice & syrup diets, pill-popping, liposuction, or hiring a regression therapist to find out where they got those extra pounds from in the first place – what celebrity exercise routines are allowing them to actually get fit?
The answer is exercise, naturally (and of course a responsible, healthy diet). 
1. Crossfit
The ever-popular workout regime is undeniably one of the biggest celebrity fitness trends of the moment. Consisting of short, high-intensity workouts, controversial Crossfit incorporates a range of workout methods; from push-ups and lunges to rowing, rope climbing, and weight lifting (to name a few) – making it incredibly varied.
Hardy fans of Crossfit include Miss America Mallory Hagan, body-beautiful Jessica Biel, pop idol Kelly Clarkson (who claims the workout makes her feel like G.I. Jane), Vanessa Hudgens, and butch buggers Jason Statham and Brad Pitt.
2. Dancing
Dancing has been a part of celebrity exercise routines for quite some time and shows like Dancing with the Stars have only powered its popularity amongst our lot. Scientology escapee Katie Holmes pranced and pirouetted her way to a ballet-beautiful body, whilst Latino-lovely Jennifer Lopez likes to shake her thing off the stage as much as she does on it. The benefits of dance have notably helped Kelly Osbourne transform her body (during her stint on DWTS in '09) into the stunning figure she resides within today, with Kirstie Alley and Ricki Lake reaping the benefits as well.
Zumba, belly dancing, JAM (which stands for Juicy Athletic Moves, a favorite of singer Pink), The Bar Method (a ballet-inspired workout), Yoga Booty Ballet, and the Thigh Dancing Home Workout are just a few types of dance keeping a troupe of celebrities fit and fabulous.
3. Piloxing
Piloxing is another celeb favorite when it comes to burning and firming. A combination of boxing and pilates, piloxing takes the vigorous moves of Mike Tyson and mixes them with the sculpting and flexibility benefits of pilates – whilst doing a sort of dance at the same time. Despite this interesting mix (and not getting to punch anyone), the stars are loving it, finding it as beneficial for the mind as it is for the body.
Hilary Duff credited it for making her "feel physically strong and mentally empowered" and counts herself amongst its celebrity following. Others include sister Haylie Duff and actress/singer Ashley Tisdale.
4. Hula Hooping
As hysterically funny as it looks when you do it, hula hooping is a fantastic workout. Burning up to 100 calories every ten minutes, the simple art of hula hopping is something most of us mastered during childhood.
With its popularity still on top after decades, celeb hula hoopers include first lady Michelle Obama, Beyonce, Liv Tyler, and strummy man Jason Mraz. Fanatics of the hula hoop often claim that it's a form of meditation, as much as it is exercise – further adding to its celebrity appeal.
What's Next?
When it comes to keeping fit these days there are so many different options, that even working out how you want to work out, is a workout in itself. Like any sensible person though, when the road forks in life it always makes sense to follow the footsteps of celebrities – and when it comes to fitness, they've certainly got it down.
So what new celebrity exercise routines will 2014 bring? Ballet boxing? Tango Trampolining? Yoga on stilts? Only time will tell.