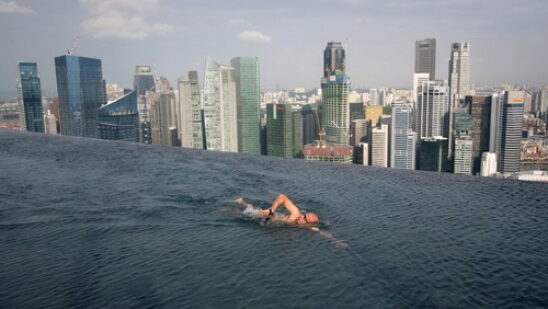 There are some eccentric billionaires around the world who embrace the pool and want to create something new with it. There are many amazing swimming pools around the world, from 50 feet pools that take on the shape of a guitar to indoor pools reaching up to 300 meters in length – making them some of the coolest pools in the world,  here is a list of some really amazing swimming pools around the world:
The Floorless Pool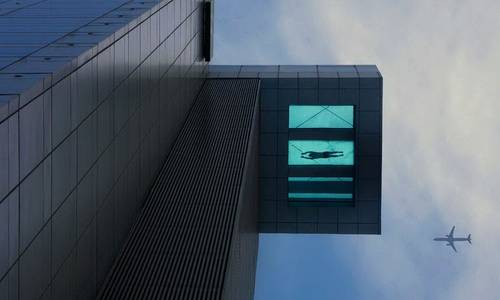 To begin with we'll start with the pool that has no flooring – well nothing but glass. Shanghai Holiday Inn has developed an interesting design that allows guests to swim out of an extended part of the hotel, allowing them to look down 24 floors through the swimming pool flooring.
Nemo 33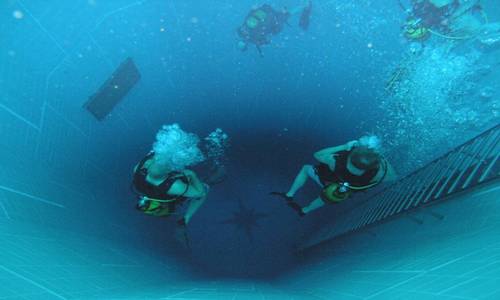 Belgium is home to one of the deepest swimming pools in the world. Nemo 33 delves 33m (108ft) into the ground and allows scuba divers casually swim through a hotel-esque décor that's used for both film production and scuba instruction.
World's Largest Swimming Pool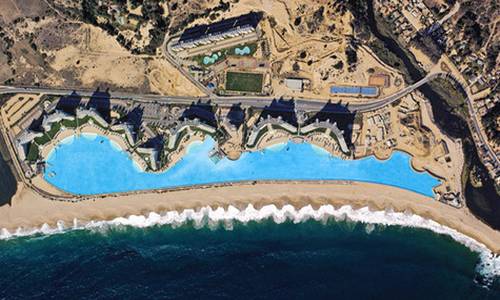 In Chile's San Alfonso del Mar Resort there lies a 1,000-yard-long swimming pool that spans 20 acres. Its mammoth length enabled it to make it into the Guinness world records easily.
This astounding swimming pool took five years to build and has a whopping annual maintenance cost of £2 million.
The Infinity Pool
The Infinity Pool concept has been adopted in several places around the world including Bali, Singapore, and Turkey. The design gives the illusion that you'll simply drop from the world as you near the edge.
The sheer drop provides an enticing view that draws you near with a cautious swim. The 'Infinity Pool' design is usually developed in areas that look upon a vast ocean or a sky-scraping skyline.
Hot Springs – Iceland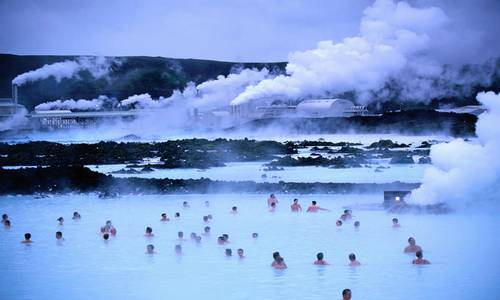 Not technically a swimming pool but it has an entrance fee, it's nicely heated and it's too good to miss off this list. This resort in Iceland, which embraces the hot springs of Iceland, allows you to relax within a stream-filled warmness that makes you wonder how a thing like this naturally exists.
Accompanied by breathtaking surroundings, the Icelandic pool is a definite must-see if you happen to be in Iceland.
The Cambrian, Switzerland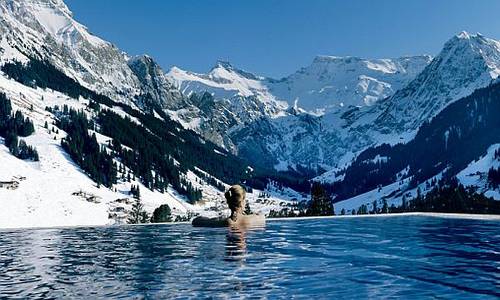 In a similar vein to Iceland's Hot Springs, the outdoor swimming pool in Switzerland's Cambrian Hotel provides a spectacular view of the Alps, along with a heating system – preventing you from leaving the pool for at least a couple of hours.
Deep Dive Dubai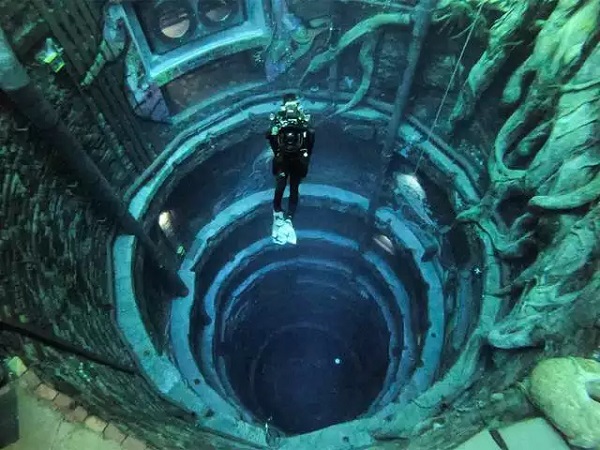 Deep Dive Dubai is the deepest swimming pool in the world with a depth of 200 feet. It is designed to mimic a sunken city and contains an astonishing 14 million liters of fresh water. It offers a unique challenge for all scuba diving enthusiasts.
Which of these amazing swimming pools around the world would you wish to ever visit? Which pool did you find the coolest among all the others? Let us know in the comments section below!