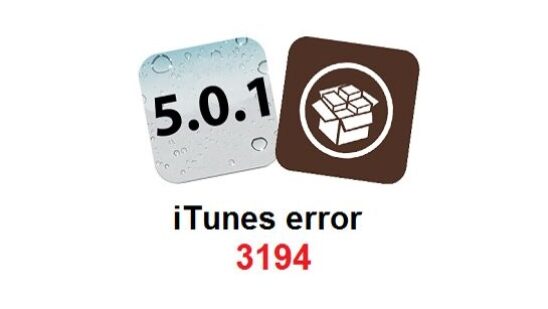 So, you were downgrading your Apple device or putting in some custom firmware and things were going so smoothly, then suddenly this weird Error 3194 appears on your iTunes and you are totally lost at 'where the hell did this error come from'. Believe me, it's not as bad as it looks. If you don't already know, iTunes error 3194 is quite a common error that iOS users have to face. This error usually occurs when you try to restore the iOS on your iPhone, iPod, or iPad with a self-cooked custom, jailbroken firmware to upgrade or downgrade your device's iOS. As you have landed on this webpage so you might be wondering where the hell is the tutorial to fix this error. Let's take a look at how to fix iTunes error 3194:
How To Fix iTunes Error 3194
Fixing error 3194 is quite simple but you still need to pay a little attention to the steps. As this problem is triggered when Apple's firmware signing services detect an unsigned custom firmware, the solution most likely for it is to block the firmware signing service. Here's how you do it:
Step 1
The first and foremost step is to exit iTunes and disconnect your device from the system if it is connected.
Step 2
You have to locate your 'hosts' file. You can find this file in C:/windows/system32/drivers/etc.
Step 3
Copy the host file on the desktop after backing up another copy. Now, open the 'hosts' file on the desktop with Notepad.
Step 4
Scroll to the bottom of the 'hosts' file and type in this;
#74.208.105.171 gs.apple.com (For MAC Users).
74.208.105.171 gs.apple.com (For Windows Users).
Step 5
 Next, connect your device to your computer and launch iTunes.
Step 6
Put your device into DFU Mode (complete tutorial on DFU mode available here) when it is connected to your computer. You do this by first turning off the device, then holding down the power and the sleep button for about 10 seconds. After 10 seconds, release the power button but keep holding down the home button until iTunes says that your device is in recovery mode.
Step 7
Now, you can use iTunes to SHIFT + Restore the iOS on your Apple device as usual.
Step 8
After you have updated your iOS, replace the edited 'hosts' file with the original that you backed up earlier. This is to allow iTunes to perform updates as usual.
As this is a simple method, it's temporary, if you want to carry out some downgrade or want to upload a custom firmware in the future then you will have to repeat this process over again. If you have any problems understanding this tutorial please let us know in the comments.