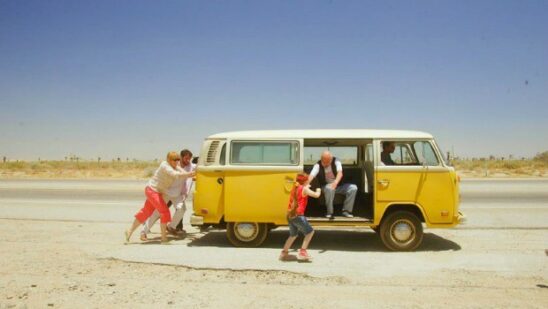 The classic American movie is one that involves a road trip – whether it's a forced road trip on the run from the law or a misguided escapade into hedonism, you can't beat a good adventure on two wheels as a great plot device in any film. Those films can't account for real-world experience. There have been a huge number of excellent movies featuring road-based storylines, but some are undoubtedly more of a thrill than others. As much as we would love our lives to be similar to the movies that we watch, it isn't always the case. But we all know how these sorts of movies end. Maybe it was because they weren't covered by the right insurance. Here are some of the best American road trip moments from the movies:
5. Fear and Loathing in Las Vegas (1998)
Of all the road trip movies out there, the expedition made by Raoul Duke and Dr. Gonzo from LA to Las Vegas in Hunter S. Thompson's Fear and Loathing is probably the least attractive in terms of being a passenger (unless you have a taste for mescaline). Although officially traveling to Las Vegas to cover the Mint 400 motorcycle race, the two main characters spend most of their time consuming a combination of alcohol, LSD, ether, marijuana, and in fact pretty much any substance they can get their hands on.
The result is hilarious hallucinations, wrecked cars, and some of the most classic acid trip scenes in cinematic history. The film opens with the line,
"we were somewhere around Barstow, on the edge of the desert, when the drugs began to take hold,"
which tells you all you need to know.
4. Little Miss Sunshine (2006)
Probably the best dysfunctional American family road trip movie ever made, this 2006 black comedy follows a journey made by the Hoovers to get daughter Olive from Albuquerque, New Mexico to the Little Miss Sunshine beauty pageant in California on time.
Along the way, there are death, broken dreams, and an out-of-this-world burlesque performance of Rick James' 'Super Freak.' Whilst the collection of characters seems an unlikely group of heroes – a heroin-addicted grandfather, a mute teenager, and a gay Proust scholar brother – the film is a genuine tale of the strengths and weaknesses of family bonds.
3. Movin' Right Along (The Muppets – 1979)
This live-action musical feature film was the first in the series of movies to star the famous Muppet characters and depicts Kermit's cross-country trip from a Florida swamp to the dazzling lights of Hollywood.
The film features all the favorites, from Miss Piggy to Gonzo, and of course comes complete with an all-singing, all-dancing happy ending.
2. Easy Rider (1969)
This film has been described as a 'touchstone for a generation' and is such an American classic that it couldn't possibly make the cut. The plot revolves around two 'freewheeling hippies' played by Dennis Hopper and Peter Fonda, on a search for freedom across the American south and southwest.
Via a 'free love' commune, plenty of marijuana and LSD, and classic lines like:
"I'm hip about time…but I gotta go,"
Easy Rider won a place in the hearts of all road trip movie fans.
1. Thelma and Louise (1991)
Perhaps not your traditional idea of a road trip – no beers in the back and endless adventures on the horizon for these gals – but one that is a glorious tribute to female friendship and self-discovery.
No matter that this road trip ends at a rather final destination, it's a cross-country chase with two unlikely and identifiable-with fugitives that's a compassionate thrill ride from the word 'go.'
Whilst the best American road trip moments from the movies are bound to be somewhat subjective, these five are certainly up there with the best. If you haven't yet seen these classic pieces of cinematic road trip history, then it's about time you get involved.