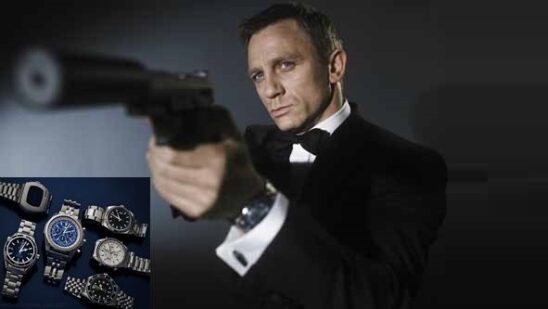 Think of James Bond and you think of danger, glamour, and style. Picture James Bond and you picture smart suits, fast cars, and, of course, great watches. Here today let's have brief look over the history of James Bond watches:
In the novels themselves, Fleming specified that James Bond wore a Rolex and it was a Rolex Submariner that graced Sean Connery's wrist in Dr. No. For many, this is still the true Bond watch, and you can see why. Like Bond, Rolex is a classic that has passed the test of time and is synonymous with sophistication. The classics have never really fallen out of favor.
Yet Rolex is far from the only watch brand 007 has been partial to. Connery's Bond also wore a Gruen Precision Subsidiary Seconds, a smart and discreet dress watch from now-defunct watchmakers. The very first Bond watch to have a gadget was also worn by Connery, a Breitling Top Time.
George Lazenby's brief, and often underrated, spell as Bond in On Her Majesty's Secret Service saw Bond wear two Rolexes in one film (Rolex Chronograph 6238 And Rolex Submariner Ref. 5513).
Then came Moore's Bond. This was a Bond for a different age, which was reflected in his watches. Unlike the other Bonds, Moore wasn't above wearing a digital watch. Though these watches look horribly dated now, at the time they were cutting edge. They even included the first-ever digital watch (the Hamilton Pulsar P2/2900 "Astronaut"). That Moore's Bond largely eschewed the traditional Swiss watchmakers says a lot about Moore's portrayal of Bond and of the times that Bond was set in.
Timothy Dalton's Bond saw him become the last Bond to wear a Rolex or indeed anything other than an Omega watch (his other watches were Tag Heuer models).
Brosnan's era marked the beginning of the Omega years for Bond. If Rolex was the watch Fleming chose for Bond, Omega is the watch Bond would choose for himself. It's a brand that is a byword for quality, has a great heritage, and is renowned for its reliability.
It also lacks some of the connotations of ostentatiousness that the Rolex brand has picked up over the years. Given this, you can understand how Omega makes sense as the perfect watch for James Bond. Although the fact that Omega was willing to pay a fortune to have their watches used, while Rolex never paid a penny, probably also helped.
Although all the watches of James Bond would still be classic if all they did was tell the time, those cool Q-designed extras have certainly helped. From watches that could produce a flesh-cutting laser to those that were only used to unzip a dress from across the room, Q has added functions to Bond's watches that have added to their (and Bond's) mystique.
This infographic brings all the watches worn by James Bond and shows what the choice of each watch says about Bond. This gives a sense of how Bond has changed throughout the years, and of just how cool his watches are.