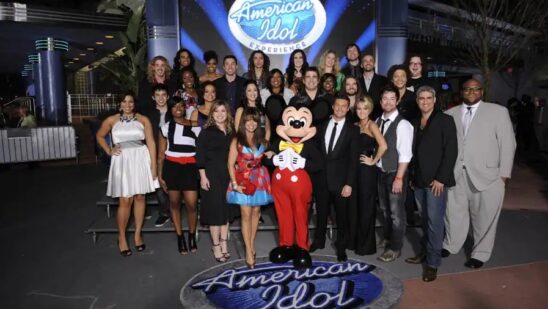 It's been through several format changes, different hosts, and shuffling timeslots. But American Idol is still the biggest singing competition on television. When a young person puts their video on YouTube, there's a good chance they're thinking about winning American Idol. It still inspires dreams and serves as a goal for burgeoning talent around the country. Unfortunately, winning American Idol is no longer a guarantee for worldwide fame. Recent winners have not fared so well in terms of record sales or respect in the music community. Yet the show still has the power to turn ordinary people into huge stars. When everything aligns properly, and the audience truly connects with the singer, that's when the magic happens. Here are the top 5 biggest stars to come out of American Idol:
Kelly Clarkson
It all started off with a bang in the first season. The winner was almost guaranteed to become an international superstar. There was no more deserving winner than Kelly Clarkson who has since gone on to live up to her title.
Can you imagine what would've happened if Justin Guarini won? It seems unimaginable that he could have achieved the success she did, so it's probably for the best. Clarkson has seen her ups and downs on the music charts, but her voice has carried her through the tough times.
Carrie Underwood
She is arguably the most popular and successful Idol of them all. She'll always be in Clarkson's shadow, but she's doing a great job of dominating the whole different scene. Her style is unique and she definitely has the voice to back up her swagger.
She also has the advantage of going after the country market, which some would argue has helped her to branch out and win more fans. She's also taught the world a very important lesson: never scorn a woman who knows which car you own.
Clay Aiken
This entry on the list proves that you don't necessarily have to win American Idol in order to become successful. In fact, none of the other names mentioned from here on won their season. Sometimes all it takes is a solid fan base to develop that appreciates the talents of the singer, and the rest of America will follow after.
Aiken has definitely had an interesting career that has brought him to Broadway, a specific niche of fans, and even a celebrity apprentice. He might never be mainstream, but it doesn't really matter to him or his devoted fans.
Jennifer Hudson
Here is a great example of what you can achieve after you get knocked out. Can anyone even remember the winner from Hudson's season? (it was Fantasia) thanks to a role in "Dreamgirls" Hudson has found far more popularity and success than she could ever imagine. She also has a powerful voice that has drawn comparisons to Whitney Houston.
She's also signed an extremely lucrative deal with Weight Watchers and even though it's got nothing to do with music, it's one of the best moves of her career.
Adam Lambert
This performer is arguably the last one to get people really excited. He's unique, he's got talent, and it's fun to be his fan. While winners in past years have been relatively bland and generic, Lambert stands out as more than a simple karaoke singer.
He's got flair and has drawn favorable comparisons to Freddie Mercury, and that's something he should be proud of. He's best when he's left to his own devices, and in time his songwriting skills will improve to match his confidence on stage.