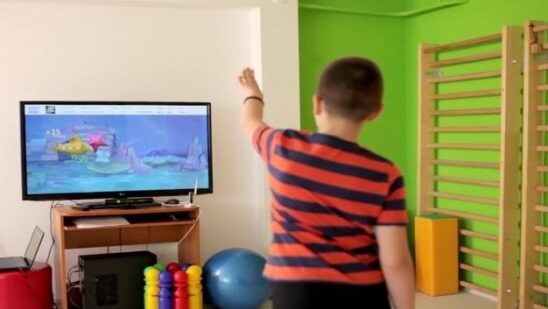 Physical therapy assistant schools focus on teaching traditional rehabilitation methods involving rehabilitation exercises, but they are also now concentrating their efforts on mental and coordinative rehabilitative methods too. These rehabilitative practices involve, believe it or not, the playing of computer games. While in a physical therapy assistant program, you will learn different computer games and how they can help in the rehabilitation process by focusing on different mental and physical aspects of the rehabilitation. Here we take a look at the top PC and video games for physical therapy rehabilitation:
The following are a few computer-based video games that address the patient's different needs:
Cerebral Palsy Paralysis
This game was created by students at the University of Toronto and it encourages children who suffer from cerebral palsy to use their weaker side, encouraging better physical movement.
GameWheels
An interactive video game made specifically for patients with spinal cord injuries, although other patients may enjoy it too. It allows wheelchair users to become physically active through game interactivity.
CyberLearning Technology
Patients get to play car racing games and other types of video games that promote mind interaction.
CookingMama
This is a variety of mini-games that are timed. Because each activity is timed it pushes the participant to keep up thereby improving motor skills.
Flash Focus
Uses flashing images to help patients train their eyes quickly to what they are viewing.
Most video games are made to help eye-hand coordination or are eye-training games. Some work with motor skills but the below games work to help a physical therapist assistant aid patients with mental health issues.
MindHabits Booster
This is a self-esteem game that helps people feel good about themselves again.
Lumosity
This is a variety of mind-related games that train the brain to function, as it should.
Motor Vehicle Therapy
This game was invented at the University of Buffalo and is made to bring major accident victims' self-esteem up and help them deal with the trauma.
Rainbow Stress Reduction Games
Helps patients relax and relieve stress, an important element in overall rehabilitation as most physical therapist assistants will tell you that stress negatively affects the patient's ability to deal with his injuries.
Re-Mission
This is a children's video game that teaches them about cancer and helps them improve hand-eye coordination. It helps relieve some of the fear and stress of not understanding the disease.
The Journey to Wild Divine
This is an adventure game that helps patients learn to breathe and meditate. It can bring balance and help the patient develop both right and left brain skills.
Feed the Monster
In this game, children learn about proper nutrition and what happens when they don't eat correctly.
Speech Therapy Games
There are several games available that teach children to express their emotions and work on speech quality.
Although computer games can help improve a patient's mental outlook and improve motor skills, alone these can't help with the physical aspects of rehabilitation in the same way as a specialist like CK PHYSIO can, but currently, physical therapy assistant programs are also teaching future assistants how to integrate computer run devices to help patients with their rehabilitation exercises.
PC Gamer Bike
This exercise bike makes exercising fun and motivates physical therapy patients to push themselves harder to compete against the computer game.
Bodypad
This is a computer-run device that tracks motions making physical movement more interactive and making the patient want to move his entire body.
EyeToy
Another interactive device with a variety of games that promotes physical activity.
As noted above the integration of computer games, activities, and devices is growing constantly in the physical therapy field. The reason for this growth is because of the positive results they bring to the overall rehabilitation process.