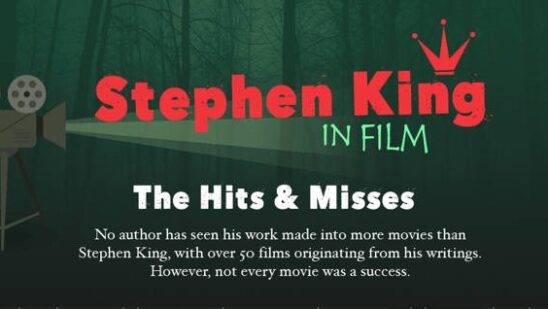 No author has seen his work made into more movies than Stephen King, but was every Stephen King movie a success? Stephen King's latest movie It has topped $500 million at the worldwide box office and has officially become the top-grossing horror film of all time. With over 50 Stephen King novels having been adapted into films and collectively raking in over $2 billion, King is big money in Hollywood.
King changed the horror landscape away from his predecessors; moving away from shadowy alleys and half-seen horrors and towards buckets of blood and intensely graphic imagery – first displayed within his debut novel Carrie, published in 1974, written when King was just a 26-year-old teacher and laundry worker. It's possible that King's ability to create such intense horror could lead to seeing his own fair share of terror in real life.
As a child, King's friend was struck and killed by a train whilst they were out playing together, a plotline that made it into his story The Body and was later adapted into the film Stand By Me. Although you might assume that this incident caused the basis for King's ability to write such horrifying stories, King claims to have no memory of the event.
Since Carrie, more of King's books have been adapted into films than any other living author. Notoriously battling with alcoholism, the author has stated that Jack Torrance from The Shining was his most autobiographical character, as he originally saw Jack as a heroic character battling his demons the way strong American men are supposed to do.' King also claims that he couldn't remember writing many novels from the '80s, including The Tommyknockers and Cujo due to his extreme alcohol consumption.
Despite his personal tribulations, King's adaptations have had tremendous success, with classics such as the time-honored The Shining, Stand By Me, and not to mention the Academy Award Nominated The Green Mile making up some of Stephen's greatest accolades. He has been famed for writing novels and stories at breakneck speed, publishing several books a year for much of the 1980s and '90s. Now, King continues to create and be involved in provocative projects, working directly on television, and surprising audiences with a sequel to The Shining, Doctor Sleep in 2013.
Despite King providing Hollywood with tremendous amounts of content, not all of the adaptions have had quite the same levels of success. The time-old Hollywood problem of a movie gaining high audience ratings but not necessarily translating into box office achievement reigns true for King alike. Everyone loves The Shawshank Redemption, right? It's undoubtedly one of the best Stephen King movies of all time. The movie, often listed among the greatest films of all time, has critic audience ratings that push an incredible 90%, but raked in just over $50 million at the box office, showing that popularity doesn't always pay.
Financial broker Moneypod has created the infographic featured below to show the hits and misses of Stephen King Films. Where does your favorite rank, was it a box office hit or a miss?