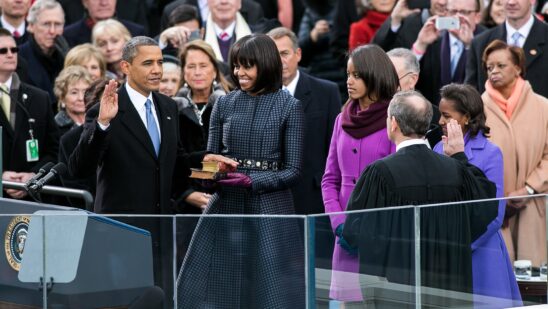 The year passed so swiftly to once again prove that Time indeed waits for no man. From disturbing celebrity moments to the second inaugural address of the President of the United States of America, citing the year as a purely normal one is surely an understatement, to say the least. The following list chronicles a few of the most memorable moments of 2013 that surely made this year so hellacious for all of us:
13. Ben Affleck Cast as Batman
Warner Bros. spun everyone's head when they announced that the sequel of Man of Steel will feature a face-off between two of the greatest and most iconic superheroes of all time viz. Superman and Batman. However, the happiness for the fans didn't last for long as it was soon announced that Ben Affleck of Argo fame would take the role of none other than the Dark Knight.
Despite much criticism, petitions, and internet memes, Warner Bros. remained steadfast in its decision and assured the fans that the movie is to die for. Based on Frank Miller's miniseries The Dark Knight Returns, the film will also feature Gal Gadot as Wonder Woman.
12. Simon Cowell Becomes a Father-to-be
Known as Mr. Nasty for good reasons, Simon Cowell caused major hype among his fans following when he announced that he will be a father in the near future. When Andrew Silverman filed for an at-fault divorce after learning that his wife Lauren Silverman is pregnant with none other than, his friend, Cowell's baby, things only got complicated.
The controversial television judge confirmed the news by stating to BBC:
 "I'm proud to be a dad. Things are changing in my life right now, for the better."
The baby will be Cowell's first child and Lauren's second.
11. Justin Bieber Announces Retirement
Apart from Bieber's much-publicized breakup with Selena Gomez, the hottest bird around the Canadian pop sensation was his announcement of deciding to call it a day from his passion for music; breaking the hearts of countless teenage girls and fans alike.
"I'm actually, I'm retiring, man,"
Bieber admitted this during a radio interview with Power 106.
"I think I'm probably going to quit music."
However, Bieber reassured the world that his aim is taking hiatus from music as he stated,
"I want to grow as an artist and I'm taking a step out, I want my music to mature."
10. Duchess of Cambridge Gives Birth to Prince George
The only thing that managed to be a bigger deal than the royal wedding was the birth of the royal baby. Perhaps the most awaited childbirth of the entire year, Prince William and Duchess Catherine admitted that the feeling around them has been "very emotional".
With paparazzi waiting for weeks outside St. Mary's Hospital in London to capture a glimpse of the newly born third-in-line to the throne, the royal baby was the hottest talk before and even after his birth. After much media attention and concern from all over Great Britain over the name of the royal couple's bundles of joy, it was revealed that the pair decided to bestow him the name, George.
9. Spanish Train Crash Kills 79
An exceedingly violent train crash near the Spanish town of Santiago de Compostela is recognized as the most tragic and insanely ferocious act caused by sheer carelessness; killing 79 innocent passengers and badly injuring over 100 more.
The CCTV footage that was able to grab the entire scene of the crash spread like wildfire over the internet; horrifying every single of its viewers. The driver, who was over the phone during the crash and traveling more than double the speed limit on the track, though survived the crash and got charged with negligent homicide.
8. Andy Murray Wins at Wimbledon
One of the greatest tennis players alive today, 26-year-old Andy Murray made history by defeating opponent Novak Djokovic in order to win the Wimbledon singles title, marking the first time a British player has won the much-coveted and prestigious title in 77 years.
Describing it as the "toughest game of his career", a feeling of triumph and stardom overwhelmed the young player. With tears streaming down his face, Murray celebrated his victory by enthusiastically entering the crowd to meet his family, friends, and of course, his beloved fans as well.
7. Angelina Jolie Had a Double Mastectomy
Realizing that her defective BRCA1 gene can gravely increase her chances of breast cancer by fifty percent, Angelina Jolie became the center of attention among concerned women around the world as she quickly underwent a double mastectomy; as told in the article 'My Medical Choice" published in the New York Times.
Jolie, as courageous as she may be, decided to disclose her story of breast removal to create awareness among the women too afraid to speak out their side of the story as she stated,
"I choose not to keep my story private because there are many women who do not know that they might be living under the shadow of cancer,"
she wrote.
"It is my hope that they, too, will be able to get gene tested, and that if they have a high risk they, too, will know that they have strong options."
6. Barack Obama's Second Inaugural Address
After successfully defeating Mitt Romney in the United States election in November of last year, Barack Obama took his oath for a second term in the office outside the US Capitol on the 21st of January 2013 in front of a large crowd of approximately 800,000 Americans.
Accompanied by his wife and two daughters, President Obama graciously accepted the responsibility of the country in every political matter possible. However, the country might live to regret that decision as the country's first-ever black President became a victim of much criticism later this year.
5. Miley Cyrus Twerks at MTV Video Music Awards
Miley Cyrus was indeed not joking at all when she told MTV:
"Me and Robin the whole time said, You know we're about to make history right now."
After all, her performance at this year's MTV Video Music Awards made her one of the most searched celebrities on the internet.
As awkward – or bizarre – as it may sound, the 21-year-old singer stripped down to skin-colored undergarments, stuck her tongue out, and began to outrageously twerk while touching her pelvis with Robin Thicke; quickly igniting a media frenzy all around her. Her theatrical display has been claimed by many as the most tweeted and the most discussed event of the entire year.
4. Meteoroid Causes a Ruckus in Russia
Russia simply cannot stay away from trouble but this one takes the cake when a nearly 10-ton meteoroid entered the Earth's atmosphere and struck near the Russian city of Chelyabinsk at an estimated speed of 33,000 mph. Almost 1200 people were severely injured due to the vast impact.
The sonic boom caused by the meteoroid left a striking sway all over the city as it broke the windows of nearby cars, rocked many buildings, and left many residents physically wounded. Few of the citizens were able to record the meteoroid ruckus by means of dashboard cameras in their cars and smartphones.
3. Lance Armstrong Confesses Doping to Oprah Winfrey
Known as the greatest cyclist of all time, Lance Armstrong is like the Muhammad Ali of professional road racing cycling. However, many allegations of doping drastically changed the seven-time Tour de France title winner's reputation; reducing his status to a cheat who depends upon pills in order to win championships.
When interviewed on the Oprah Winfrey Network, the once-respectful cyclist confessed that he used every illegal trick in the book to win his seven consecutive Tour de France championships including blood-booster EPO, blood doping, transfusions, testosterone, cortisone, human growth hormone, and various others banned substances.
2. Paul Walker Dies Young at 40
Best known for his iconic role as Brian O'Conner in the Fast and the Furious film series, the tragic death of the 40-year-old actor broke the hearts of millions of fans around the globe and most importantly, halted the filming of the seventh installment of the franchise.
After attending an event dedicated to the assistance of the Typhoon Haiyan victims funded by his charity Reach Out Worldwide, Walker and his friend Roger Rodas died when their car violently struck a light pole and a tree and burst into flames; killing both.
The Death of Nelson Mandela
One of the most well-known, greatest, and respectful leaders of all time, the former president of South Africa literally gave all he had for the betterment, survival, and rebirth of his beloved country. When President Jacob Zuma announced that the nation's greatest son died at 95, a dark cloud fell over every corner of the world that knew the magnitude of Mandela.
After suffering various lung infections for nearly two years, Mandela eventually faced his demise at his home surrounded by his wife Graca Machel, children, grandchildren, and great-grandchildren, leaving a legacy that only a few men can imagine competing with.
Did we miss any event that should have been a part of this list of most memorable moments of 2013? Let us know in the comments section below!
Title Image Source: Official White House Photo by Sonya N. Hebert