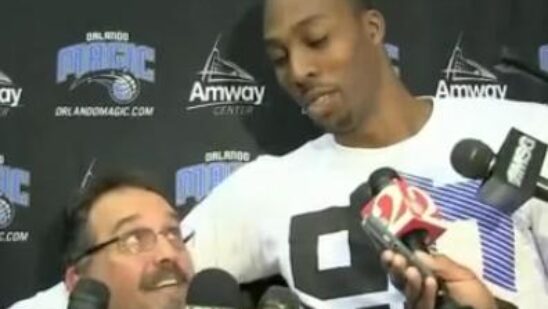 Live television is a double-edged sword. It's a great way for movie stars to promote their films, for politicians to make their key points at election time, and for sportsmen to review games. When they go wrong, however, they can be the most embarrassing, cringe-worthy train wreck. Here are our 10 of the most awkward TV interviews ever:
10. Football as in Soccer?
With his new movie Taken 2 out now, Liam Neeson is doing the rounds on TV. With little regard to what the interview might entail it would seem. Neeson, an Irishman, has never shown a major interest in American football. Here, on Sportscenter Live he has to admit to that. Live. (Ps. he swears!)
9. Bloody Mary this Morning?
Paula Abdul links up to talk to Fox News Live, slurring à la Kerry Katona on This Morning (who doesn't make this list as we've all seen it before)! This was prior to a stint in rehab and may have been a catalyst for Paula seeking help. Which is good-ish?
8. Bad Interviewee Choice
When being trained in interviewing, one of the most important points to consider is the person you're interviewing. If the person you're about to question on live TV is drunk and speaks with an accent you can't decipher, perhaps move on to one of the hundreds of other people around you instead. Pam Shriver, we're talking to you.
7. Whatever Happened To…?
Ever wondered what happened to the cute, but really rather annoying, the kid who played a young Anakin Skywalker in Star Wars Episode I back in 1999? Well, this interviewer tracked him down in 2009. Turns out cute little Anakin has turned into a sarcastic, monosyllabic teenager.
6. 2 for the price of 1 Direction
Ah, the awkward moment when Harry met Carrie (The Xtra Factor presenter Caroline Flack) on the set where they met the year before and had a fling. Cringe! The boys and co-presenter Olly Murs give them a lot of flack [deliberate sic].
5. A Shark, a Duck, and an Awkward Interview
Australian news decided to do a tongue-in-cheek segment on sightings of a shark in a lake. There's a great build-up at the start of the interview before the 'shark expert' is asked if he can catch the shark. He doesn't. He catches a duck. Ouch. Cue lots of duck jokes.
4. I'm sorry, could you repeat the answer?
Political candidates are often accused of having their own agenda. It's advisable, however, to at least pretend to answer the question you've been asked while you're being interviewed on live TV. This guy's fixation on slating his opponent is hilarious.
3. One Snipe Too Many
Clive Anderson probably gets asked about this interview from back in 1997 all the time. He was relentless with his decidedly unfunny questions. Eventually, Barry Gibb had enough and stormed off. There's a great moment at 9:19 when you see the reality dawn on Clive's face.
2. Who's to Blame?
No awkward interview list would be complete without Meg Ryan and Michael Parkinson. Meg usually gets the blame for being defensive from the outset, but Parky doesn't help the discomfort by commenting on her body language and dismissing her opinions throughout.
1. Get the Story Straight
This interview is the pinnacle in an already awkward situation being made ten times worse by not communicating prior to the interview. Kudos to fired coach Van Gundy for ducking out of the interview and showing up player Dwight Howard for being caught in a lie.