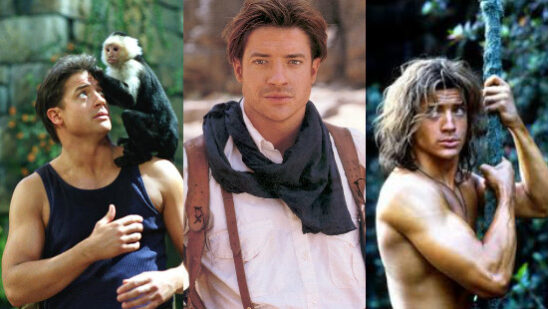 Brendan James Fraser is a Canadian-American actor born on December 3, 1968, known for his comedic and fantasy roles in Hollywood movies. He is also known as one of the first actors who jump-started the movie industry with bedazzling films, pun intended, that will be reviewed as followed. Lets have a look at the 15 best Brendan Fraser movies of all time:
15. Twilight of the Golds (1997)
A 1997 production Twilight of the Gold highlights homosexuality and its impact on the era back then, as a family struggles to come to terms with their daughter's unborn child who is most likely to be a homosexual like her brother, David.
The daughter, Suzanne Stein, after the genetic test done on the fetus must decide whether to keep the child or have an abortion.
14. Extraordinary Measures (2010)
A medical drama film that shows an intriguing and heart-felt search of John Crowley (Brendan Fraser) looking for a researcher who might have a cure for their children's rare genetic disorder, Pompe.
John contacts a researcher, Robert Stonehill, who races against time and financial assets to help save the children before they die.
13. The Last Time (2006)
A dramatic romance-full film that captures the bewitching love between a charming woman, Belisa, and a salesman, Ted Ryker. We follow them through the battle of friendship, business partnership and lust.
The beautiful woman Belisa is the fiancée of Ted's new business partner, Jamie, played by Brendan Fraser. Ted being a cynic with a failed love in his past is immediately intrigued by Belisa and forms a bond of mutual understanding. What is he going to do?
12. Inkheart (2008)
A capturing fiction that revolves around Mo, played by Brendan Fraser, and his daughter who have the magical ability to bring story book characters to life. But one night, Mo accidentally frees a villain, Capricorn, from a story called Inkheart, set in medieval time, and it's up to them to fight out of his evil grasp and send him back into the book.
11. Blast from the Past (1999)
After being locked in a bomb shelter for 35 years, Adam Weber must go out into Los Angeles to retrieve food and supplies. In his journey, he comes across Eve, turning his life into a romantic comedy leaving the audience feeling both overwhelmed and hysterical.
10. George of the Jungle (1997)
Brendan Fraser plays the role of George, who after crashing onto an island, has been raised by apes. The only time he comes into contact with another human being is when he rescues a rich American heiress, Ursula, from a tragic safari.
They both come to terms with the situation in hand and accept each other's ways of living while eventually being rescued by Ursula's lover, Lyle.
9. Bedazzled (2000)
Elliot Richardson, an awkward IT worker is granted 7 wishes by the seductive Devil herself in order to help him get the girl of his dreams, in exchange for his soul. Each of his 7 fantasies meet a twist of fate placed cunningly by the Devil in order to over throw Elliot and eventually steal his soul.
8. Looney Tunes: Back in Action (2003)
Brendan Fraser stars in the classic action filled comedy of the Looney Tunes adventures and hectic ways of life.
This time,. they are on the hunt for a man's missing dad, and an artifact known as the Blue Monkey Diamond. Bugs and daffy set on yet another journey together, giving the fans exactly what they're looking for.