Internet is without any doubt the number one place for laughs. Let it be memes or funny animated GIF's, the internet is full of humorous material. Social sites like Stumble Upon and Reddit are specially famous for letting its users find the most brilliant funny images trending on the web. Apart from static images, animated images (GIFs) are also second to none when it comes to making you smile. But, before proceeding any further lets first just thanks CompuServe for introducing GIF (Graphics Interchange Format) to the world in 1987, otherwise you would not have been witnessing the glory which you are about to witness.
Here's a compilation of 25 funniest GIFs ever out there on the net which will make you go ROFL. Enjoy!
Note: Some GIFs below are of 3 MB in size so be patient and if you have a slow internet connection then please be very patient.
Twenty Five
Twenty Four
Twent Three
Twenty Two
Twenty One

Twenty
Nineteen

Eighteen
Seventeen
Sixteen
Fifteen
Fourteen
Thirteen
Twelve
Eleven
Ten
Nine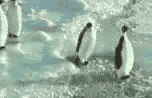 Eight
Seven
Six
Five
Four
Three
Two
One
That's all folks !