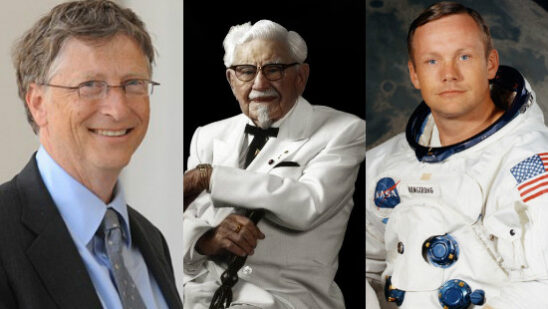 There is no doubt that the best way to be immortalized is to have a biopic. At least that is what Hollywood believes as over the years, there have been countless biographical movies focusing on historical and famous people throughout history. However, Hollywood has seemed to forget many iconic figures yet to have a movie based on their lives. Take a look at the 15 famous people who deserve a biopic:
15. Nikola Tesla
There have been very free successful biopics of world-renowned scientists such as A Beautiful Mind and The Imitation Game and if there are scientists long overdue who should get a movie, Nikola Tesla is one of them.
As an electrical engineer, Tesla made several contributions to alternating current. That may not be impressive enough to make people buy tickets to see a biopic on the scientist but on the contrary, Tesla was often regarded as a mad scientist due to his questionable experiments on lighting the world, weather control and death rays – perfect elements for a Hollywood movie!
14. Rabindranath Tagore
There has not been any biopic on an Indian national which even remotely reached the success of Gandhi. While the movie was nominated for eleven Academy Awards and won eight including Best Picture, if anyone has a chance to replicate such success or even surpass it, it is Rabindranath Tagore.
He was the very first Indian citizen to get a prestigious Nobel Prize and was a poet, musician, playwright, novelist and a philosopher. Above all that, Tagore was silently a freedom fighter as well and made his stance known by renouncing Knighthood following the Jallianwala Bagh Massacre.
13. Elvis Presley
When young Elvis Presley auditioned to follow his dream of becoming a musician, he was told to:
"Stick to driving a truck, because you'll never make it as a singer."
It was not long until the rejected and down-on-his-luck kid became the biggest music sensation on the face of the Earth.
From his career as a truck driver to being hailed as the King of Rock and Roll, it is amazing that a biopic of perhaps the biggest American cultural icon has not been made yet. Admitted that the musician had a mini-series on CBS  starring Jonathan Sheane Duncan but Elvis deserves a lot more.
12. Leonardo Da Vinci
His paintings are considered as the very best and his work in several fields such as science, engineering, anatomy and literature is unparalleled. His name has served as the inspiration of the leader of Teenage Mutant Ninja Turtles and one of the most bankable actors in Hollywood.
Conceptualizing flying machines and armored fighting vehicles, it is astounding that a poverty-stricken man with no formal education could achieve gigantic success that were way ahead of his time. Yet, there are no plans of making a biopic on Leonardo Da Vinci and a minor appearance in Assassin's Creed II is not going to be enough for a proper recognition.
11. Theodore Roosevelt
A biopic on the 26th President of United States of America Theodore Roosevelt might be the next big thing since Steven Spielberg's Lincoln. While giving a speech, the President was once shot on the chest but decided to continue instead of going to a hospital. If that is not impressive enough to be adapted in a movie, I don't know what is.
The Pulitzer Prize winning biography The Rise of Theodore Roosevelt was planned to be adapted in a movie directed by Martin Scorsese and starring his frequent collaborator Leonardo DiCaprio as Roosevelt but the project was abandoned.
10. The Beatles
Arguably the most influential band to pioneer rock and pop music, the Beatles were second to none. From John Lennon's mesmerizing voice to Ringo Starr's melodious drums, every member of the band had a story to tell and their lives serve as an inspiration to every musician who dares to make it big.
With only ten years as a functional band and achieving super-stardom at an early stage, the world could not have been more shocked when the band called it quits and never rocked together despite several reunion rumors over the years. The unexplored chapter of their break-up deserves to be told and what better way to do it in a biopic.
9. Walt Disney
With an illustrious career that might have never taken off, the story of Walt Disney is nothing short of a fairy tale and a dream come true. One can only imagine what his boss was thinking when he fired Disney for "not being creative enough."
With his initial animations not being successful to the point of declaring bankruptcy, times were so harsh for Disney that he resorted to eating dog food. With a will to keep going, Disney became the most prominent figure in American animation industry and the rest is history.
8. Colonel Harland Sanders
Remembers as the founder of fast food chain restaurant Kentucky Fried Chicken, there is a lot more than to it and a biopic of Colonel Harland Sanders might just do the trick. Believe it or not, Sanders was the epitome of failure for the majority of his life and endured several hardships.
At the age of 5, his father passed away and that was just the beginning of his life tumbling down. Leaving school at the age of 7, Sanders soon left home and had several jobs such as steam engine stroker, filling station operator, insurance salesman, railroad laborer only to lose them all one by one.
Trying his luck with his unique recipe for fried chicken, Sanders sold it door-to-door and eventually opened the very first KFC restaurant in Utah after realizing the potential in fast food chain restaurants and cemented his legacy in the world of cooking.