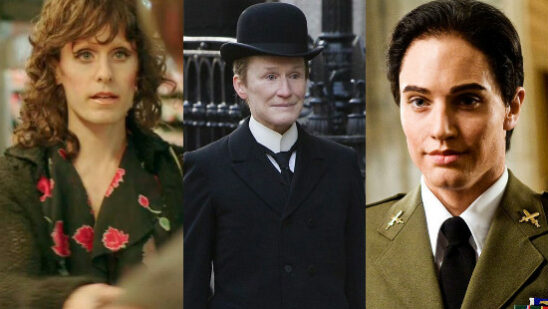 As the saying goes, there is no business like show business. The movie industry is surely the most unique place to work at. Adult actors are hired to fulfill teenage roles, child actors steal the spotlight from grownups, and male actors are hired for a female role and vice-versa. As shocking as it may sound, the following are the 15 actors who portrayed the opposite gender:
15. Dustin Hoffman (Tootsie)
Academy Award winning actor Dustin Hoffman is known for his versatility in his long career and that is exactly where the 1982 comedy movie, Tootsie comes in. As Michael Dorsey, the actor portrayed a perfectionist actor who nobody wants to work with.
Once realizing that his career might be over because of his tough reputation, Dorsey dresses as a woman and takes the name Dorothy Michaels. To his surprise, his career experiences a rebirth.
14. Elle Fanning (About Ray)
Directed by Gaby Dellal, the emotional drama movie About Ray stars Elle Fanning as Ray who pursues her true identity as a male and must convince her mother, grandfather and absent father to accept her situation.
"The part is a girl and she is a girl who is presenting in a very ineffectual way as a boy,"
stated the director. Though the movie received mixed reviews, the beautiful Fanning was a spot on boy.
13. Jared Leto (Dallas Buyers Club)
From working as extras to winning an Academy Award, Jared Leto has come a long way when it comes to making a solid acting career. Like every other entry on the list, the frontman of rock band 30 Seconds to Mars has played a role of the opposite sex.
Not only that, Leto won an Academy Award for Best Supporting Actress for the role. In Dallas Buyers Club, the actor plays transgender woman Rayon and received favorable reviews from critics alike.
12. Angelina Jolie (Salt)
There is no doubt that Angelina Jolie has done some excellent roles and that she's one of the most beautiful women alive to the point of magazines Esquire, Empire and FHM naming her as the sexiest woman alive.
Still, the actress doesn't rely on her beauty for fame as she has incredible acting skills as evident from several of her actions roles which are typically performed by male actors.
As far as the topic is concerned, Jolie was hardly recognizable when she disguised herself as a man in 2010 movie Salt which required many hours of makeup and several prosthetics.
11. Martin Lawrence (Big Momma's House)
From National Security to Bad Boys and its sequels, Martin Lawrence has played the man of law too many times. However, in Big Momma's House, the actor was doing double duty as he not only played an FBI agent but also an obese grandmother.
As Big Momma, the actor must protect a woman and her son from a thief. The comedy movie had its funny moments but received negative reviews. Still, that didn't stop Lawrence from reprising the role for two sequels.
10. Amanda Bynes (She's The Man)
Due to her love for football, Viola Hastings played by Amanda Bynes is desperate to join the school's soccer team but there is only one problem: boys only. Bent on making it to the team, the smart-mouthed teenager impersonates her brother and finally gets to be a part of the team.
The movie is an absolute blast to watch but now serves as a sad reminder of how the career of the beautiful Bynes could have flourished to unprecedented heights if she had not been involved in legal issues concerning driving under the influence, reckless driving, criminal possession of marijuana etc.
9. Adam Sandler (Jack and Jill)
The world not only got to see one of the worst movies ever made but also faded comedy star Adam Sandler performing the dual role of fraternal twins Jack and Jill Sadelstein.
With performance as bad as the movie, it is amazing to know that not even costars, Katie Holmes nor Al Pacino could have saved the movie from receiving dozens of overwhelmingly negative reviews.
8. Gwyneth Paltrow (Shakespeare in Love)
Shakespeare in Love takes you back in time and what a movie it was. Nominated for thirteen Academy Awards and winning seven including Best Picture, it was actress Gwyneth Paltrow stealing the spotlight from male cast members Ben Affleck, Joseph Fiennes and Geoffrey Rush.
Starring as Viola de Lesseps, the actress disguises her as a man beyond recognition in order to audition for the part of Romeo in Shakespeare's most famous play Romeo and Juliet. Equipped with facial hair, short hair and even a goatee, the dedication exhibited by Paltrow paid off when she won the Academy Award for Best Actress for the role.